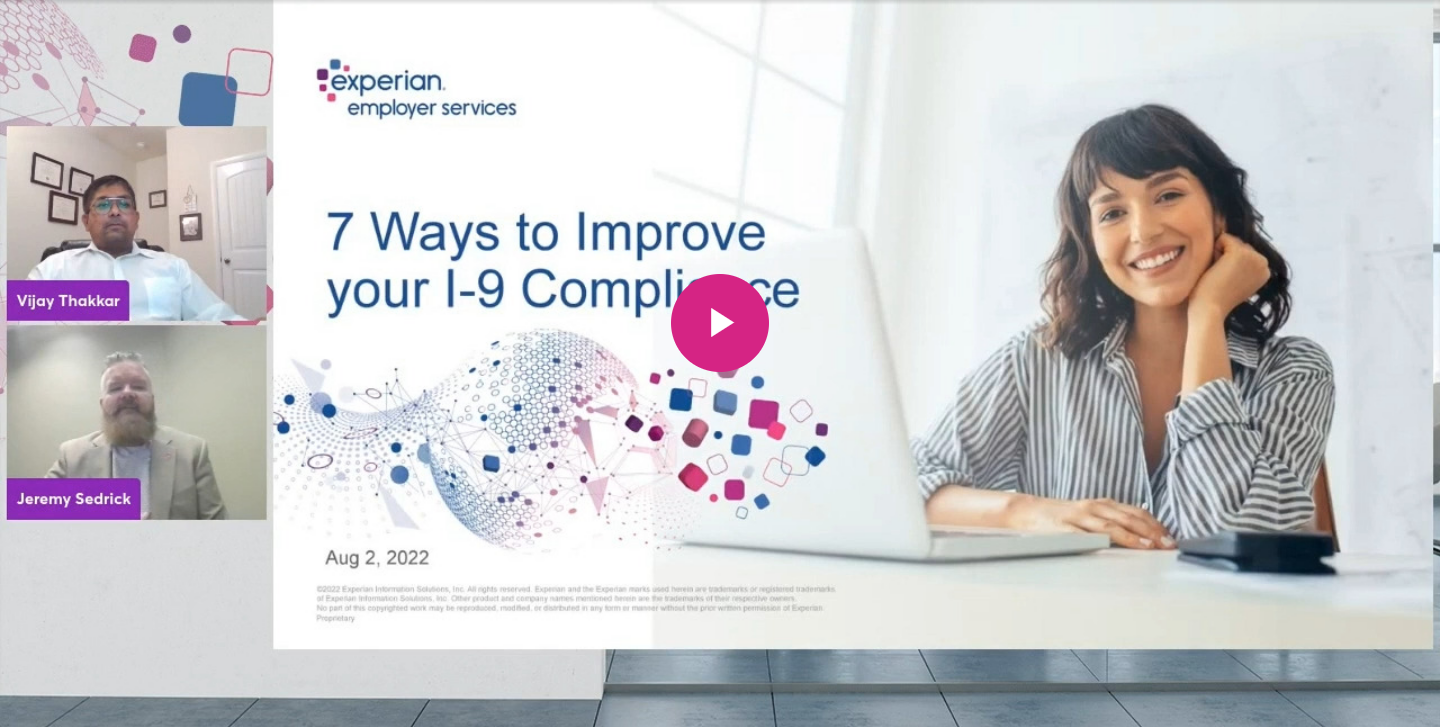 Form I-9 compliance can be one of the more daunting employer obligations companies face. The seemingly simple form is much more complex than it first appears. Failing to remain compliant with rule changes, exceptions, retention policies and more puts an organization at risk of an audit and the potential for a costly fine. However, there are steps companies can follow to improve I-9 compliance, reduce their risk for audits and simplify the process for their business and their employees.
Watch this webinar with Experian Employer Services' Vijay Thakkar, I-9 & E-Verify Compliance Expert and Jeremy Sedrick, Director, Pre-employment Services, for an overview of 7 ways to improve your I-9 compliance and prepare for a more successful audit.
The following is an excerpt from the webinar, "7 Ways to Improve Your I-9 Compliance." Watch the full webinar here.
Vijay Thakkar: So let's take a look at some settlements and lawsuits which will give you a much better picture of what I was talking in the previous slides.
Not addressing the issue of technical and substantive violation while hiring unauthorized workers or requesting additional documentation or unfair having unfair documentary practices can results in thousands and millions of dollars worth of points. So the first example is of a staffing company. This particular organization had less than 50 full-time employees and hundred of hundreds of seasonal employees. They failed to prepare 213 for their 213 employees, they failed to prepare I-9's, and when requested by the agency they failed to produce the full form I-9. They did not complete the section 1 or section 2 of the I-9's properly for 1,000 plus I-9's. They even went on attempting and back dating 178 forms of their I-9 and the agency also found that they failed to complete the I-9 section 3. So it's not just one violation, it's a bunch of violations on that from section 1, section 2, back dating section 3, not completing the form I-9 and can you guess the penalty on there?
$1.5 million. That's the penalty they paid for less than 50 full-time employees and over 1,000 plus seasonal employees.
Now let's take a look at the at another case, and this is for a retail organization. In this particular situation the HR at this organization rejected the expired permanent resident card with valid i-797 which extended the validity of the expired permanent resident card and instead requested a new PR card and as Jeremy had stated in the previous slide you can accept an expired PR card or green card as long as it's supported by a valid I-797, which extends the validity. So in this particular scenario the HR said no we cannot accept your I-797 you go and bring me a new PR card which was still processing. The result?
$73,263 in civil penalties and resulted in providing back wages to a lawful permanent resident who was impacted by this particular situation it also resulted in internal training for all the HR's at the organization and departmental monitoring and reporting.
Moving on to the next case. This is of a security services company. So this particular organization acquired another security services company and the HR at this organization requested lawful permanent presidents to produce permanent resident card list A documents and did not accept a combination of list B and C. As Jeremy clearly mentioned, when completing the I-9 section 2 you have two options: either you present a list A documentation which substantiates a work authorization and identity,. whereas a combination of list B and C to verify the identity and for work authorization only. In this it was a clear case of rejecting documentation that were truly valid in the first place and the result was $194,000 in civil penalties and discrimination training for their HR department and departmental monitoring for two years.