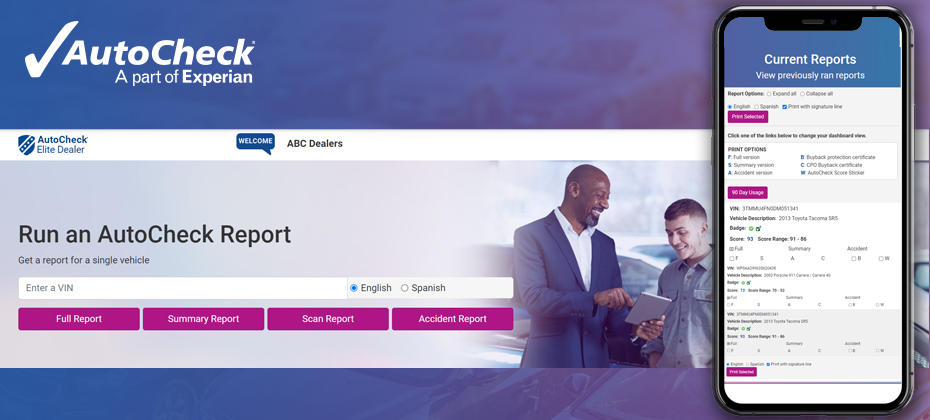 We're excited to announce that the AutoCheck Member Website has received a facelift!
AutoCheck has always been the industrial strength Vehicle History Report that automotive professionals trust to help manage risk and confidently buy and sell the right vehicles. We've made this great solution even greater by improving our Member Site user experience.
Based on extensive research and user feedback, we've added many visual and workflow enhancements which make it easier for users to use the site.
One noticeable change to the Member Website is the addition of Experian's brand and color scheme. You'll know right away that you're accessing AutoCheck data backed by Experian, the industry experts for reliable data.
The entire site is now mobile responsive—optimizing the experience for tablet and mobile users to provide even more shopping convenience. The new site will allow full functionality from a tablet or mobile device. As always, subscribers can continue to access AutoCheck reports via our mobile app or AutoCheck Fast Link℠ integration within their DMS, CRM, inventory management, online vehicle listings or many other integrated solutions.
In addition, the AutoCheck Member Website is now WCAG 2.1 compliant. Web Content Accessibility Guidelines (WCAG) were developed to make web content more accessible to people with disabilities. This 'web content' usually refers to text, images and sounds on a webpage or web application. It also may include code that defines structure and presentation of the page of application. While a generated AutoCheck was already WCAG2.1 compliant, the entire member site now also meets the accessibility guidelines.
AutoCheck Members can expect the same great functionality once they have signed into the site:
Run single or multiple reports
Print and email AutoCheck reports
Print the Buyback Protection Certificate and the AutoCheck Score Sticker
View the
Track their 90-day usage
Access AutoCheck brand materials including logos, videos and showroom materials
Review Best Practices and Frequently Asked Questions
Update account information
…and much more!
Below are a couple of examples which highlight the new user experience.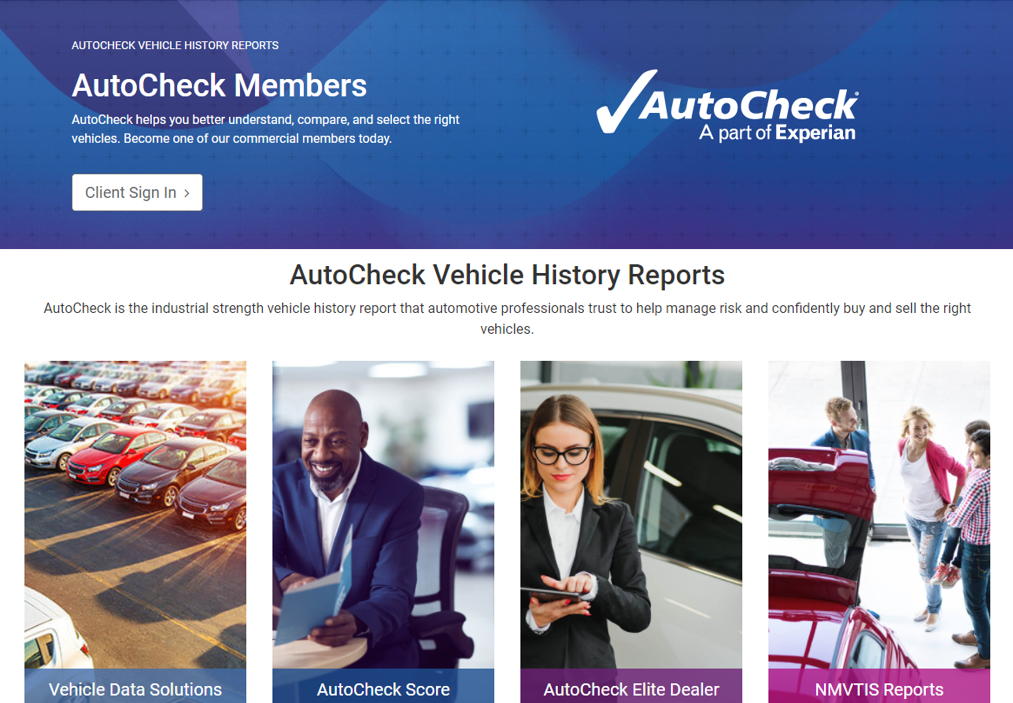 Already an AutoCheck Member? Contact us or call us at 1.888.409.2204 if you have any questions about navigating the redesigned website.
Not an AutoCheck subscriber? Contact us to become an AutoCheck client and take advantage of all the benefits.