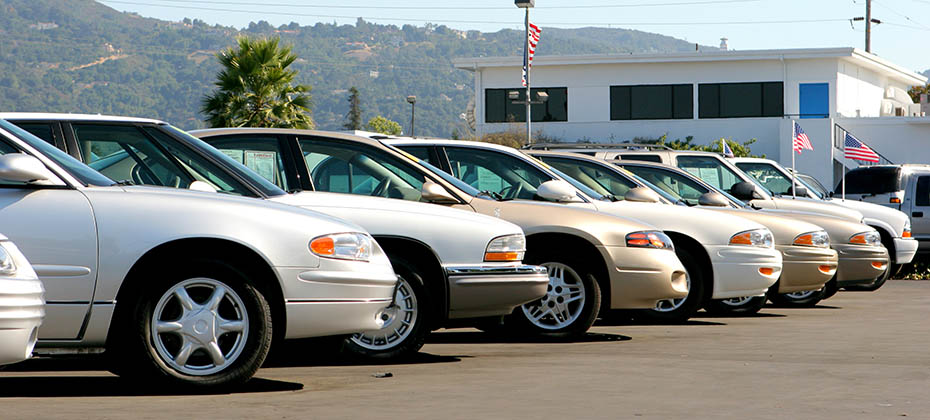 The auto finance industry has seen its fair share of shifting trends over the past year. With so much data changing rapidly, it can be easy to generalize the trends for the entire industry, just to keep up.
On one hand, it can be helpful to establish an overall baseline by looking at the data at a national level. But we have to remember trends can vary significantly based on our location. In the Q1 2021 State of the Automotive Finance Market report, we took a look at market share both nationally and regionally.
Banks Lead in the Midwest and South, Captives Lead in the West and Northeast
On a national level, captives were the only lender to significantly increase their share of the total auto finance market in Q1, increasing from 23.82% in 2020 to 28.02% in 2021. Banks decreased from 30.90% to 29.04%, and credit unions decreased from 18.41% to 17.23% of total market share.
Regionally, banks held 33.26% of the auto finance market share in the Midwest, as well as 30.83% of market share in the South, while captives held 31.23% of market share in the West, and 44.34% in the Northeast. Meanwhile, credit unions, which hold 17.23% of total national market share, hold higher shares in the West (23.29%) and Midwest(20.61%).

Differences Between New and Used Financing Market Share
There were strong variances between overall lender market share across regions, and we saw that same trend when looking at market share by lender across the new and used vehicle markets.
Captives held the most market share for new vehicles in all regions, holding 54.13% in the West, 55.66% in the Midwest, 67.69% in the Northeast and 49.20% in the South. Banks held the most market share for used vehicles in the Midwest (36.42%), Northeast (41.98%) and South (31.69%). Meanwhile, credit unions came out on top in the West, holding over 31% of market share.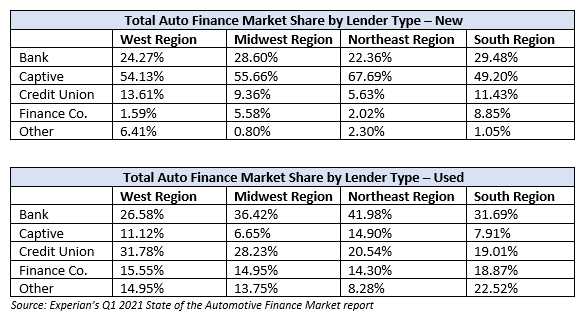 As lenders and dealers look to grow and maintain their market share, it's important that they leverage data to inform their strategies. Looking at the trends at a national level can help form an overall baseline of the market. But understanding trends at a regional level can provided additional information that enables lenders and dealers to be more strategic in their decision making.
Learn more by watching Experian's full Q1 2021 State of the Automotive Finance Market report.