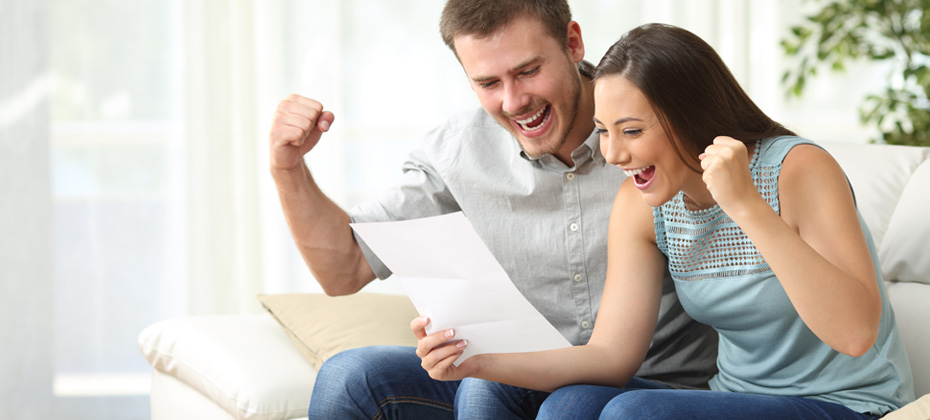 The nation's economic recovery is continuing in a positive upward trend with consumer credit scores coming exceptionally close to pre-recession numbers—the healthiest in a decade. Experian's 8th annual State of Credit report reveals the nation's average credit score is up two points year-over-year to 675, and is just four points shy of the 2007 average of 679.
"The trend line we are seeing is quite promising," said Michele Raneri, Experian vice president of analytics and new business development. "With employment and consumer confidence on the rise, the data is indicating that we have made great progress as a country since the recession. The economy is expected to expand at a healthy pace this year and we believe that credit will continue to rebound. All of the factors point towards a good year for credit in 2018."
The study also revealed that year-over-year:
Personal loan and auto loan originations increased 11 percent and 6 percent, respectively.
The average number of retail cards remains at 2.5 per consumer, while the average retail debt increased $73 to $1,841 per consumer.
The average number of bankcards increased slightly from 3.03 to 3.06, with the average card balance also increasing by $166 to $6,354.
Instances of late payments (includes bankcard and retail) remained about the same at under 1 percent.
And importantly, consumers have a positive outlook with consumer confidence up 25 percent.
Top of the credit charts
As part of the annual study, Experian analyzed consumer credit habits in U.S. cities. As in previous years, Minnesota continues to stand out with three of its cities — Minneapolis, Rochester and Mankato—leading the way with credit scores of 709, 708 and 708, respectively. Wausau, Wis. (706), Green Bay, Wis. (705) round out the top five.
Again, Greenwood, Miss., and Albany, Ga., ranked the lowest with scores of 624 and 626. While still at the bottom of the list, Greenwood and Abany residents did improve their scores by two points. Riverside, Calif.,—fifth on the list—improved its score by four points—the greatest increase of any city in the bottom 10.
Generational divide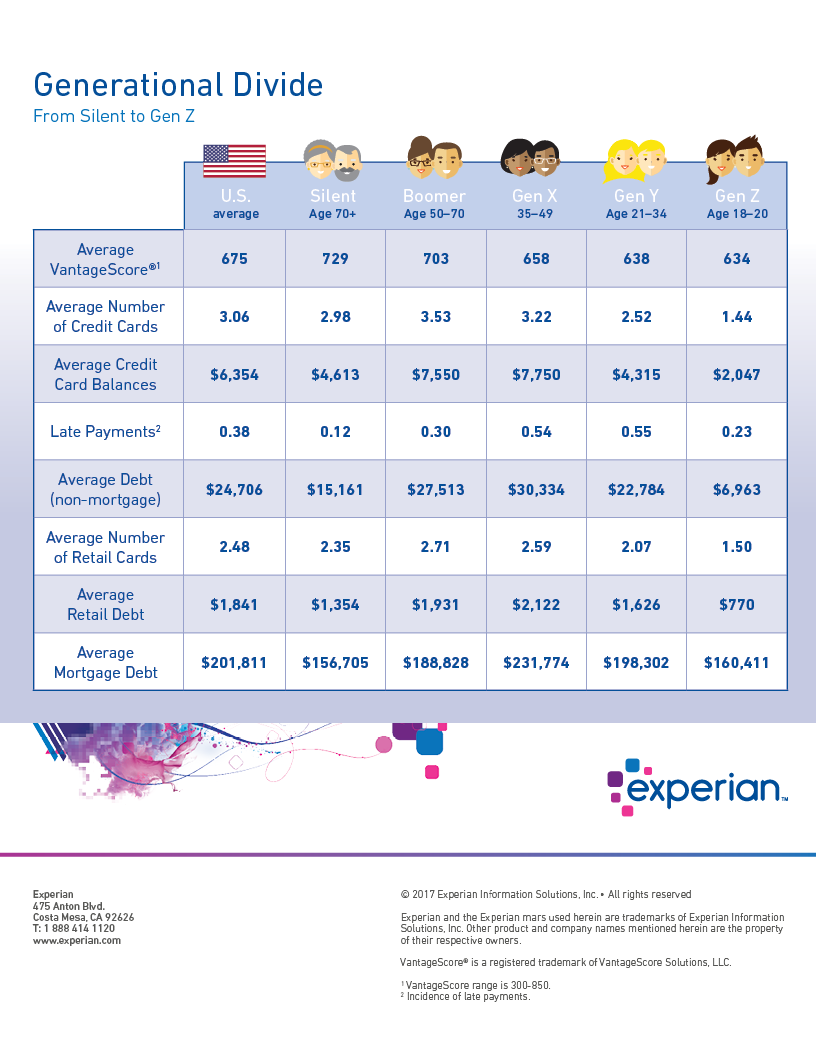 Taking the research further, Experian analyzed consumer credit information by generation, and found:
Generation Z (born 1996 and later) is building credit through different methods than the generations before them, with heavier student loan debts and fewer credit cards and department store cards. And they are keeping debts low and managing them well.
Generation Y/Millennials (born 1977-1995) have seen their scores climb four points over the past year. They've also decreased their overall average debt by nearly eight percent, but have added six percent in mortgage debt.
Generation X (born 1965-1976) has a credit score of 658, the highest mortgage debt of all generations, and a high instance of late payments compared to the national average. Their scores have improved, so they are managing their debts better than in the past,.
Baby Boomers (born 1946-1964) continue to carry quite a bit of mortgage debt, and have the lowest late payment instances of all the generations.
The Silent Generation (born 1945 and before) has quite a bit of mortgage debt, but are keeping other debts low and making payments on time. At 729, they have the best credit score of all generations and the fewest late payments of any generation.
To review findings from Experian's 2017 State of Credit report, join WiseBread's chat Jan. 18. To register, go to www.wisebread.com and follow #wbchat.
To chat with Experian live, and learn more about credit, join #CreditChat hosted by @Experian_US on Twitter every Wednesday at Noon PT/3 p.m. ET.