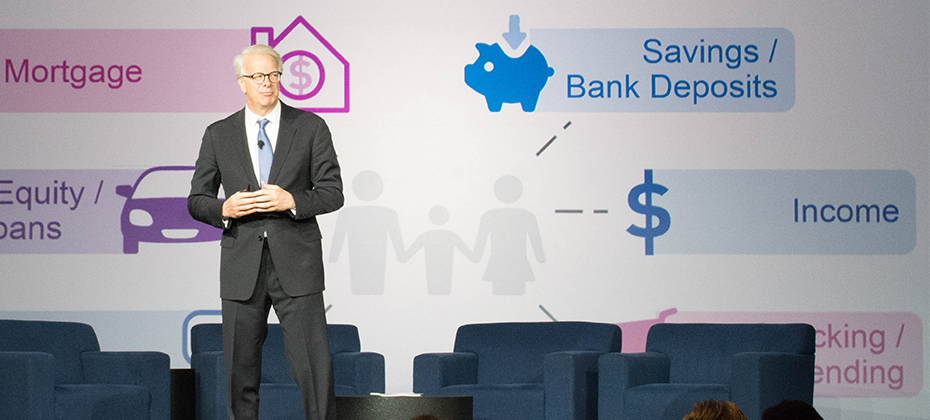 So many insights and learnings to report after the first full day of 2017 Vision sessions. From the musings shared by tech engineer and pioneer Steve Wozniak, to a panel of technology thought leaders, to countless breakout sessions on a wide array of business topics … here's a look at our top 10 from the day.
A mortgage process for the digital age. At last. In his opening remarks, Experian President of Credit Services Alex Lintner asked the audience to imagine a world when applying for a mortgage simply required a few clicks or swipes. Instead of being sent home to collect a hundred pieces of paper to verify employment, income and assets, a consumer could click on a link and provide a few credentials to verify everything digitally. Finally, lenders can make this a reality, and soon it will be the only way consumers expect to go through the mortgage process.
The global and U.S. economies are stable. In fact, they are strong. As Experian Vice President of Analytics Michele Raneri notes, "the fundamentals and technicals look really solid across the countries." While many were worried a year ago that Brexit would turn the economy upside down, it appears everything is good. Consumer confidence is high. The Dow Jones Index is high. The U.S. unemployment rate is at 4.7%. Home prices are up year-over-year. While there has been a great deal of change in the world – politically and beyond – the economy is holding strong.
The rise of the micropreneur. This term is not officially in the dictionary … but it will be. What is it? A micropreneur is a business with 0 to 4 employees bringing in no more than $200k in annual revenue. But the real story is that numbers show microbusiness are improving on many fronts when it comes to contribution to the economy and overall performance compared to other small businesses. Keep an eye on these budding business people.
Fraud is running fierce. Synthetic identity losses are estimated in the hundreds of millions annually, with 50% year-over year growth. Criminals are now trying to use credit cleaners to get tradelines removed from used Synthetic IDs. Oh, and it is essential for businesses to ready themselves for "Dark Web" threats. Experts advise to harden your defenses (and play offense) to keep pace with the criminal underground. As soon as you think you've protected everything, the criminals will find a gap.
The cloud is cool and so are APIs. A panel of thought leaders took to the main stage to discuss the latest trends in tech. Experian Global CIO Barry Libenson said, "The cloud has changed the way we deliver services to our customers and clients, making it seamless and elastic." Combine that with API, and the goal is to ultimately make all Experian data available to its customers. Experian President of Decision Analytics Steve Platt added, "We are enabling you to tap into what you need, when you need it." No need to "rip and replace" all your tech.
Expect more regulation – and less. A panel of regulatory experts addressed the fast-changing regulatory environment. With the new Trump administration settling in, and calls for change to Dodd-Frank and the Consumer Financial Protection Bureau (CFPB), it's too soon to tell what will unfold in 2017. CFPB Director Richard Cordray may be making a run for governor of Ohio, so he could be transitioning out sooner than the scheduled close of his July 2018 term.
The auto market continues to cruise. Experian's auto expert, Malinda Zabritski, revealed the latest and greatest stats pertaining to the auto market. A few numbers to blow your mind …
U.S. passenger cars and light trucks surpassed 17 million units for the second consecutive year
Most new vehicle buyers in the U.S. are 45 years of age or older
Crossover and sport utility vehicles remain popular, accounting for 40% of the market in 2016 – this is also driving up finance payments since these vehicles are more expensive.
There are signs the auto market is beginning to soften, but interest rates are still low, and leasing is hot.
Defining alternative data. As more in the industry discuss the need for alternative data to decision, it often gets labeled as something radical. But in reality, alternative data should be simple. Experian Sr. Director of Government Affairs Liz Oesterle defined it as "getting more financial data in the system that is predicted, validated and can be disputed."
#DeathtoPasswords – could it be a reality? It's no secret we live in a digital world where we are increasingly relying on apps and websites to manage our lives, but let's throw out some numbers to quantify the shift. In 2013, the average U.S. consumer had 26 online accounts. By 2015, that number increased to 118 online accounts. By 2020, the average person will have 207 online accounts. When you think about this number, and the passwords associated with these accounts, it is clear a change needs to be made to managing our lives online. Experian Vice President David Britton addressed his session, introducing the concept of creating an "ultimate consumer identity profile," where multi-source data will be brought together to identify someone. It's coming, and all of us managing dozens of passwords can't wait.
"The Woz." I guess you needed to be there, but let's just say he was honest, opinionated and notes that while he loves tech, he loves it even more when it enables us to live in the "human world."
Too much wonderful content to share, but more to come tomorrow …