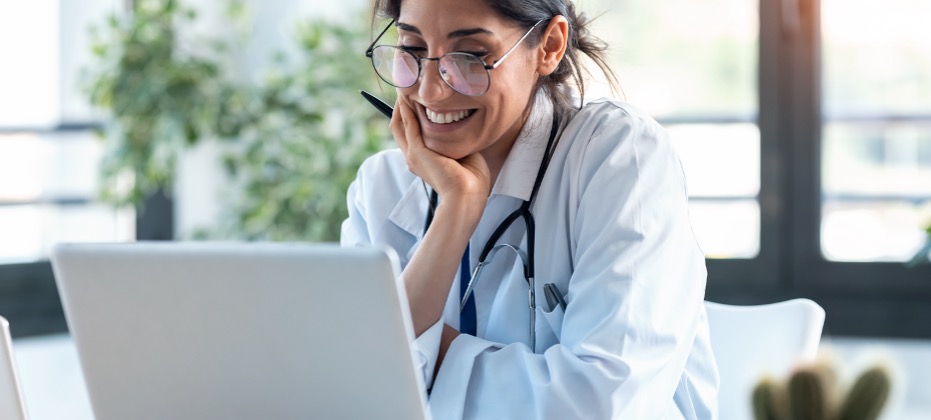 With the ability to be applied across many different areas – from disease prediction to claims management and administrative tasks – data and analytics in healthcare is booming. In fact, according to a Grand View Research report, the global market for data analytics was valued in 2022 at $35 billion and is expected to increase at a compound annual growth rate of 21.4% until 2027. So, why the rapid growth? How can healthcare data analytics be used across the healthcare revenue cycle?
The Role of Data and Analytics in Healthcare
Historically, there has been a large amount of healthcare data being generated, but the industry has struggled to properly leverage this data into useful insights that improve patient outcomes, operations, or revenue. Today, with increasingly advanced data analytics, healthcare providers are using real-time data-driven forecasts to stay nimble and pivot quickly in rapidly changing healthcare and economic environments. And there is more data collaboration between healthcare organizations to convert analytics-ready data into business-ready information, thanks to the ability to automate low-impact data management tasks. Data-derived intelligence is also now easier to share with colleagues, third parties and the public.
Types of Healthcare Data Analytics Methodologies and Tools
Healthcare data analytics involves several different types of methodologies and tools – all of which can be applied to various aspects of revenue cycle management. For example, descriptive analytics allows organizations to review data from the past to gain insights about previous trends or benchmarks. Predictive analytics, on the other hand, uses modeling and forecasting to help predict future results. When a strategic course of action is needed based on certain data inputs, prescriptive analytics is used. If a provider wants to take a deep dive into raw data to uncover patterns, outliers, and interconnection, they may employ discovery analytics.
There are also generally three categories of technology-driven tools that can help collect and convert raw data into usable insights during the revenue cycle, including:
Solutions that gather data from a wide variety of sources, such as patient case files, machine-to-machine data transfers, and patient surveys
Programs designed to scrub, validate, and analyze data in response to a specific question being researched
Software created to leverage the results produced by the analysis into actionable suggestions that be applied to meet specific goals
Applying Data Analytics to Maximize Revenue
"There are many things driving near-constant change in the healthcare revenue cycle, including shifting reimbursement, evolving value-based payment models, growing regulatory pressures, and increasing provider risk and patient responsibility," says John Menard, VP of Product, Analytics, at Experian Health. "Healthcare organizations are also adapting to value versus volume reimbursement models, requiring revenue cycle leaders to lean into leveraging data analytics to improve not just operational efficiency, but patient financial experience and quality outcomes as well."
Here's a closer look at how data analytics can help with revenue cycle management:
Assessing Patient Finances
From registration to collections, data analytics can play a key role at every step of the patient journey – and revenue cycle. Not only can the right data analytics tools help healthcare organizations better assess a patient's individual financial circumstances, but they can also help providers create accurate estimates and payment plan recommendations. Data-driven technology can help providers reduce surprise billing through more transparent pricing, helping patients navigate the cost of care and providing more timely patient communication.
Digital solutions can help improve the patient financial journey by:
Providing a self-service patient portal – With a solution like PatientSimple, patients get convenient 24/7 access to self-service account management tools. They can use the online portal to log into their healthcare account to securely process payments, request or review payment estimates, and schedule appointments. The portal also provides patient access to pricing information, plus the ability to apply for financial assistance or set up payment plans. With easy-to-use patient online tools, patients are more likely to meet their self-pay responsibilities and providers get paid more quickly as a result.
Offering payment solutions – To collect payments with confidence, healthcare providers can utilize comprehensive data collection and advanced analytics through a digital solution like Patient Financial Clearance. With this solution, providers use a patient's financial data to quickly assess a patient's propensity and likelihood to pay prior to treatment. When appropriate, providers can then offer empathetic financial counseling and connect those that potentially qualify to financial assistance programs. By applying data analytics to this payment solution, healthcare organizations can increase point-of-service collections while reducing bad debt—in real-time.
Providing patients with more accurate estimates – A recent Experian Health study found that 4 in 10 patients said they spent more on healthcare than they could afford. However, when patients know the expected cost of their care up front, they feel more empowered and make better decisions. Patient Estimates lets providers create more accurate estimates, eliminate manual tasks and improve patient satisfaction. Plus, it allows providers to automate and standardize their price transparency practices, which can help healthcare organizations meet regulatory requirements, create a more positive patient experience and increase revenue at the point of service.
Reduce Denied Claims
According to Experian Health's 2022 State of Claims survey, denied claims are on the rise with 42% of providers reporting that denials increased in the past year. 47% of respondents also said improving clean claims rates was a top pain point. Digital solutions can help providers reduce denied claims and increase revenue by:
Automating claims management – With a solution like ClaimSource®, providers can automate their claims management systems – helping to ensure claims are clean before they are submitted to a government or commercial payer. Using an automated solution also allows providers to streamline the claims management process from a single web application. With ClaimSource, providers can easily analyze claims, payer compliance and insurance eligibility. Plus, it allows staff to prioritize their workload and focus on high-impact accounts – resulting in claims denial rates of just 4% compared to the industry average of more than 10%+.
Optimizing efficiencies through artificial intelligence – Incorporating artificial intelligence (AI) into an automated claims management solution enhances the claims process in two key moments: before claim submission and after claim denial. AI Advantage™ integrates seamlessly with ClaimSource to continuously learn and adapt to ever-changing payer rules. The solution features two AI offerings, AI Advantage – Predictive Denials and Denial Triage, which can be customized to prioritization thresholds.
Verify Insurance and Patient Information
Missing patient healthcare data can be a headache for providers to hunt down but looking for active coverage is often necessary. Providers must contend with a range of factors impacting patient coverage – including forgotten coverage, inadequate coverage, patients being misclassified as self-pay and regulatory changes, particularly with Medicaid and Medicare coverage. Implementing digital solutions can help providers use data to verify and find missing patient health insurance coverage, optimize patient collections, and boost revenue by:
Utilizing automated, real-time insurance verification – Verifying patient coverage prior to service using a digital solution, such as Experian Health's Insurance Eligibility Verification. This tool can help providers experience fewer payment delays and claim denials. Plus, verifying insurance with automated insurance eligibility and benefits data improves cash flow, reduces claims denials and speeds up payments, including Medicare reimbursements. Patients also feel empowered with accurate payment estimates and accelerated registration, leading to a better patient experience overall.
Improving collections with better data – With Collections Optimization Manager, providers can screen out bankruptcies, deceased accounts, Medicaid and other charity eligibility ahead of time. Through targeted collection strategies, providers can leverage actionable insights to focus on high-value accounts. Plus, predictive algorithms and data-driven rules help providers route and distribute accounts to the right collectors and agencies, controlling overall collection costs. This solution also connects providers to live support from an experienced optimization consultant that will help develop a tailored collection strategy through data evaluation and industry knowledge.
Finding unidentified coverage – In 2022, Coverage Discovery tracked down previously unknown billable coverage in 28.1% of self-pay accounts, finding more than $64.6 billion in corresponding charges. Providers can use Experian Health's Coverage Discovery solution at any point in the revenue cycle to look for previously unidentified coverage – maximizing insurance reimbursement revenue and reducing accounts sent to collections, charity, or bad debt. Coverage Discovery also automates self-pay scrubbing and proactively identifies billable Medicare, Medicaid, and private insurance options, using a mix of search, historical information, proprietary data sources and demographic validation.
See how the right data and analytics can help providers better understand their patients, streamline operations, and improve revenue.