Your organization would make a great participant in our Universal Patient Network.
We've developed a unique solution leveraging Experian's demographic data to establish a universal patient identifier, which has higher match performance than standard industry tools. We would like to offer YOU an opportunity to leverage our Universal Identity Manager (UIM) Batch product at NO CHARGE.*
What you give: Patient demographic data in a secure file/message
What you get: File with Universal Patient Identifier (UPI) and identified duplicates (at your specific frequency)
How you benefit: Information exchange, care coordination, patient safety, operational efficiency and financial savings
Your organization can address duplicate issues and be at the forefront of promoting a universal patient identifier.
Contact Experian Health today to learn more! Visit www.experian.com/umpi, email experianhealth@experian.com or call 1 888 661 5657.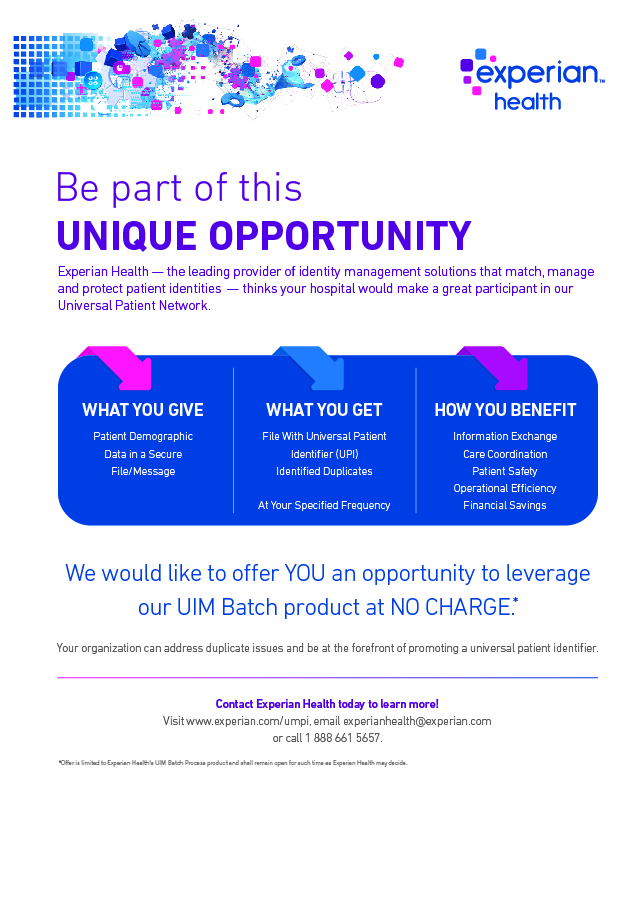 *Offer is limited to Experian Health's UIM Batch Process product and shall remain open for such time as Experian Health may decide.