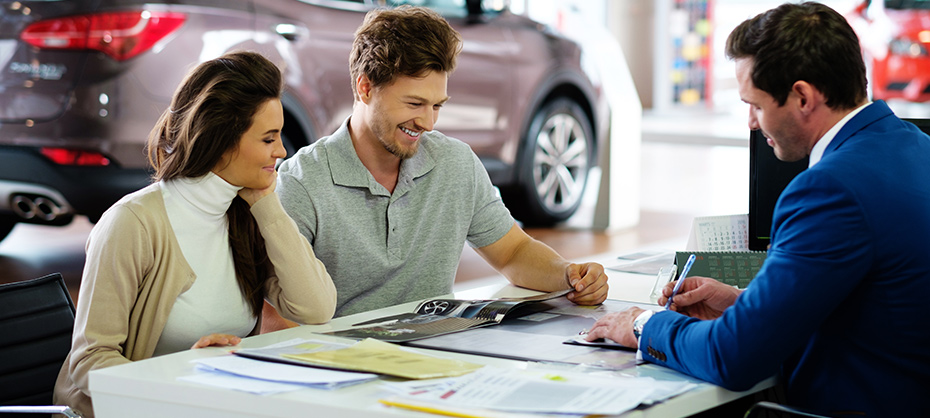 Who is the ideal dealership customer? Wouldn't they be one that buys or leases a car and becomes a repeat customer? Loyal customers are ideal because they prefer to go to your dealership to purchase a vehicle, get their vehicle serviced, and even have their family and friends purchase from you. This brings up an important question: what is customer loyalty worth to you?
According to the White House Office of Consumer Affairs, on average, loyal customers are worth up to 10 times as much as their first purchase. They also found that it is six to seven times more expensive to acquire a new customer than it is to keep a current one. Marketing Metrics found the probability of selling to a new prospect is only between 5-20%. But if you are selling to an existing customer, the probability rises to 60-70%. So, knowing this, what holds dealers back from actively conquesting loyal customers? Time, money, resources, expertise, priority, process and systems, and data are the key factors that keep them from pursuing these ideal customers.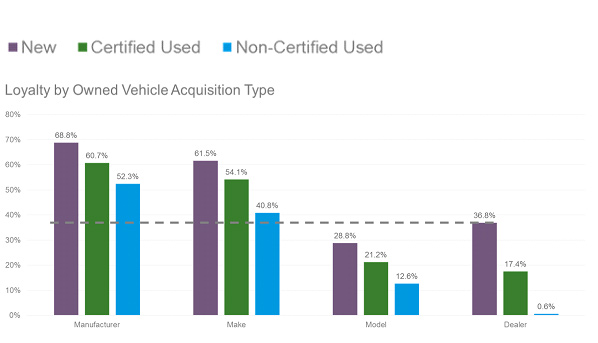 Even though you may stare across the street at them every day, you must remember that your competition is much bigger than the dealerships next door to you. According to recent Experian® research, Whether it is a new, certified used, or non-certified used vehicle, auto manufacturers will have the highest level of loyalty by owned vehicle acquisition. Next to that, you have the Make of a vehicle followed the Model.  Dealerships rank last in loyalty against these major factors.
This leads to asking a few "what-ifs". What if you have the unique opportunity to improve customer loyalty, make more money, and prevent defection to the competition? What if you had actionable insights to know your customer's buying and loyalty propensities with a high degree of accuracy? How about if you had knowledge of timing on when to engage with your customers to appropriately deliver the right message and offers with the highest potential conversion rate? Finally, what if you had an easy, cost-effective, yet powerful way to unify big data relating to consumer, vehicle, and market and your customer data to make better marketing decisions? Thanks to Experian® and Auto HyperConnect™, you don't have to ask those questions anymore.
Auto HyperConnect leverages the most robust combination of data assets under one roof.  Our loyalty component is called Auto HyperMonitoring™ and takes loyalty to the next level.
Auto HyperMonitoring is an event-based customer loyalty measurement solution that gives you the ability to more effectively manage and strengthen your customer retention efforts.  With insights derived from the monitoring of both macro- and micro-environments relating to the vehicle, consumer events, and the overall automotive landscape, clients can quickly gain a deep understanding of consumer loyalty propensities and can create and execute initiatives that maximize their customer loyalty opportunities.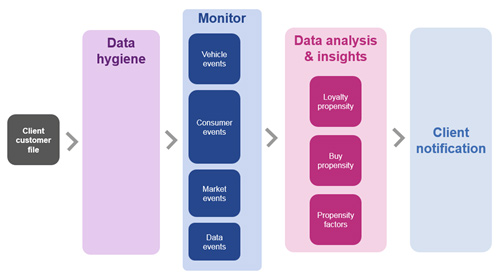 Starting with a client's customer file, Auto HyperMonitoring provides data hygiene that verifies the VIN matches the customer household and will only monitor the VINS that have a match. Next, there is monitoring for vehicle events such as accidents or airbags going off.  Consumer events equate to having a baby or moving.  Market events involve incentives, OEM loyalty, and warranty expiration. Data events are phone numbers, email address, or VIN verification through the hygiene process.. These events feed into the creation of analysis & insights to identify your customers' behavioral patterns attributed to loyalty, purchasing, and other factors.  When key opportunities are identified, there is client notification. This is used to manage the customer relationship and loyalty through a dealer's CRM system and comes in an email.
How you would use Auto HyperMonitoring? It can be used to bring customers back into the showroom or service lanes in a few different ways. Initially, Dealers can call consumers to open the lines of communication. Next, sending consumers emails and direct mail with special offers are both effective. Finally, Auto HyperMonitoring can also be used to activate digital media targeting campaigns to better reach them where they're spending their time.
Finally, we have the product benefits of Auto HyperMonitoring. First off, it enhances customer engagement & loyalty. By proactively engaging with clients at the right moment based on important and relevant vehicle, customer, and market-related event triggers, loyalty can be systematically strengthened. Second, it improves marketing efficiency. Knowing when to engage with your customer base to minimizes the risk of over and under marketing exposure; improve conversion and reduce cost. Third, complete, accurate, & actionable data is delivered in a timely manner. Auto HyperMonitoring leverages both a client's customer file and Experian's rich data assets to enable a complete view of customer opportunities. Finally, Auto HyperMonitoring compliments and supports OEM/dealer loyalty programs. Maximizing revenue opportunities by achieving/surpassing OEM/Dealer loyalty program goals is possible with Auto HyperMonitoring.
Customer loyalty is important and will directly impact dealership sales in both your showroom and your service lanes – including the benefit of referral customers. The challenges of competing with manufacturers and other dealerships are mitigated with Experian's Auto HyperConnect suite and Auto HyperMonitoring. With these, you will have greater success when targeting customer loyalty and using data to keep the relationship between the dealership and the customer alive.