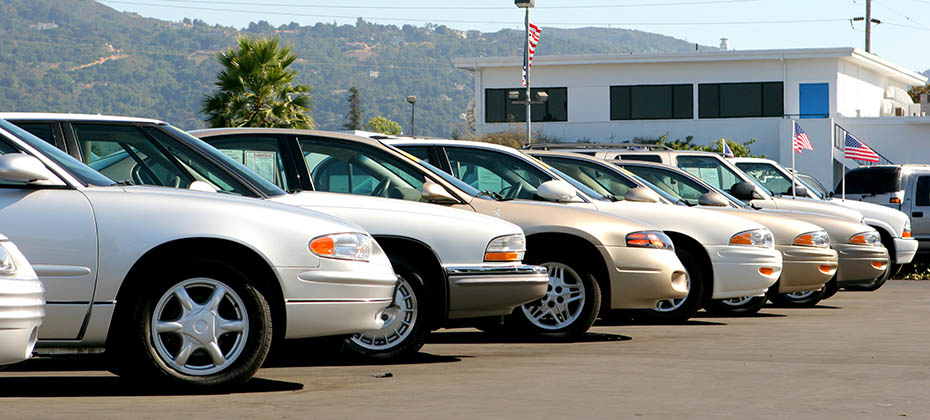 There are over 280M cars and light duty trucks on the road and over 25% have at least one open recall. Do you know which of your online units have an open recall? Would it be helpful to your business if you had up-to-date recall information available every day—automatically?
AutoCheck® dealerships can receive an emailed daily Open Recall Inventory Check Report as part of their AutoCheck subscription. The report (PDF format) will show dealers which of their online listings have an open recall. The report will list inventory that has open recall(s) based on pre-owned vehicles the dealer has listed on AutoCheck.com. Having an easily reviewable report delivered to your Inbox is a great way to stay on top of internal recall policies and procedures.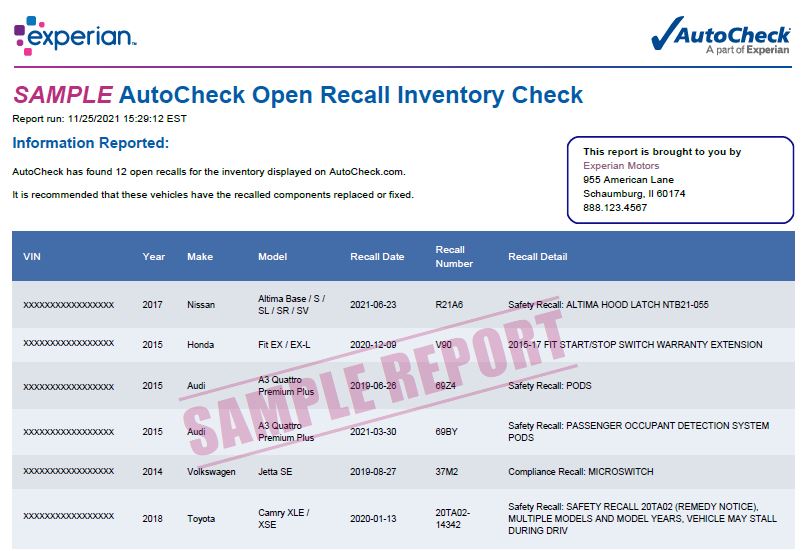 Taking care of open recalls is good for business
Taking action on recalls is also good for business. Consumers searching your online inventory want transparency from their dealer and running across a vehicle that has an open recall may not be in the dealer's best interest. Taking care of that recall and ensuring that a consumer doesn't stumble across it during the purchase process is good for consumer loyalty.
Another AutoCheck dealer benefit is the option to list pre-owned inventory on CarZing and AutoCheck.com for no additional fee. AutoCheck is the exclusive vehicle history report provider on CarZing.com, so the CarZing vehicle details page will display both AutoCheck data elements and provide a link to the full AutoCheck report.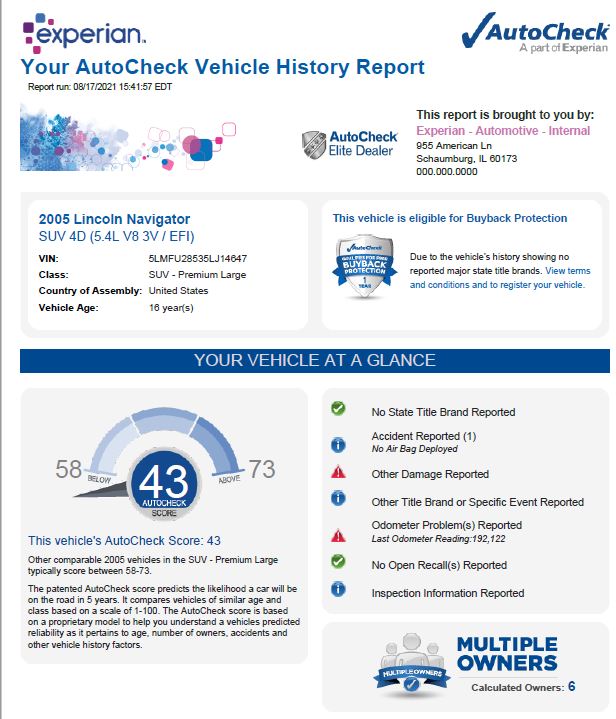 Any AutoCheck dealer displaying their inventory on CarZing will automatically have their inventory available via the "Finding Vehicles" search features on AutoCheck.com. (Yes, you read that correctly – dealers can list their inventory on CarZing and AutoCheck.com for NO additional fee – it's part of their AutoCheck subscription!)
In addition, any dealer listing their inventory on AutoCheck.com can also receive the AutoCheck Open Recall Inventory Check report.  Please note that Experian provides the AutoCheck Open Recall Inventory Check Report based upon recall information reported and made available to Experian by the applicable automotive manufacturer(s). Clients should check the automotive manufacturer's website for the most current recall information for all inventory vehicles.
For dealers with an AutoCheck subscription, you can activate your vehicle listings for free on AutoCheck.com and CarZing.com, by calling client
services at 1 888 409 2204.
For dealers that are not yet subscribers, here's a few other things you may not know about AutoCheck Vehicle History Reports. We do not re-market to shoppers, resell VDP leads or offer your competitors inventory for consideration on AutoCheck.com. Our goal is to help your dealership sell your inventory.
For dealers who are interested in learning more about the benefits of becoming an AutoCheck subscriber contact us today.