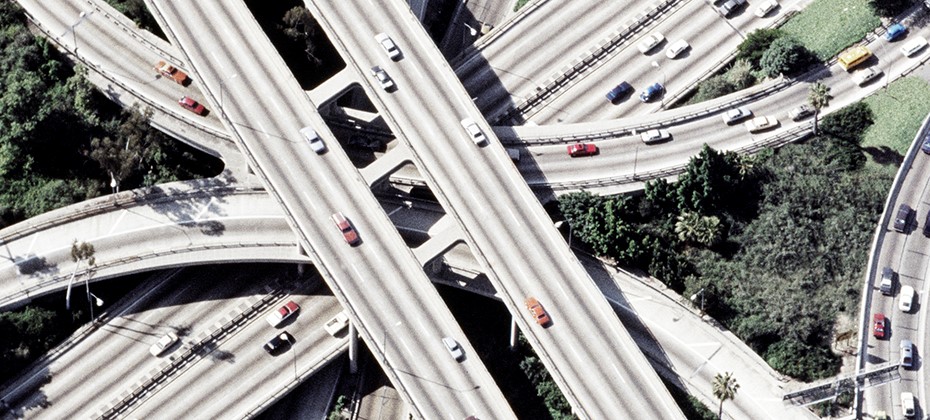 You can't open an automotive magazine or listen to a podcast without some sort of reference to electric vehicles (EVs). As the industry looks to move toward more sustainable fuels, EVs are making quite a splash.
But how does that hype compare with the numbers? In Experian's Automotive Market Trends Review: Q2 2021, we looked at the data to better understand EV and internal combustion engine (ICE) registration trends.
EV registration sees significant growth
Through the first half of 2021, electric vehicles comprise just 0.43% of all of vehicles in operation. But that small number has seen significant growth year-over-year. From January – June 2021, EVs made up 2.4% of all new vehicle registrations—which is 117.4% growth year-over-year.
While it will come as no surprise to anyone that Tesla was the dominant brand of all registered EVs, what may be surprising is that its share is decreasing. Through Q2 2020, Tesla held 79.5% of EV registrations, but that has dropped to 66.3% a year later. The difference is due to gains by brands like Chevrolet, which grew from 8.3% to 9.6% year-over-year, along with growth from Ford (5.2%), Nissan (3.9%) and Audi (3.3%).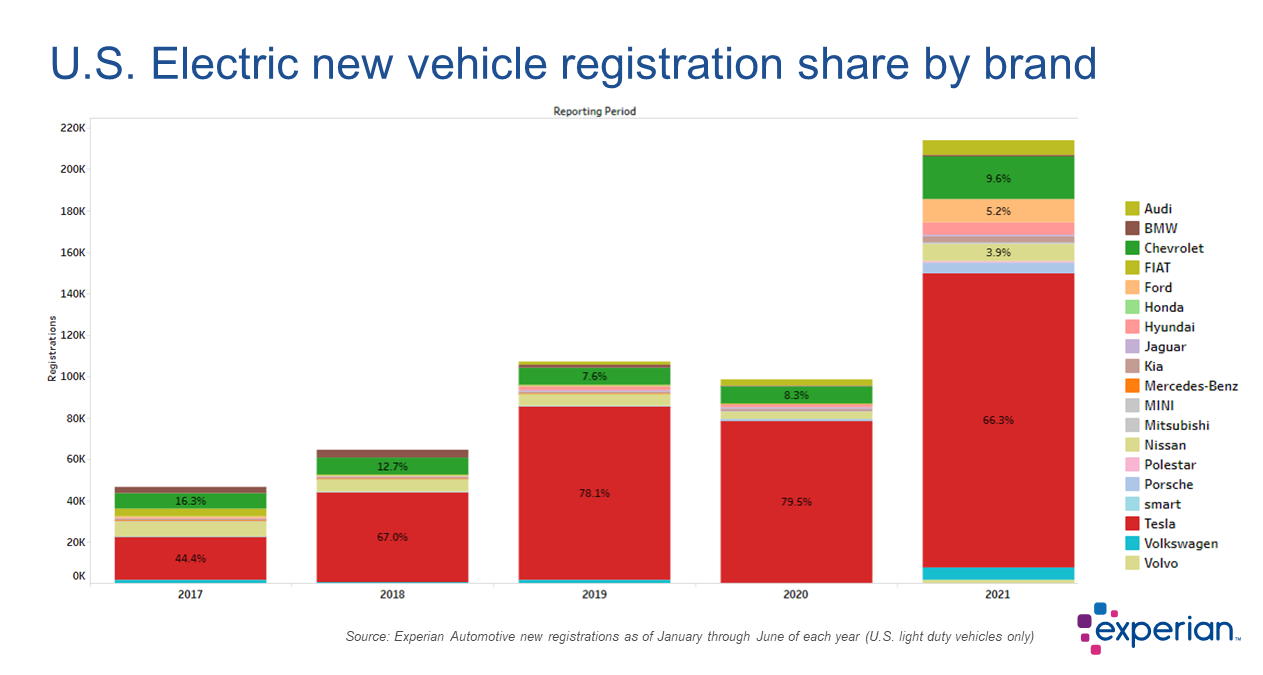 With numerous brands promising new EV models in the coming years, market share will be an interesting trend to monitor.
ICE registration trends
Despite significant growth in the EV market, the reality is, ICEs still made up 97.63% of new vehicle registrations in Q2 2021 and will continue to take up the lion's share for some time, even as more EV models are introduced.
Taking a closer look at the data, we see that Toyota makes up the largest share of new vehicle registrations through the second quarter, making up 13.8% of new vehicle registrations, followed by Ford (11.2%) and Chevrolet (10.5%).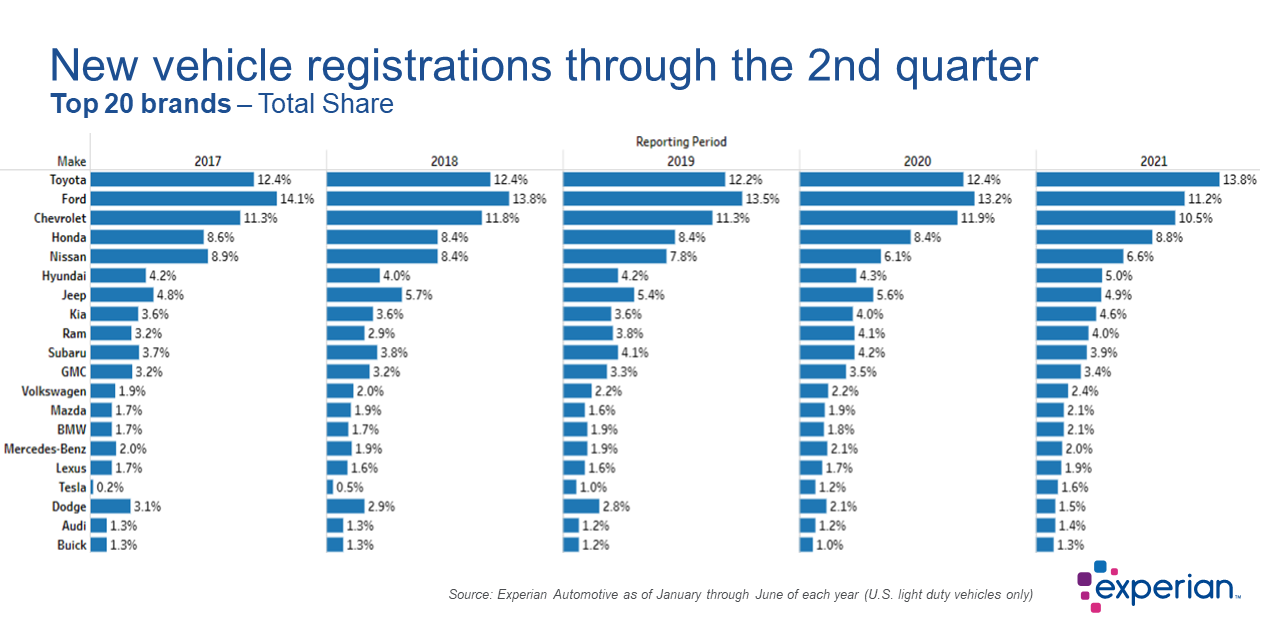 Crossover vehicles (CUVs) and SUVs continue to be the most popular vehicle segment, growing from 49.5% in Q2 2020 to 53.4% in Q2 2021. The other two most popular segments, sedans and pickups, saw year-over-year decreases. Sedans decreased from 19.4% of new vehicles registered in Q2 2020 to 18.5% in Q2 2021, while trucks declined from 19.9% to 17.3% in the same time frame.
Understanding audiences to market more effectively
Since EVs will remain a small percent of the mix, it's even more important to understand what's unique about the consumers who are inclined to purchase them. Leveraging data-based solutions that help identify propensities toward specific vehicle types, such as EVs, can help marketers create messaging that resonates with these consumers, ultimately resulting in a higher return on ad spend.
To learn more about EV and other vehicle registration trends watch the full Automotive Market Trends Review: Q2 2021 webinar.