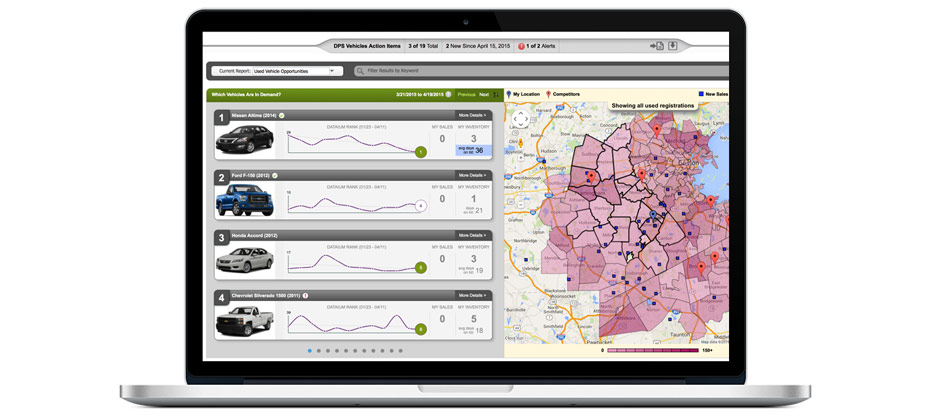 Today is a great day for Experian and our automotive clients. We've been working with String Automotive for several years, and have now taken the next step in our relationship, as String Automotive has become part of the Experian family.
In today's generally flat new-car market, successful dealers need the perfect mix of data and market intelligence to drive more sales, cultivate deeper customer relationships and develop new ways of better conquesting customers from their competition.
String Automotive's Dealer Positioning System, matched with our own information and data-driven insights, provides our automotive dealer clients with an ideal solution to grow their businesses. It is the only platform to combine dealership website analytics and inventory information with automotive market, consumer demographic and purchasing behavior data.
Simply put, it takes the pulse of each dealership's local market and guides dealers to make the most profitable, proactive decisions for every store and unique situation. This powerful analytics solution simplifies choices like how to spend marketing dollars and where to target conquesting efforts by letting market and dealership data drive decisions. What's the bottom line? The Dealer Positioning System increases profitability across the dealership.
It's one thing to hear that message from us, but we also hear of the benefits from our clients. Paul Schnell, digital marketing director at Wilsonville Toyota in Oregon, had this to say:
"There is no 'I wonder if…' with the Dealer Positioning System®. Now it is, 'I know it and I can act on it today'. Their latest tools give us zip-code-level intelligence that's just not available at the dealer level any other way. We are micro-targeting the perfect message with the perfect vehicle to the perfect prospect."
For more information on Experian or our other automotive products and services, please visit www.experian.com/automotive. For more information about String Automotive and the Dealer Positioning System, please visit http://stringautomotive.com/Dealer_Positioning_System.