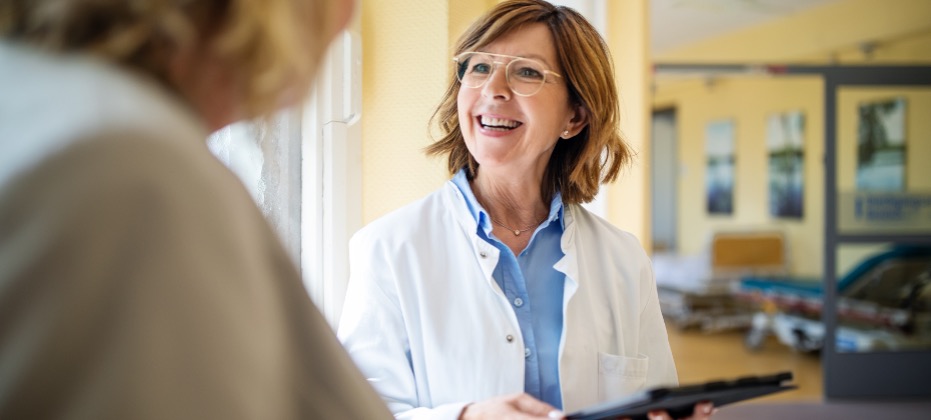 Nearly three out of four healthcare leaders said reducing claims denials was their highest priority in  Experian Health's State of Claims Report. But knowing how to reduce claim denials is difficult. According to the survey, 62% of providers said they had insufficient access to data and analytics, and 61% lacked automation to meet the challenges of healthcare claims management. New and emerging artificial intelligence (AI) tools aim to help providers overcome these hurdles.
Makenzie Smith, Product Manager at Experian Health, shares her thoughts on how providers can harness AI tools to predict, prevent, and prioritize claim denials for better results—and why preventing claim denials is so critical now.
Q1: What is the challenge for revenue cycle teams, specifically when it comes to managing claims denials?
A: "Revenue cycle teams that want to optimize claims processing have to respond to shifting payer behaviors, including major changes in the volume of denials," says Smith. "Payers have been able to outpace providers in adopting new technologies, including AI. Payers are able process claims in a matter of seconds. For revenue cycle teams, that means receiving a large volume of denials all at once, which can be overwhelming."
At the same time, keeping up with policy changes is more than a full-time job. "You may have 20 different payers, each with multiple plans and policies that each have their own reimbursement or clinical guidelines," says Smith. None of these policies are static: "They're constantly changing, which creates a huge challenge for providers."
Finally, maintaining enough staff to manage increased volume is an uphill battle. "The number of team members handling denials has not grown in a proportional way. Quite the opposite: They're being asked to do more with less. As providers continue to struggle with staffing imbalances, the challenge is not only having somebody to actually sit in these seats, but also managing the constant training and retraining that goes along with it."
Q2: Why is effective denial management so critical for providers' success? 
A: "By one estimate, half of our country's hospitals are operating in the red," says Smith. "Healthcare finance professionals are under incredible pressure to maintain or increase their operating margins. Meanwhile, Experian Health data shows that most organizations operate with an initial denial rate of 10% to 15%, and that rate is increasing year over year.
"Effective denials prevention and management allow providers to get paid appropriately for services they've already provided," Smith continues. "Optimizing revenue, improving cash flow, and maintaining expenses all stack up to provide meaningful financial resources providers can use on essential investments in staffing, physician recruitment and retention; capital equipment; and the expansion of services or service areas."
Providers that can't maintain healthy margins may be at risk for acquisition. "[Providers' viability is] put at risk daily because they must fight for every dollar from payers," says Smith.
Q3: How is Experian Health helping providers leverage AI tools and technology to start leveling up their denial management strategies?
A: "Healthcare claims management technology solutions should be helping to bring providers up to speed," Smith says. "Experian Health has released two products powered by a machine learning technical enablement layer to the market this year. Providers that use ClaimSource® to manage their claims can add AI Advantage™ tools to improve the way they manage claim denials.
"AI Advantage – Predictive Denials uses AI and the provider's historical claim and remit data on the most probable reasons for medical claim denials to predict when claims will deny, in real-time, prior to claim submission. Billing teams can review denial predictions within their existing claim review workflows," says Smith. "The design is incredible, allowing teams a seamless workflow integration with almost zero additional training."
"When denials do occur," Smith continues, "AI Advantage – Denial Triage provides a predictive score based on the likelihood of recovery. Many denial follow-up teams prioritize working denials based on the highest charge amount. While that seems like a logical approach, there's a better way: segmenting by likelihood of recovery to drive priority and accelerate cash flow and recovery rates."
Q4: How is AI Advantage different from using human intelligence to predict and triage claim denials?
A: "In some ways, it's quite similar," Smith explains. "I was a director of billing for several years before I came to Experian Health. Often, one of the more senior billers would come to me and say, 'Hey, we're starting to see a trend with this payer, or with this denial reason code. We probably need to talk to our payer representative about this.'
AI Advantage uses machine learning to identify these trends with greater speed and effectiveness, system-wide and in real-time. "Without this tool, one biller could see a denial happening twice and think nothing of it, while the biller sitting next to them is experiencing the same thing. This technology compiles all of this information together and identifies the holistic picture, so everyone benefits and trends don't go undetected."
Using AI in claims processing can make human teams more productive; it may help them feel empowered as well. Schneck Medical Center saw an average 4.6% monthly reduction in denials after six months of using AI Advantage. "Our people spend hours and hours on the phone with insurance companies fighting for dollars on claims we believe [are payable]," says Skylar Earley, Director of Patient Financial Services at Schneck. "Any leg up we can give our team members is a big, big deal."
Watch the webinar to hear from Eric Eckhart of Community Regional Medical (Fresno) and Skylar Earley of Schneck Medical Center as they discuss how their organizations use AI tools for claims management.

Watch the webinar
Q5: What types of denials can providers expect to prevent, versus those that will continue to be denied?
A: "Overall, the answer depends on a few things: an organization's healthcare claims denial management processes and ability to change on the one hand, and payer requirements on the other," Smith says. "Too often, providers say they're just playing the game that payers put forward, simply so they can get paid what they are contractually owed.  As an industry, we cannot continue to accept this as the status quo. We'll find ourselves and our communities in a worse position to access healthcare."
Organizations that are willing to adopt new technology and be agile with their denial strategies can reduce their denial rates, even in a constantly changing environment. "I've seen the most success in denial prevention with eligibility, authorization, and technical billing categories," says Smith. "But AI and machine learning are opening the door for new potential strategies that are more effective, more efficient, and more productive."
Q6: Clearly, claim denials affect providers, but patients also have a stake here. How do denied claims interfere with a positive patient experience?
A: "There's definitely a patient impact," says Smith. "Medical billing is already confusing, and a lot of people just don't understand their insurance to begin with. Add in potential denials and bills that seem to keep coming for months and months before getting resolved, and patients are bound to feel frustrated.
Getting claims right on the first submission solves many of these issues up front. It reduces anxiety and makes for a much better patient experience overall."
Adding AI to the claims management toolkit
Understanding how to avoid claim denials is a priority with good reason: Minimizing denials can improve revenue, lighten the burden on staff, and even help maintain a positive patient experience. Marginal changes make a difference: Smith notes that an increase in denied claims from 10% to 12% at an organization with $500 million in gross patient revenue represents a $2 million impact. Adding AI tools doesn't eliminate all the challenges of managing healthcare claims, but it does help equip providers for the current environment—and the future.
Learn more about how AI Advantage can help providers prevent denials, improve the likelihood of reimbursements, and prioritize denied claims for reworking more efficiently and effectively.