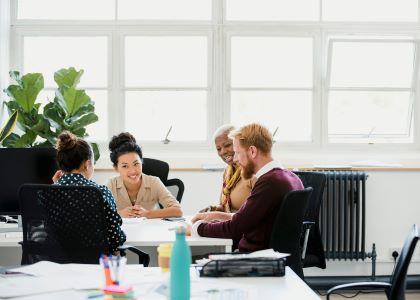 Unemployment benefits fraud is on the rise. After the coronavirus pandemic, millions of Americans who found themselves jobless applied for unemployment benefits. With that came a sharp increase in scams and fraud, resulting in stolen identities and billions of dollars lost. Today, fraud on unemployment benefits continues to be a serious issue, and if someone received IRS Form 1099-G, they may notice unemployment claims they've never made.
If inconsistencies are spotted with unemployment benefits, an individual may have fallen victim to fraud. It's important for employers and employees to know how someone can protect themself from unemployment benefits fraud, even if not currently claiming unemployment benefits. In this guide, we'll walk through some of the top ways to guard against fraud on unemployment benefits.
Secure Your Personal Information
One of the easiest ways to fall victim to unemployment benefits fraud is having personal identifying information stolen. This information includes full legal name, address, phone number, email and Social Security number. It's important to remember that fraud can happen to anyone, which is why it's crucial to stay vigilant and up-to-date on the news to determine if any organizations with access to an individual's information were part of a data breach. This way, someone can determine if any of their accounts were compromised and information stolen.
Tips for Securing Your Personal Information
To protect from unemployment benefits fraud, there are several preventative measures to secure personal information. These tips include:
Using strong passwords: One of the most essential tips for securing your personal information is to use strong and different passwords for any online account. To create a strong password, use a combination of letters, numbers and special characters. Additionally, avoid using common passwords or passwords that use guessable information, such as name, pet's name or birth date. There are free online password generators that can help create passwords and encrypted password wallets that can safely store all online passwords.
Enabling two-factor authentication: A great way to add a layer of security is by enabling two-factor or multi-factor authentication, which requires a second form of verification when signing into an online account, such as getting a code sent to a phone.
Setting up biometric authentication: Another additional verification step to enable is biometric authentication to secure passwords and devices, which can include facial or fingerprint recognition, to protect against malware, viruses and hackers.
Monitoring your accounts regularly: An ongoing method for protecting personal information is monitoring accounts to spot any discrepancies that may indicate fraud. This means checking bank and credit accounts, as well as investment and retirement accounts, to spot any unauthorized transactions that may indicate information was stolen.
Monitor Credit and Bank Accounts
Regularly monitoring credit and bank accounts is a great way to guard against unemployment benefits fraud. If someone fraudulently applied for unemployment benefits claims an individual's name, they may use that same information to break into credit and bank accounts to withdraw money or use someone else's credit. Monitoring these accounts can help detect and report unauthorized transactions to credit card or a bank company early.
Other signs a bank or credit card account was compromised can be attempts to change account information, such as new payment methods, passwords, names or any drastic changes to a credit report, such as credit inquiries or new accounts. If any of these signs are spotted it's important to take action immediately to prevent further damage.
Tips for Monitoring Credit and Bank Accounts
To ensure credit and bank accounts are protected, there are several steps to take. Some tips to prevent unemployment benefits fraud through monitoring credit and bank accounts include:
Checking statements regularly:Thoroughly review each line in a monthly or biweekly bank statement to spot any unauthorized transactions that may indicate information was stolen.
Setting up alerts: Most banking institutions offer account alerts that can be sent to through text, email or push notifications when unusual activity is spotted, such as large withdrawals, purchases or changes to an account.
Using credit monitoring services: There are various credit monitoring services someone can sign up for, which can provide alerts to any changes to a credit report, such as credit inquiries or new credit accounts. Additionally, some credit monitoring services can provide identity theft protection and insurance.
Be Vigilant for Phishing Scams
A phishing scam is a form of online fraud where a scammer attempts to convince users to hand over personal information, such as names, passwords and credit card information, by pretending to be a trustworthy source. When it comes to unemployment benefits, this may look like a scammer pretending to be the IRS or another government agency through email, text or phone calls. For example, someone may receive an email asking them to click a link to enter login information, which the phisher may steal to access accounts.
Tips for Avoiding Phishing Scams
Phishing scams are on the rise and knowing how to spot them is crucial to ensure identity and financial information are safe. Phishing scams can be difficult to spot, and if an email or text seems out of place, you might be right. Some tips to avoid phishing scams include:
Be cautious of unsolicited emails: An email from an unknown sender or from an organization should be met with caution, as it may contain urgent requests to provide information.
Don't click attachments or links: Do not click any attachments or links, as these files or links can contain malware that can collect your information.
Review the email address: Phishing emails often look similar to legitimate ones, making them hard to identify at first glance. Make sure to review all email addresses by checking the spelling.
Install anti-phishing software: Anti-phishing software can be downloaded that offers anti-phishing protection to identify and block phishing emails and websites.
File Taxes Early
Unemployment benefits are tied to an employees' taxes, as they are generally regarded as taxable income. When it comes to unemployment benefits fraud, scammers may go after taxes first. By filing taxes early, an individual can prevent fraudulent tax returns. In some cases, if a person's identity was stolen, a scammer may try to file a fraudulent tax return to obtain a tax refund. Filing early can beat fraudsters and minimize the risk of a fraudulent tax return being filed under someone else's name.
Tips for Filing Taxes Early
Filing taxes early can help prevent unemployment benefits fraud by reducing the risk of a fraudulent return being filed under a victim's name. Once tax season approaches, employees can follow these tips for filing taxes early:
Review all necessary documents: Carefully review all tax forms needed to file taxes, including W-2 Forms, 1099 Forms and Form 1099-G for your unemployment benefits. If there are any discrepancies, make changes right away.
File electronically: Filing electronically with tax preparation software can include automated help and often deliver a tax return faster than when filing a paper return.
Report Suspicious Activity
If someone believes an email, text message, website or phone call is a scam, it's best to report it. Reporting the possibility of unemployment benefits fraud can help safeguard information and protect others.
Who to Report Suspicious Activities to
If you're wondering how to report unemployment benefits fraud, there are several avenues you can take. Some ways you can report unemployment benefits fraud include:
State unemployment agency: Always contact your state unemployment agency to report unemployment benefits fraud.
Federal Trade Commission: Contact the FTC and file a complaint at identitytheft.gov. The unemployment benefits fraud phone number with the FTC is 877-438-4338.
What to Do if You Become a Victim of Unemployment Benefits Fraud
If you or someone you know has fallen victim to unemployment benefits fraud, there are a few key steps to take. First, secure your accounts, such as your credit card, bank, investment and unemployment benefits accounts, by changing your passwords. From there, report the fraud by calling your state's unemployment benefits fraud phone number, which can be found on the U.S. Department of Labor's website. It's also important to notify your employer, check your credit score, keep records and freeze your credit. In some cases, you may need to file a police report.