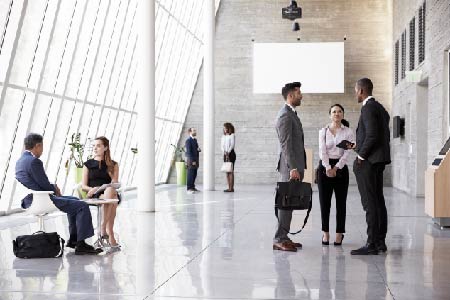 There are different situations that require employers to verify the employment and income details of past or current employees. For example, a company might need to verify the work history of employees or a lender might want to confirm a potential customer's income when deciding whether to offer a new loan. Either way, performing employment verification for applicants and prospective employees is an acknowledged and effective way of confirming necessary information. The laws surrounding collecting and using consumer information are complex and frequently in flux, requiring employers to stay abreast of the latest federal, state, and local regulations. Therefore, one important thing to look for when using a professional employment verification company is expertise with compliance. In practice, this means carefully following the necessary requirements in all respects, including permissible purpose under the FCRA, or the Fair Credit Reporting Act.
The information necessary for employment verification varies, making it difficult for employers to know what details to include or who to contact to confirm the details. At the same time, third-party verification services exist to remove the confusion from the process and allow employers to focus on more critical tasks. Letting professionals handle the responsibility for adherence to laws and regulations on collecting and reporting confidential information is beneficial for employers. However, they still have some obligations under the set of FCRA regulations. Among other things, the FCRA includes a section known as the permissible purpose that establishes the need for written consent or documentation from the consumer before a financial institution can pull the individual's credit report. This section of the FCRA was created to protect consumers from improper use of their credit information.
What Is Permissible Purpose under the FCRA?
The FCRA was designed and passed by the federal government in 1970 in order to protect consumer information. The law has evolved throughout the years to include protecting personal data and the scope of reporting adverse information on a consumer. Still, the FCRA has remained a consumer protection law enacted to promote the accuracy, fairness, and privacy of consumer information on consumers. Given that employers collect and use personal information on job candidates, they too have a number of responsibilities under the law.
The FCRA allows employers to use third-party employer verification companies to perform checks for certain permissible purposes, such as conducting screenings on candidates or employees. Therefore, if an employer is conducting employment verification for employment purposes, they must follow the provisions within the FCRA in order to do so.
To ensure compliance with the requirements for a permissible purpose under the FCRA, employment verification companies should provide employers with a notice explaining the obligation of users under the FCRA. In other words, this notice defines the obligations that an employer has when conducting employment verification, such as:
Employers have a permissible purpose under the FCRA for requesting a consumer report, such as hiring, promotion, retention, or reassignment. Essentially, the permissible purpose should be employment;
Employers must certify to their employment verification company the permissible purpose under the FCRA before furnishing the consumer report. The majority of employment verification companies will receive this certification in their end-user service agreement;
Employers must provide certain notices and disclosures to a candidate or employee:

prior to requesting employment verification;
when information in the employment verification report could potentially affect eligibility for employment; and
if adverse action will be taken due to the results of the employment verification.

Employers must provide a notice pertaining to the employment verification and receive written consent from the subject of the employment verification;
Employers must properly dispose of these reports, including burning, pulverizing, shredding, or electronically purging information.
Legal Advisory on Permissible Purpose under the FCRA
In early July 2022, the Consumer Financial Protection Bureau (CFPB) issued a legal Advisory intending to protect the privacy rights of individuals subject to employment verification checks by third-party consumer reporting agencies (CRAs) under the FCRA. The Advisory also reminds employers of their obligations under FCRA.
This legal advisory does not change the compliance rules under FCRA for companies conducting post-offer employment verification or the rules for promotions, which also typically fall under an employment purpose. However, if an employer decides out of curiosity and with no employment purpose to conduct employment verification on someone, they would not meet the requirements for a permissible purpose under the FCRA.
Given that its mission is to protect consumer privacy, with this Advisory, CFPB reminds CRAs they cannot provide reports to anyone including an employer that does not have a permissible purpose under the FCRA. The CFPB also draws attention to potential criminal liability for conducting employment verification under false pretenses or providing an employment verification report to an unauthorized individual.
Preventing FCRA Violations
Every employer has to be vigilant about FCRA compliance and make sure to avoid common pitfalls. For example, they must have a permissible purpose under the FCRA to request employment verification, notify candidates or employees about conducting employment verification and obtain their consent. Also, if they plan to make an adverse hiring decision based on the employment verification process, employers need to inform candidates or employees of their rights to dispute incorrect or incomplete information. Once an adverse decision is final, they must notify the candidate.
Employment verification companies have an important role in maintaining FCRA compliance, including the requirements for a permissible purpose under the FCRA. That is why employers need to be careful to choose a trusted partner with the expertise and the tools to keep them compliant from start to finish. Advanced software and solutions should give employers and candidates or employees access to forms and legal notices, provide electronic disclosure and authorizations, and distribute pre-adverse and adverse action notices on behalf of clients. With the right policies and procedures in place, employers can get the support and guidance necessary to have peace of mind.
Enhance the employment verification process with a secure platform, get reliable information while eliminating cumbersome and costly manual data entry and stay compliant with all the necessary regulations.