See Your Client's Credit Score
Customer Advantages with Connect
Work together on a more ideal payment schedule
Your client will know where their credit stands, by having the ability to review their credit report & score
Your client's birthdate, social social security & account numbers are omitted from the report
Do you provide a professional service?
Before you start working on a project or extend financing, it is important to assess your client's financial situation. Perhaps you are an architect, accountant, engineer or business consultant and want to setup the payment schedule.
Experian Connect will let you view the credit report and score of your clients, at no charge, when purchased by your clients. After your client grants you access to their report and score, you can be sure you are seeing their information directly from the credit bureau and not from a scanned copy or print out.
Credit Checking Directly Between Professional Service Providers and Clients
Once you create your account on Experian Connect and you have completed authentication, you can start inviting your potential clients as connections. After they complete authentication and accept your invitation, they will be able to:
Purchase and view their credit information
Grant you access to view their credit report and score within 30 days of purchase.
You will be able to quickly view your potential client's credit report and score. This may eliminate manual paperwork and save you time – you may be able to make smart decisions faster.
Checking Your Client's Credit is Ideal for:
Accountants
Appraisers
Architects
Attorneys
Consultants
Engineers
Independent Contractors
Travel Agents
Wedding Planners
Other Professional Service Providers
Experian Credit Report and Score
What is a credit report?
A credit report is a snapshot of your client's experience with credit-related accounts. Aside from some basic personal information, like their name and address to help identify their report, there are three main types of information on their credit report:
Public Records: Court-related information, including bankruptcies, state and county court records, tax liens, monetary judgments and, in some states, overdue child support payments.
Credit Inquiries: Names of businesses or individuals that have obtained a copy of your credit report, including lenders, landlords, and employers.
Accounts: Payment history on all your Real Estate, Installment, and Revolving Credit Accounts.
What is a credit score?
A credit score is a number based on the information in your client's credit report. It is similar to a grade you would have received in school, but instead of right and wrong answers, their credit score is based on positive and negative credit history. Paying bills on time and using credit responsibly builds a positive history while paying bills late and being irresponsible with credit builds a negative history.
There are many different ways to calculate a credit score. Experian Connect uses the VantageScore® calculation with the Experian credit report. VantageScore was developed by the three national credit reporting companies — Experian, TransUnion and Equifax. Unlike other scoring systems, it is the most consistent score using only one model with one set of scoring calculations, resulting in scores that are more uniform and consistent.
How is the score determined?
Developers of credit scoring models review a selection of consumers — often more than one million. The historical credit profiles of these consumers are examined to identify common variables. The developers then build statistical models by selecting the credit variables most predictive of future behavior and assigning appropriate weights to each variable. The score is influenced by the following factors: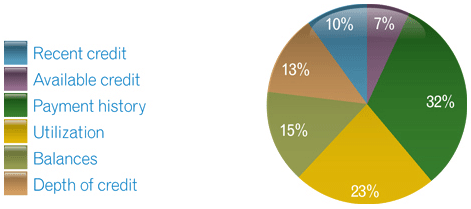 VantageScore Explained
VantageScore is based on the traditional A, B, C, D and F rating scale. All credit scores are measured in a numeric range — from 501 to 990. When you view your client's VantageScore, you are able to easily see and understand where your client stands.