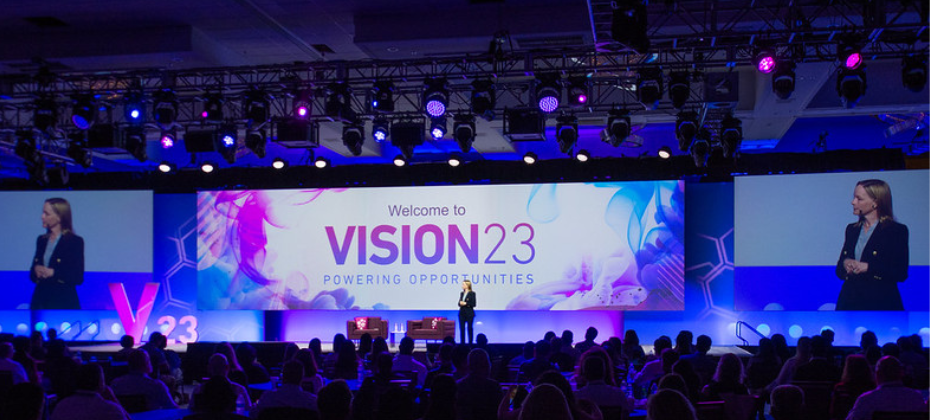 Jennifer Schulz, CEO of Experian, North America kicked off Experian's annual Vision conference Tuesday morning pointing to data, analytics, technology and collective curiosity as the drivers for change and a more impactful tomorrow to more than 700 attendees.
Keynote speaker: Jennifer Bailey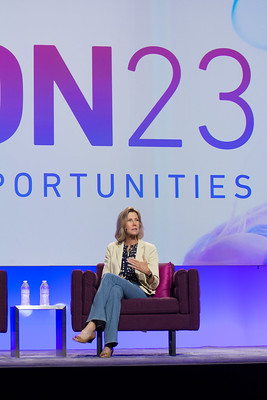 Jennifer Bailey, Vice President of Apple Pay and Apple Wallet, spoke about the customer experience "ethos." She explained how Apple takes a long-term view and values the single most important performance metric as customer experience. She said creating a seamless customer experience comes down to making things simple and understandable, and asking, "Are we solving a customer problem?" and "How are we making it easier for customers to enjoy and liver their lives.
Bailey, who said of all apps she uses the weather app the most, also talked about innovation, and that both intent and making mistakes are important parts of the process. Apple's products are known for their user-friendliness, and design is part of that. She encouraged the audience to give design teams room to create without bottom line pressures and not to be afraid to take well-considered risks.
Keynote Speaker: Gary Cohn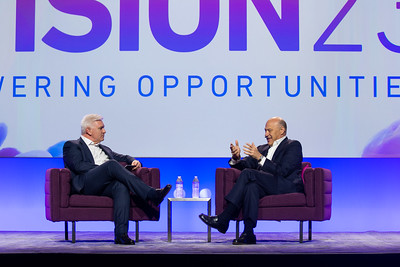 Gary Cohn, Vice Chairman of IBM, talked about the current economic climate, and while it's a natural viewpoint to look to the past for guidance, the current environment is unlike any before. Cohn discussed regulatory compliance in the banking industry and prioritizing safety and soundness.
While AI is topical and in numerous headlines recently, Cohn reminded the conference goers that AI isn't new. He said what is new and important is that you can now teach models to find the information needed rather than having to feed all the information yourself. He believes AI is not the end of employment, but rather helps boost productivity, efficiency, and job satisfaction and provides organizations more data.
As for advice for the audience, Cohn shared opportunities are in the uncomfortable zones and you have to be willing to fail in order to succeed.
Session highlights – Day 1
The conference hall was buzzing with conversations, discussions and thought leadership. Overall themes that were frequently part of the conversation included seamless customer experiences, agility in face of economic changes and leveraging AI/ML into strategies.
Fraud automation and preventing commercial fraud
More businesses are opening than ever before and lenders and service providers need a way to determine risk from businesses who are less than a year old. There is no one-size-fits-all approach to fraud. A layered solution assesses risk and applies the correct friction to resolve the risk and pass or refer the applicant.
Identity
Today's consumer wants a personalized experience and is privacy conscious. Additionally, regulators are also pushing for greater privacy. Clean rooms allow you and a partner to add data to a safe space and learn more about consumers without exposing data. The right data improves acquisition rates, identity verification and allows you to anticipate customer needs.
Advanced scoring
Data, models and strategy are the levers institutions are using to leverage responsible analytics to meet their objectives like safely growing existing portfolios, managing the "right" level of risk, and providing a seamless digital experience. However, the total value of a decisioning system is almost always constrained by its most rudimentary component. The panel of experts discussed their uses and goals for leveraging models and customer experience was at the top of their priorities.
Recession preparedness
Delinquency is on the rise and lending offers made continue to drop. Changes in the economic climate require frequent monitoring of portfolio and decisions, benchmarking against peers, updating credit models and decision strategies, and stress testing portfolio and models.
Trends in credit risk management
While AI at the hands of everyone is topical today, it ranked lowest on the list of trends attendees believed were impacting their business. At the top of the list? The growing demand for simpler, faster and seamless experiences.
More insights from Vision to come. Follow @ExperianVision and @ExperianInsights to see more of the action.