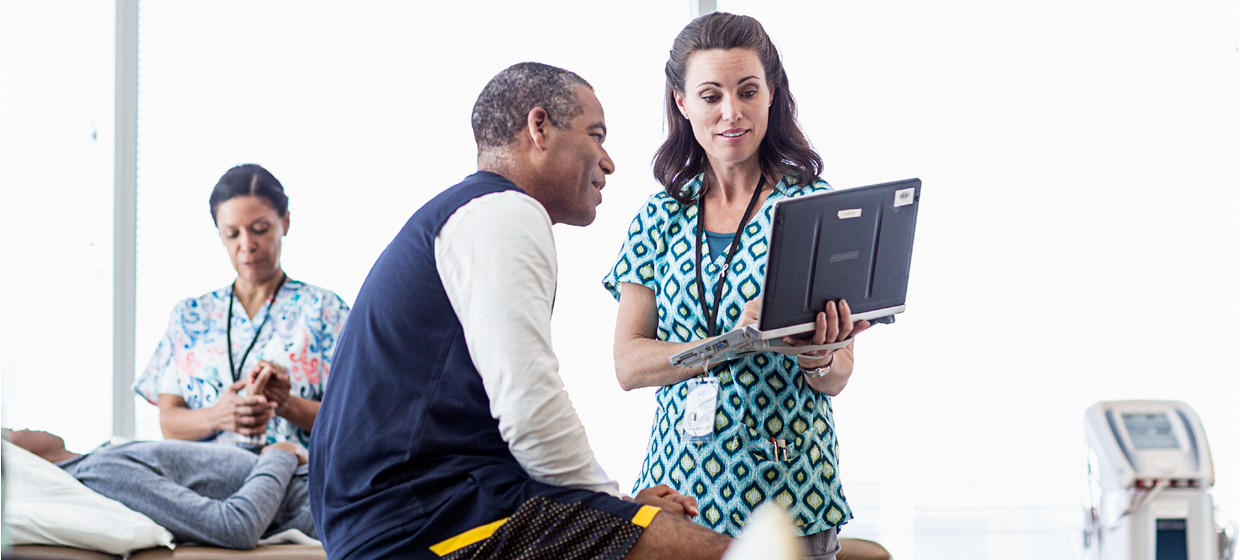 Healthcare price transparency is high stakes for both patients and providers. With the average cost of a hospital stay for patients in the United States amounting to $2,873 a day, a patient's bill can quickly add up. Patients need reliable information about the cost of services as early as possible so they can plan accordingly. For providers, transparent pricing helps deliver a more compassionate patient financial experience and reduces the risk of missed revenue opportunities. However, it's also a compliance issue. As of August 2022, only 16% of hospitals were compliant with the new Hospital Price Transparency Final Rule, leaving them open to fines and reputational damage. Experian Health and Cleverley + Associates have recently joined forces to address the challenges providers may be facing.
In a recent podcast interview for Becker's Hospital Review, Riley Matthews, Lead Product Manager at Experian Health, and Jamie Cleverley, President of Cleverley + Associates, discuss what hospitals need to do to comply with the Hospital Price Transparency Rule.
What's the difference between the Hospital Price Transparency Rule and the No Surprises Act?
The Hospital Price Transparency Rule aims to give patients clear, upfront information about hospital pricing, so they are empowered to make informed choices about their care.
The No Surprises Act offers patients protection from surprise billing when they receive certain emergency and non-emergency services from out-of-network providers at in-network facilities.
The two sister mandates work together to improve the patient financial experience and help patients navigate their financial obligations.
What are the most common compliance challenges? 
Cleverley says there are two main reasons why hospitals may be struggling to comply. First, there is some confusion about what is required to be disclosed (and how). To bridge this gap, Experian Health and Cleverley + Associates have created a standard methodology that satisfies the rule requirements.
Second, some providers are hesitant to disclose pay rates amid concerns over financial viability and potential pressure to lower charges. However, the price transparency rule aims to enable market competitiveness, and empower patients.
Furthermore, making cost estimates freely available improves patient satisfaction by 88%, according to data from PYMNTS and Experian Health. A patient-centered approach to billing and payments not only supports compliance with price transparency regulations, but leads to faster payments and consumer satisfaction. In addition to Patient Estimates and Patient Financial Advisor, which offer patients accurate, pre-service cost estimates, there are a host of other Patient Payment Solutions that allow patients to choose payment plans, manage bills and make payments.
How are Experian Health and Cleverley + Associates helping providers comply with the Hospital Price Transparency Rule? 
The Hospital Price Transparency Final Rule requires hospitals to display payer-specific rates as a consumer-friendly list of 300 shoppable service items. Experian Health's Self-Service Patient Estimates solution helps providers compile these lists and deliver accurate estimates to patients in a clear and comprehensive way. This puts consumers in the driving seat when it comes to making informed healthcare choices and supports hospitals in providing clear, accurate and legally compliant pricing information.
Providers must also make certain pricing information for items and services available as a machine-readable file displayed on their website. Cleverley + Associates has the necessary capabilities to deliver the machine-readable files quickly and at scale. By working together, the both organizations deliver a holistic solution to meet price transparency mandates.
Jamie Cleverley says this helps hospitals prepare for the changing environment: "It's more than compliance. It's having trusted partners that are talking through and consulting with hundreds of hospitals across the country."
What is the best approach for providers to ensure compliance?
Riley Matthews says that the first step for providers is to define a strategy that best fits their individual organization. They should identify best practice workflows based on their existing resources and intellectual property and partner with an organization that can bring solutions to areas where the system is lacking.
The key is to execute the business strategy while prioritizing the patient experience. Experian Health and Cleverley + Associates can support hospitals in providing an efficient, consumer-friendly workflow, as well as the more robust backend concepts of the machine-readable file.
Cleverley says, "We've created a methodology to display aggregated expected claim payment levels, simplify the display of information for both hospitals and patients. There are a lot of solutions that attempt to just display a list of payment rates, but the combination of those lines is really what's most relevant to patients."
For example, a patient coming in for an outpatient surgery has no idea what additional services, drugs and tests they may need. This solution looks at statistical utilization of services to calculate the expected charges for that procedure, and then displays that value. This holistic approach meets "not only the letter of the law, but also the spirit of it."
What's coming next in terms of price transparency?
There remains a significant challenge around non-uniformity of data. Hospitals have different structures and file formats for displaying information such as payer specific negotiated rates. CMS has already initiated standardization of file schema and looking ahead, this is likely to progress further.
As the penalties for non-compliance increase, providers need to be proactive in reducing the financial risk that comes with price transparency non-compliance. Riley Matthews says that innovation and partnership, like the solution discussed on the podcast, helps providers get ahead of compliance rules and allows hospitals to focus on patient care.
Listen to the podcast to hear the full interview. Find out more about how Experian Health and Cleverley + Associates are supporting healthcare organizations comply with the Hospital Price Transparency Rule and improve the patient financial experience.