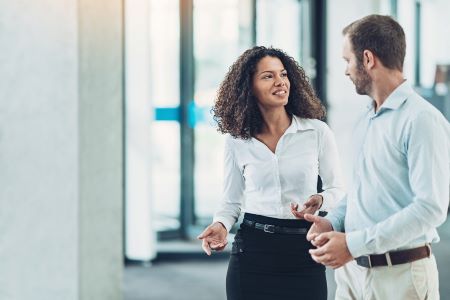 During periods of rapid job growth, employers find themselves inundated with income and employment verification requests. From lenders with clients looking to buy a home or car to businesses onboarding new staff, verification checks help these entities determine an applicant's work history and behaviors. However, this also means a lot of time spent by HR filling out cumbersome paperwork that could be devoted elsewhere.
Automating the employment and income verification process can help teams like HR and payroll save time and focus on other areas of the business. Read this guide to learn about the challenges corporate teams face during the income verification process, the benefits of automation, and more.
Challenges Corporate Teams Face During the Income Verification Process
The income verification process can be time-consuming and complex, especially when an employer needs to uncover a current or previous employee's income. With the potential for errors and a lengthy verification process, delays can occur that impact the hiring, renting, or lending process, which impacts both parties — employers and applicants. Knowing the challenges during the income verification process can help you adequately prepare.
Wrong or missing documents: Whether an accident or intentional, an applicant may provide the wrong documents or fail to provide documents needed for the income verification process, which can cause delays.
Inaccurate income information: Sometimes, applicants may input inaccurate income information to make it appear that they're earning more than they do to get approved. Wrong or missing documents can make it difficult for employers during the lending, hiring, or renting process, as they need to carefully review each document to spot any errors.
Applicant's financial situation: The financial status of an applicant is another challenge, as applicants for certain purchases, such as a home or car, may not fully grasp their financial situation and apply for loans they can't afford. These scenarios can be a waste of time for lenders and employers who need to verify income.
Falsified documents: In today's digital age, applicants can easily falsify documents related to their income to increase their chances of getting approved. Employers and lenders must take time to screen applicants and require multiple forms of proof of income.
These are some of the top challenges employers can face during the income verification process. An automated system that can easily screen and identify errors or inaccuracies can save time and money.
Faster Income & Employment Verification Means Happier Employees
There are several reasons why employers should make an effort to automate their income and employment verification processes. One of the top reasons is that speeding up these processes can improve the overall satisfaction of employees. When an employee is applying to get approved for a car, home, or loan, they don't want to be held up by their employer who is taking their time to approve their income and employment status.
An automated employer verification process makes it easy to expedite the approval process, creating less friction between employees and management. With faster request responses, employees may have more trust in their employer and higher overall satisfaction with management.
How Income & Employment Verification Automation Makes Your Business More Efficient
Automating your income and employment verification processes can improve the overall efficiency of your organization. The global pandemic accelerated the need for lenders and employers to digitize documents and the verification process, and this need continues to grow. By automating income verification and employment verification, you can:
Approve applicants faster: One of the top benefits of automation is speeding up traditionally slow processes. Rather than having to manage paper documents manually, automation makes it easier to sign documents, draft documents, and more, allowing employers and lenders to approve applicants faster.
Increase productivity: Without the need to manually process each application, HR and payroll departments can increase their overall productivity. By streamlining and optimizing these processes, less time can be wasted on time-consuming activities and spent on projects that add more value to the company.
Ensure security: Verifying income and employment status requires handling sensitive information. A security breach can occur if this information lands in the wrong hands. Additionally, the manual process of income and employment verification is prone to errors, and even small mistakes can add up in cost. Automating income and employment verification helps to ensure data privacy and applicant security, which helps to build trust and loyalty.
Automating employment and income verification allows company's management teams to focus on business decisions rather than the day-to-day paperwork that takes away valuable time.
Experian Employment Verification Services
Experian Employment Verification Services allows organizations to streamline their employment and income verification processes to increase efficiency. With our income and employment verification services, you can maintain compliance with data privacy laws and ensure satisfaction with all parties involved.
Some of the benefits you can enjoy when using our comprehensive employer services include:
Public Service Loan Forgiveness Verification: Through our new verifications portal, Experian Verify, you can verify eligible applicants for the Public Service Loan Forgiveness program by looking at their employment and income status.
ACA Compliance: With Experian Employer Services, you can have peace of mind knowing you're remaining compliant with ACA regulations. Our ACA reporting services ensure compliance with ever-changing government statutes and timely delivery for your staff during tax season.
Customizable Employer Letters and Templates: Your team can access and create customizable letters and templates to increase productivity by reducing repetitive tasks.
Signatures: Rather than signing employment and income verification documents one by one, our innovative solutions allow you to add secure digital signatures to paperwork to save time.
Expanded Wage Buckets: With Expanded Wage Buckets, employers can provide more information about their employees' pay and income. With more detailed information, employers can reduce the chances of being contacted by verifiers looking for more information.
If you're looking to automate your income and employment verification processes, now is the time to start. Experian Employer Verification Services gives you the tools and resources needed to digitize documents, ensure security and privacy, increase efficiency, and boost overall satisfaction. Schedule a demo today.