VantageScore Credit Score for Lenders
The VantageScore credit score leverages the collective experience of the industry's leading experts on credit data, credit risk modeling and analytics to provide lenders with a more consistent, highly predictive credit score.
Developed as a joint venture among the three major credit reporting companies (CRCs) Experian, Equifax and TransUnion, the VantageScore credit score marks the first time that the three companies have joined forces by combining cutting edge, patented and patent-pending analytic techniques to produce a model that offers more consistency across bureau platforms, along with the ability to score a broader population.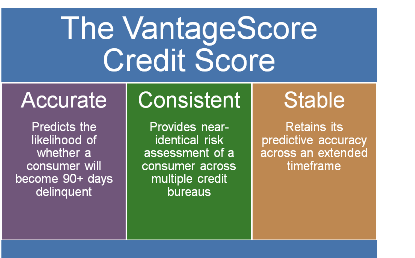 Why Convert to the VantageScore Model?
| | |
| --- | --- |
| Superior Score | Superior Value |
| More Accurate | Improved Risk Management |
| More Consistent | Approve More Customers |
| More Stable | Alternative Data |
| Score a Larger Population | Transparent |
Find Out How The VantageScore Credit Score Can Help You
Learn more about how the VantageScore model can improve your business. Complete our form to download the VantageScore product sheet, or call 1 888 422 0105 to speak to a representative.
VantageScore is a registered trademark of VantageScore Solutions, LLC.
The VantageScore credit score provides unique features that have led many lenders to make the switch:
The VantageScore model was built using a deep sample size of 45 million credit files from multiple timeframes, submitted equally across the three national credit reporting companies (CRCs).
The predictive power of the VantageScore credit score enables you to find more creditworthy consumers, including populations have little or no credit history, which comprises 18-25% of the adult population.
The VantageScore model expands the trade/account update criteria from six months to 24, allowing the model to score people who may have been "out of the credit market" for up to two years and includes consumers whose oldest trade is less than six months old.
VantageScore's developers applied a process to credit score modeling called "characteristic leveling," which allows for the development and installation of the same credit score model at multiple CRCs. This results in consumer credit scores that are as consistent as possible when accessing credit scores from each of the CRCs.
VantageScore is used by numerous lenders, including:
7 of the top 10 financial institutions
6 of the top 10 credit card issuers
4 of the top 10 auto lenders
4 of the top 5 mortgage originators
Since its launch in 2006, VantageScore has achieved widespread recognition within the regulatory community. Regulators have explicitly stated that choice in the credit score marketplace should be protected.
The VantageScore model has specifically been recognized by each of the following Federal regulators:
Office of the Comptroller of the Currency
Office of Thrift Supervision
Federal Housing Finance Agency
National Credit Union Administration
Federal Reserve Board
Housing and Urban Affairs
Federal Housing Agency
Federal Trade Commission
Consumer Finance Protection Bureau
VantageScore was also specifically named in the amendment to Regulation V (Fair Credit Reporting), as required by the Dodd-Frank Wall Street Reform and Consumer Protection Act.
More recently, the VantageScore model was cited by the Consumer Financial Protection Bureau in its study entitled "The impact of differences between consumer – and credit – purchased credit scores," which stated:
If all data about a consumer were the same at each of the three CRAs, the VantageScore for that consumer would be the same no matter which CRA's credit report was used to provide the data.1
1 CFPB REPORT TO CONGRESS ON CREDIT SCORES, JULY 19, 2011