Skip-Trace Tool Yields Incredible ROI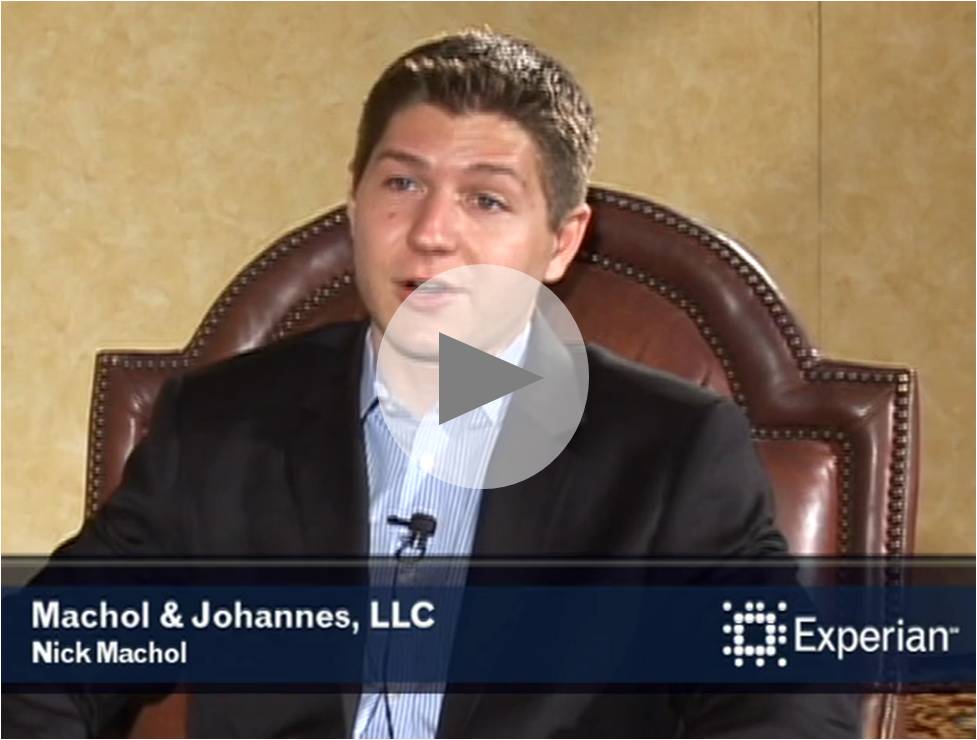 Nick Machol, Machol and Johannes, LLC
Hear what your peers are saying...
We're a debt collection law firm based out of Denver, Colorado. I oversee all of our financial operations, our collection operations and really guide our firm's overall strategy.
How Long Have You Been Working With Experian?
We've been working with them for about three years now. They've really become a rather large data vendor for us. They're definitely one of the more important data vendors in our overall skip-trace waterfall.
How Does Experian Contribute to Your Company's Success?
They provide very high-end information that we can rely upon and use to take action. We get calls every day from vendors trying to sell us data with no assurances, with no real trial or history. I feel like Experian provides us some of the best, strongest information for a very fair price. It's a great service.
What are Some of Your Biggest Challenges?
Some of the biggest challenges are around controlling costs. We have a significant amount of client demands. Everyone wants us to do a better job for them at a lower price. In order to do that when you have less revenue, you always have to control your costs better. Buying data is one of our most expensive costs, and it's where we allocate a lot of our resources. That's definitely a big challenge in our industry and in our business every single day, watching those costs and trying to stay ahead of the competition. We ask ourselves how we can liquidate better than our competition by using better data.
What Experian Products are you Currently Using?
We just buy data. We're part of the Collection Triggers program. We buy credit reports, and we also buy the Collection Advantage score.
How Has Your Business Benefited by Using Experian Products?
The Collection Triggers program has really been incredible for us because the accounts are working while we're not. We can be the first to the trough when there's new data that comes up about place of employment for a debtor. That's one trigger we use. We've experienced an ROI on that product exceeding well beyond 10,000 percent, which is one of the highest ROI products we have in our waterfall mix.
Describe Your Experience Participating in Our Collections Council.
I think the best thing about it, the reason I'm an advocate for it and I tell people back in our office how much I value it, is because you get all of these different ideas from every facet of this industry. As a collection law firm, we're just one piece of the business. Then there are the debt buyers, the networks, the direct issuers, the software providers and the data providers that all come together. You get to hear it all from people in a very candid forum. I think that people are very open, not guarded, at this meeting. When we go back, I honestly guide our strategy for the next year based on some of the things we're hearing. You can go to the NARCA conferences and the debt buyers conferences -- and they're terrific conferences, terrific organizations -- but people are very guarded. They have their attorneys there telling them what to say and what not to say. Here you can hear it straight from the source, from the top of the companies and really get a great flavor for where the industry's headed.
How Much Does Your Business Rely on Experian White Papers and Studies?
I think they're very helpful. In fact I think I saw one this morning regarding the Dodd legislation. I know the Pintos has been very important to us because we do some government work and healthcare work and fees and fines, so that's been very helpful. We absorb all of the information out there. It's definitely one piece that we really rely upon.
Why do you Choose Experian Over the Competition?
Experian's very proactive in our eyes. We deal with a lot of the competitors. I field a lot of calls from them. They're always trying to work their way into the mix of our waterfall and provide us data and they take us to lunch -- but they seem very reactionary. They go out and acquire other companies when it's too late and they say, "Here's data that people have been needing in the last year. Let's enter that market," whereas we always see new ideas coming to us. We had thought about something like a triggers program and thought that would be a great program to have. But Experian came to us and said "Here's this great program; Here's how we're going to implement it in your office," and we actually had a pretty high-level individual from Experian come to our office who did a lot of custom programming and really helped us integrate it into our database. That was just huge. I've never seen another vendor do that before.
Let us help
Find out how you can partner
with Experian.
Call us at 1 888 414 1120
Contact an Expert
"We've experienced an ROI on that product exceeding well beyond 10,000 percent, which is one of the highest ROI products we have in our waterfall mix."
Nick Machol
Machol & Johannes, LLC

Collection Triggers
Be the first to the door for wallet share
Know when a debtor's ability to pay is improving so you can be first to contact these customers to collect. Features daily monitoring and customizable triggers.
Collection Advantage
Focus on debtors with the greatest recovery potential
Score segment and prioritize your collection accounts with a powerful combination of credit-based scoring, consumer contact data and analytical services.
Recovery Score
Prioritize your debt collection efforts by identifying which accounts have the greatest recovery potential.