Experian Data Integrity Services℠
Experian Data Integrity Services SM offers reporting tools and metric packages that deliver actionable output relative to consumer tradelines and disputes. To adhere to regulatory requirements, data furnishers should ensure they are implementing policies and procedures that meet obligations and standards related to data accuracy.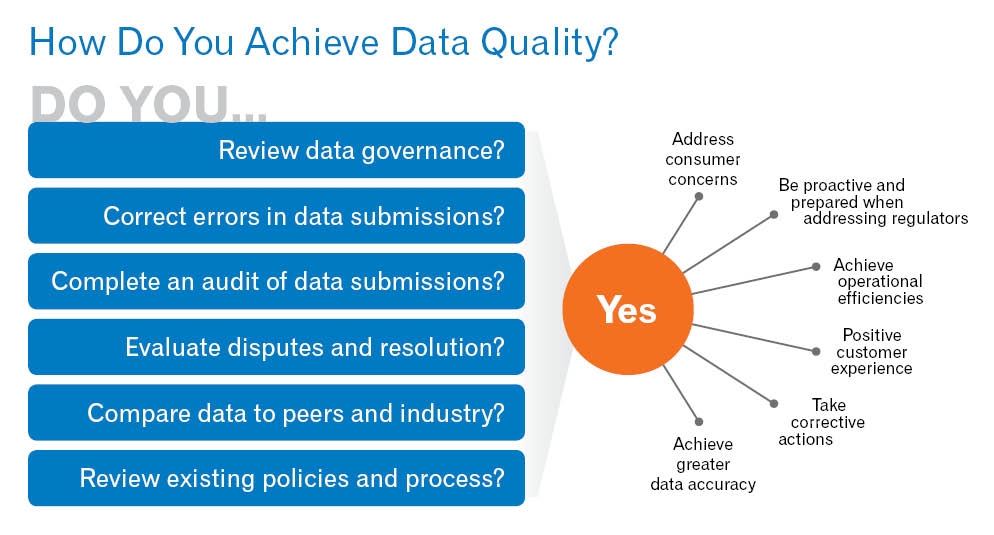 Discover the power of data quality
Adhere to regulatory requirements
Ensure a positive customer experience
Effectively and efficiently manage disputes
Confidently address consumer questions
Experian's data reporting tools
The Metric Report™ can help you to identify and correct Metro 2 submissions and failures through a recurring, low-cost report that offers visibility into 'fatal errors'.
Low cost
Visibility into problem areas
Account-level detail
Experian Custom Data Review Packages
Experian Data Integrity ServicesSM allows clients to address regulatory pressures, ensure a positive customer experience and take the necessary steps to continue to achieve data accuracy.
Experian's custom data review packages:
DataArc™
DataArc Plus™
DataArc Custom™
Our DataArc™ package can help with data reporting accuracy though visibility into Metro 2 data and e-Oscar disputes. Receive a data quality review by one of our data specialists and obtain one month of reported data and dispute statistic trends including number of disputes, do not repond rates, dispute rate, dispute reason.
Data accuracy
Trended dispute data
Opportunity to reduce disputes
The DataArc Plus™ package can help with data accuracy, customer loyalty and experience and cost reduction by delivering in-depth insight and trends of reported data and disputes. See how you compare to your peers and the industry by receiving industry insight and peer benchmarking data and disputes. Access your information though a dynamic and interactive dashboard that visually represents your data results for multiple portfolios.
Understand alignment within industry and peers
Best practices
Opportunity to reduce disputes across multiple portfolios
DataArc Custom™ can help to mitigate risk through a customized assessment and implementation strategy of Metro 2 and dispute data across multiple businesses. Receive all the features and benefits of a DataArc Plus™ as well as support from our Global Consulting Practice; a team of experts in credit reporting requirements who can provide an overarching strategic review tailored specifically to your organizations needs. Our Global Consulting Practice offers custom review of policy and process documentation, recommends best practices and provides actionable output and implementation support.
Tailored
Comprehensive
Actionable