Direct access to the credit universe
Experian Analytical SandboxTM
The best part of the Analytical Sandbox is the opportunity. It can be a game-changer. The tool gives you fast, convenient, and direct access to big data analytics so you can make credit decisions at critical times.
Build what you want when you want to with speed decisioning
Experian Analytical Sandbox empowers you to win, serve, and retain valuable customers. You may:
Perform big data analytics your way with perpetual access to depersonalized structured data including monthly trade, inquiry, public record and trended data, as well as Experian attributes and scores
Gain new market insights and business intelligence through wallet share and benchmarking analyses
Validate and expand acquisition, risk and marketing strategies
Assess and prospect more effectively through faster, more insightful big data analytics
Develop superior account-management strategies
Accelerate Time to Market
Accessing big data analytics to make strategic decisions is 30% faster using Experian Analytical Sandbox versus traditional archive services.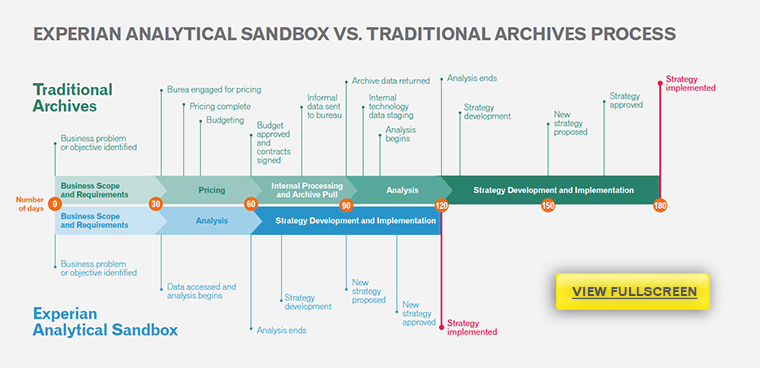 Historical Full-file and 10 percent national samples available
Approximately 12 years of monthly history
Consumer opt-outs for true market view
Tradeline data
Experian-exclusive models, scores and attributes
VantageScore®
Anonymization service to link your data with Experian data
Encrypted keys to ensure no identifying information is accessible
Scalable for growth
Get More Information
The form below is for requests from businesses only.
If you are a consumer looking for fast resolution to your consumer credit questions, please visit our Personal Services Contacts page.