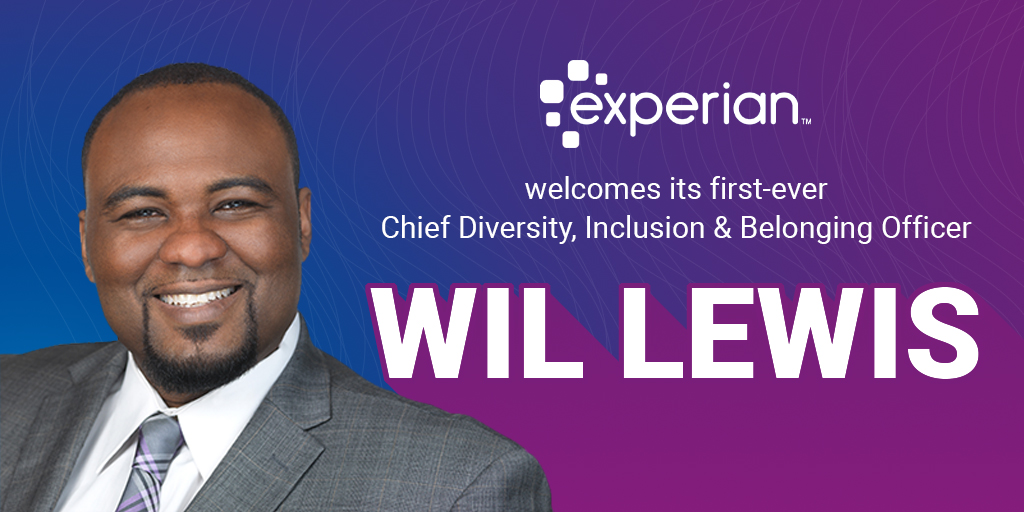 At Experian North America we pride ourselves on supporting a positive work environment for employees. It's one of the reasons we launched The Power of You, a companywide initiative that aims to provide transparency into our commitment to diversity and inclusion, and our Employee Resource Groups in which 900 employees participate. The next natural progression of this evolution is to bring on a leader dedicated to be an agent of change and strengthen our commitment to a workplace culture in which all employees are celebrated for bringing their whole selves to work. Wil Lewis, formerly of Bank of America, will be joining Experian as our first ever Chief Diversity, Inclusion and Belonging Officer.
In this new role, Lewis will build upon our award winning programs to reflect the employees, clients and communities we serve, further our commitment to diverse representation and continuously evolve the workplace culture where all of our employees are celebrated for bringing their whole selves to work. He most recently served as Senior Vice President, Global Diversity and Inclusion Executive for Bank of America.
The creation of the new role highlights several critical components of our commitment to diversity and inclusion:
Building a company where inclusion fuels collaboration and innovation to develop products which enable financial inclusion for all
Ensuring that every employee feels emotionally connected to the company in an environment that is safe and supportive
Attracting, developing and retaining talent that represents the communities in which Experian North America operates
Institutionalize processes that will increase the number of diverse suppliers, disability accessibility tools and enhance the impact of external diversity partnerships
You can read more about our ongoing commitment to diversity and inclusion in our "Power of You" annual report, now in its third year. We're also proud to have recently received recertification as a Great Place to Work for the third year in a row, and rank in the top 20 Fortune Best Workplaces in Financial Services and Insurance and the Fortune 100 Best Companies to Work For 2020. Additionally, the Human Rights Campaign Foundation granted Experian a perfect score in its Corporate Equality Index.
You can read more about all of our diversity and inclusion initiatives here.