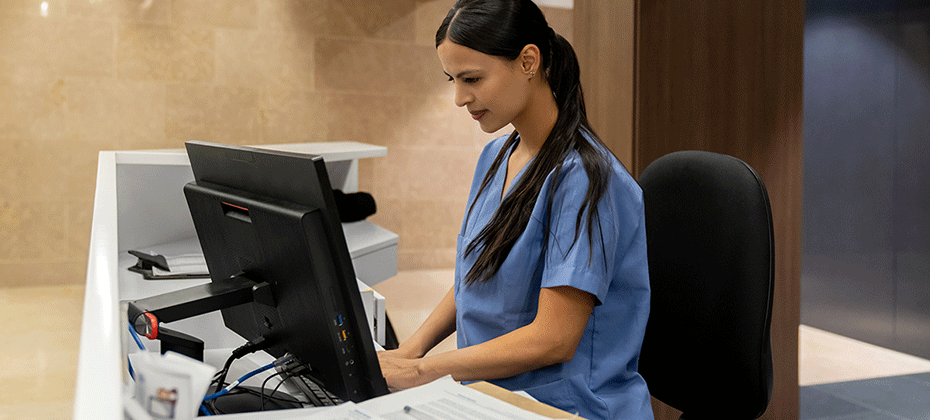 Could the era of manual claims processing be coming to an end? Experian Health's State of Claims 2022 survey revealed that more than half of healthcare providers have embraced advanced automation, freeing up staff from time-consuming and inefficient manual tasks. Automation has dominated as the key strategy used by providers to reduce denials in the previous 12 months. This evident optimism about technology's ability to address challenges in the claims process suggests that automation is here to stay. However, while automation has cracked open the doors to more efficient claims processing, the predictive power of artificial intelligence (AI) in claims processing can unlock exponentially higher rates of reimbursement.
Providers may be increasingly aware of the benefits of automation, but many have yet to step into the world of AI. This article considers the advantages to be found in layering AI technology on top of automated claims processing and looks at how two new AI solutions are helping providers reduce denials and expedite payments.
Automation: a proven strategy for accurate and efficient claims processing
Healthcare organizations with automated claims processing report improvements in speed, accuracy, financial performance and patient experience. For example:
These tools improve efficiency across the entire claims cycle by automating repetitive tasks, executing effective workflows and generating data-driven insights into root causes of denials so staff can prioritize high-impact tasks and errors are far less likely.
Industry reports corroborate these positive results: CAQH reports that the medical industry could save as much as $22.3 billion per year through further automation.
Unlocking the untapped potential of AI in claims processing
Despite automation's impressive results, claim denials remain a thorn in the side of many revenue cycle leaders. This is where AI can help, thanks to its ability to predict and respond to payer behavior and claims data. But while 51% of survey respondents were using automation, only 11% had introduced AI-based technology to their claims process. For the AI-curious, combining automation and AI could be a good starting point to supercharge claims processing.
AI technology can predict potential issues before they even occur by analyzing claims and denials and making suggested corrections or interventions in real-time. It can also assist in identifying fraudulent claims and denials, leading to improved claims processing accuracy and revenue cycle management. By using automation and AI together, healthcare providers can gain better insights into their claims and denial data, resulting in improved financial performance and greater efficiency.
What does that look like in practice?
More efficient and accurate claims predictions
Automation can relieve staff of manual data handling activities, increasing the speed and accuracy of claim processing, from patient intake through scrubbing, submission and adjudication. AI enables staff to perform remaining tasks with greater confidence and accuracy. They no longer need to wonder, "which claim should I rework first?" – AI has the answer.
Without AI, the logical approach would be to rework what appear to be the highest-value denials first. But in many cases, these aren't the ones most likely to result in reimbursement. AI can help staff prioritize by analyzing historical payment data and undocumented payer adjudication rules to flag denials that are most likely to be paid.
This is exactly how AI Advantage™ – Predictive Denials works. Experian Health's new AI-based solution checks for any changes to the way payers handle denials and assesses these against previous payment behavior. Providers can set their own threshold for the probability of denial, and if the solution determines that a claim will exceed this threshold, it alerts staff so they can act quickly and decisively before the claim is submitted.
Schneck Medical Center was an early adopter of this tool and used it to complement their existing claims workflow (built around ClaimSource®). Within six months, they saw average monthly denials drop by 4.6%. Predictive alerts allowed staff to focus efforts on submitting clean claims the first time, so both the number of denials and hours spent reworking them were drastically reduced.
"Learning" from denials data to drive financial performance
By definition, automated claims processing systems will repeat the same tasks over and over. This is great for operational efficiency but has limited capacity to handle variation. A major advantage of an AI-based solution is its capacity to "learn" and predict, so each claim can be individually assessed and directed to the most appropriate workflow.
AI Advantage™ – Denial Triage uses advanced algorithms to identify and intelligently segment denials so that providers can prioritize accordingly. Just as Predictive Denials uses historical payment data to predict the claims that may be at risk of rejection, Denial Triage learns from payers' past decisions to predict the denials that are most likely to be reimbursed if reworked.
Read more about Schneck Medical Center's experience with AI Advantage.

Read the case study
How does using AI benefit healthcare staff?
The use of AI in claims management can be met with different reactions: some staff are enthusiastic about the prospect of having manual tasks taken off their plate and being able to use their time more effectively. Others may be concerned about the impact of AI on jobs and recruitment.
The reality is that many providers face ongoing staffing shortages, and therefore have little option but to augment their existing teams with new technology. Maintaining pre-pandemic headcounts in light of post-pandemic work patterns and budgets may not be possible. Automation and AI can resolve these short-term challenges while generating a positive ROI in the long term, as the volume and complexity of claim denials continue to grow.
As noted in the State of Claims 2022 report, technology should no longer be viewed as a threat to jobs, but as a way of making life easier for staff. Automation and AI work hand in hand to execute tasks that many staff find time-consuming and laborious, leaving the more stimulating and high-value tasks for the human workforce. Improving operational performance can therefore have a positive effect on job satisfaction and retention.
The integration of AI in claims processing is not about replacing human expertise, but about harnessing the power of AI-powered algorithms to enhance efficiency and minimize denials. The optimal approach lies in combining the strengths of automation, AI and staff. Automation handles repetitive processes, AI expedites decision-making, and human expertise brings contextual understanding and empathy to the process.
Learn more about how Experian Health can help organizations utilize AI in healthcare claims processing with AI Advantage.