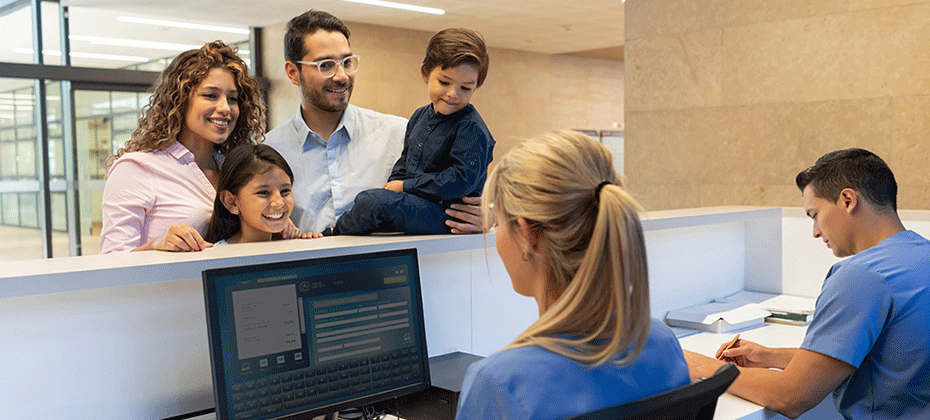 When it comes to healthcare, patient access is the top priority for most individuals. When patients are surveyed on what they value most, timely access to their doctor rises to the top. Experian Health's State of Patient Access 2023 survey found that patient satisfaction hinges on efficient scheduling. Many believe that patient access has improved in recent times due to the ability to book appointments more quickly. On the contrary, those who think otherwise attribute slow booking systems to the decline in accessibility.
However, delivering a high-quality patient intake experience isn't always straightforward. Meeting the needs of an aging population – many of whom are managing multiple chronic conditions – is an increasing challenge in the context of ongoing shortages of clinical and administrative staff. With financial performance dependent on attracting and retaining both patients and staff, balancing supply and demand in patient access is a high-stakes equation for providers.
Breaking down the key opportunities and challenges can help providers identify appropriate strategies for optimization. Specifically, what role can digital patient access services play in ensuring patients get the care they need when they need it?
What is patient access, and why is it critical to the patient experience?
Patient access is the cornerstone of the healthcare system. It encompasses the systems and strategies that make or break a patient's access to care. Can they find a suitable provider in their area? How easy is it to book appointments and register for care? Can they understand and pay their bills without too much difficulty?
While logistical elements such as geographic location and transportation certainly factor into how easily a patient can get care, patient access tends to focus on the administrative processes involved in scheduling and registration, verifying insurance coverage, appointment management, patient billing and payments, and patient communications. If these services are clunky, slow and disjointed, healthcare providers will fail to deliver high-quality and timely care to those who need it.
Top key performance indicators (KPIs) for patient access services
Getting patient access right can improve patient outcomes, increase patient satisfaction and reduce healthcare costs over time. But quality is often subjective. What should providers seek when striving for "high-quality" patient access?
Common metrics might include:
Wait times for appointments, diagnostic tests and procedures
Speed and accuracy of the appointment scheduling process
Percentage of patient access-related inquiries resolved on first contact
No-show rates, which might indicate communication or scheduling issues
Efficiency and accuracy of insurance verification, coding and billing
Revenue collected before or at the point of service
Staff performance and productivity
Tracking these metrics can help providers find new ways to optimize patient access services.
How to improve patient access services (and why)
Monitoring and improving these KPIs is easier with digital and data-driven systems. But the benefits of digital patient access services go far beyond efficient data reporting. Offering patients online, digital and self-service options for scheduling, pre-registration and payments leads to a better patient experience while improving operational efficiency.
Improved patient experience
Alex Harwitz, Vice President of Product, Digital Front Door, at Experian Health, explains that "For patients, the digital front door results in more convenience, choice and control over their patient access experience. For example, online self-scheduling streamlines the appointment process, so patients can schedule, reschedule, or cancel appointments whenever it is convenient for them, which is often outside provider office hours. We can make sure they're only shown available appointments with the right specialist, and then send them helpful reminders so they're less likely to miss the appointment."
He says, "Digital systems can simplify the booking process for patients with complex medical needs. By incorporating automated scheduling protocols and business rules, navigating specialist appointments becomes more streamlined."
Similarly, digital pre-registration means patients can complete paperwork from home, where they have access to their medical records and insurance information. Tools like Registration Accelerator can pre-fill much of this data, saving time and preventing errors.
Patient portals and secure messaging platforms also allow patients to communicate directly with their providers safely and easily. They can seek advice and clarify doubts, fostering a stronger patient-provider relationship.
Increased operational efficiency
Many providers have hesitated to turn to automation in lieu of human staffing, but implementing automation yields immediate and significant benefits. This includes reduced manual labor, improved workflows and communication, and increased profitability. Self-service tools like Patient Scheduling Software and Registration Accelerator reduce the administrative overhead, so staff can focus on critical tasks that need a human touch. In Experian Heath's survey, 36% of providers said these types of technological improvements have helped to offset staff shortages.
By incorporating accurate data from patients' medical records, there's also less risk of data entry errors, which speeds up downstream services and reimbursement. Digital patient access software can also generate performance reports, to drive further operational improvements against the KPIs listed above.
What are the main obstacles in implementing patient access solutions?
 Implementing patient access software may seem daunting due to resource limitations, outdated technology, and cost concerns. However, with the increasing demand for remote access to digital services, healthcare providers cannot delay any longer. Fortunately, those who have already taken the initiative are experiencing a significant long-term return on investment that outweighs the initial costs.
For more complex challenges, a trusted third-party partner can help guide the way.
Lack of standardized policies
Patient pricing estimates are an essential piece of the patient access experience. However, insurance and reimbursement policies are constantly changing and vary by payer, so delivering accurate estimates is a tough ask. Many hospitals have struggled to comply with new federal price transparency rules.
With Patient Payment Estimates, patients can be given an accurate, personalized breakdown of their financial responsibility, sent directly to their phone. Research by Experian Health and PYMNTS suggests that such tools can boost patient satisfaction by 88% and reduce the risk of missed payments. To help providers comply with broader requirements around price transparency, Experian Health has joined forces with Cleverley + Associates to offer a standardized solution.
Interoperability and integration with existing systems
The lack of compatibility between electronic health records and hospital management software can result in significant errors in patient information. These inaccuracies can lead to miscommunications with patients and payers, as well as delays in providing care and missed opportunities for reimbursement.
To avoid this, providers should choose automated patient access tools that integrate with their existing systems. For example, Experian Health clients that already use eCare Next® can integrate additional patient access solutions, such as Eligibility Verification, through the same interface. There's no need for staff to access multiple systems and patient intake is much faster. Comprehensive data analytics give a better overview of operational performance. Safeguarding privacy and data security are also easier with integrated solutions from a single vendor.
The future of patient access solutions in healthcare 
Rapid technological advancements, evolving policies, and changing patient expectations can make the future of healthcare hard to predict. However, certain patient access trends look set to continue:
Patients will increasingly seek out easy-to-use digital platforms for accessing and paying for care, especially as younger generations age and increase their utilization of healthcare services.
Patients will increasingly seek personalized care – extending to tailored patient access experiences that reflect individual needs and communication preferences.
The use of data analytics and AI will grow exponentially across healthcare services, helping providers identify patterns and automate workflows.
Digital patient access services have become an integral part of the healthcare landscape as providers recognize their role in improving patient outcomes and overall business success. In today's healthcare landscape, these services are essential elements to success.
Find out more about how Experian Health's patient access solutions can help providers improve patient satisfaction, increase operational efficiency, and future-proof their revenue cycle for years to come.