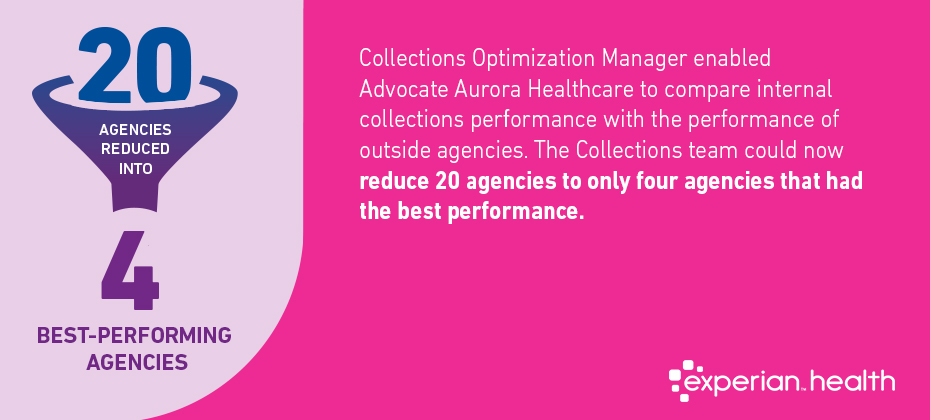 Healthcare providers are relying on patients for more of their revenue as more of the burden of healthcare costs shifts to them. In fact, hospital revenue from patients' direct payments increased by 88 percent between 2012 and 2017.
At the same time, collection rates from patients who had balances over $5,000 were four times lower than those who owed less, according to a 2017 Crowe Horwath analysis. This creates problems for healthcare organizations working to keep its reimbursement rates up.
This was the situation Advocate Aurora Healthcare found itself in when it decided to create a patient collections strategy. Its patient collections team was overwhelmed, attempting to manage 20 different collections agencies. The team realized that it needed to consolidate agencies, streamline patient collections, and improve the collections experience for patients from beginning to end.
Reduce reliance on collections agencies through data insights
To consolidate agencies, Advocate Aurora Healthcare needed a way to analyze each agency to determine the top performers, said Peter Troia, collections manager for the healthcare organization, which is comprised of more than two dozen hospitals.
The organization also lacked workflows that reflected industry best practices, which hampered robust collections efforts. Employees couldn't review the agencies' performance (especially because it was all self-reported) and had limited access to data, few IT resources, and high internal collection costs. In-house collections could take an average of 139 days, and collections done by agencies were taking an average of 270 days.
The patient collections team decided to implement data-driven technology that could automate the collections process and give it the opportunity to segment accounts and use propensity-to-pay models to help choose the right agency for the job.
By determining patients' ability and inclination to pay using data insights (including identifying potential charity accounts) and monitoring changes in their ability to pay, Advocate Aurora Healthcare is able to focus on placing the right accounts with the right resources to yield the best results. It has in-depth reporting and benchmarks to deliver actionable insights to optimize processes, forecast future performance, and improve financial outcomes.
"When we're analyzing our agencies, we can look at comparing their recovery rates on a month-to-month basis," Troia said. "That gives me real-world business decisions that allow me to determine when do I place, how long do I place, what can I expect on a certain segmentation score, and how we can really impact different work standards to get the results we want to get."
Advocate Aurora Healthcare was able to compare internal collections performance with the performance of outside agencies and went from working with 20 agencies to only the four agencies that had the best performance.
Advocate Aurora Healthcare Results
Leveraging business intelligence and analytics in patient collections helps Advocate Aurora Healthcare determine when to move accounts from accounts receivable to bad-debt status while giving its team insights into when an account should move from one agency to a secondary placement agency.
It can prioritize inventory by segmenting and routing accounts and access performance reporting to put the healthcare organization in a good financial position moving forward.
By automating the collections process, Advocate Aurora Healthcare has increased its collection dollars each year. Through the segmentation of accounts combined with outbound call campaigns, it has realized double-digit increases in patient collections every year.
The more patients are paying out of pocket for their healthcare, the more healthcare organizations are going to need to work on their collections strategies. But it doesn't have to be overwhelming. With the right tools in place, your organization can turn things around and improve patient collections results.
To read more about Advocate Aurora Healthcare's success in patient collections, please download their success story.