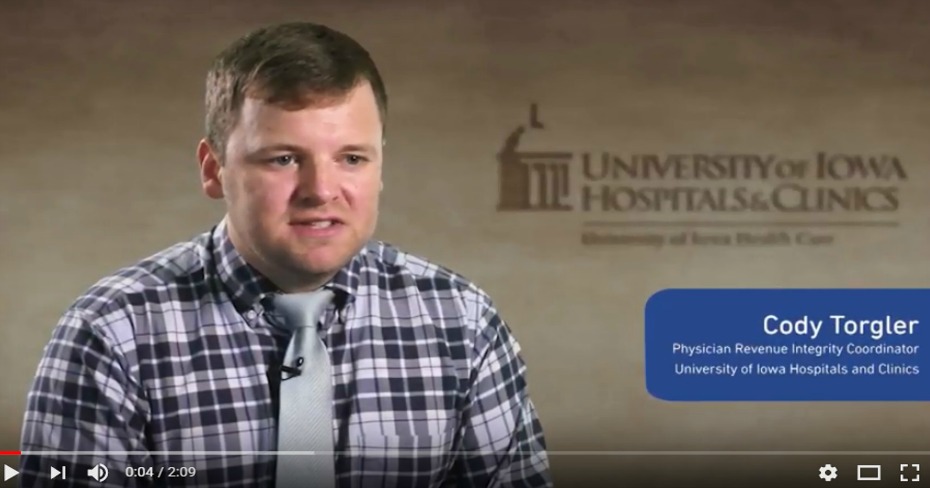 Not long ago, Excel spreadsheets were cutting-edge technology. Compared to stacks of paper and rows of filing cabinets, they seemed like an efficient, cost-effective way to organize and access data.
But times have changed. Now, healthcare leaders are looking at their sea of spreadsheets wanting a simpler solution. According to KaufmanHall's "2018 CFO Outlook" report, 94 percent of the senior financial officers surveyed said that their healthcare organizations supplement their main data systems with spreadsheets. In the same report, more than half of them noted the need for better data visualization and easier report creation.
This scenario could not be truer for Cody Torgler, physician revenue integrity coordinator with the University of Iowa Hospitals and Clinics. He realized that using spreadsheets was a waste of time and resources. "It really took our follow-up staff away from what they do well," Torgler said. "It was causing them to touch claims multiple times. Every time you touch a claim [that needs more attention], that's taking money away from a claim that you might be able to get reconciled."
How did Torgler's team solve its spreadsheet struggles? They saved time, money, and headaches by implementing a contract management system that monitors payer compliance with contract terms, value claims, and audit remittances based on the latest payment rules and adjudication logic. The hospital's new system provides regular updates to staff on claims and offers visualization and more easily searchable data. Staff members can navigate their database by grouping attributes, filtering, or generating reports. "The sky's really the limit with being able to find these variances, get these variances to the payer, and get them reconciled on time," Torgler said.
The University of Iowa Hospitals and Clinics realized something other providers are coming around to as well: With better systems available, it's time to say sayonara to spreadsheets.
Shake off spreadsheets and experience Experian
For healthcare organizations that are ready to move past spredsheets, Experian Health offers a series of seamless data management solutions:
Spreadsheets get messy quickly. They're often maintained by multiple users, with different people entering data according to their own preferences. A less than immaculate spreadsheet might not seem like a big deal — until it comes time to fill out claims forms. That's when problems tend to snowball.
Incomplete or inaccurate claims forms lead to undercharges and denials, wasting your team's time and effort. Experian Health's Claim Scrubber ensures every claim is clean. Even better, it's automated. Instead of wading through piles of spreadsheets, your staff can spend more time helping your healthcare customer.
2. Contract Manager and Contract Analysis
Excel works in a pinch for records storage, but it's not great at keeping track of all the details of a patient's contract. Small fields with overflowing text can leave out important information and make it tougher for providers to see opportunities for negotiation.
Experian Health's Contract Manager and Contract Analysis is like an automated contract lawyer. It helps healthcare organizations validate the accuracy of reimbursements, recover underpayments, negotiate better payment terms, and even evaluate potential lines of business. The bottom line? These tools leverage the best data to provide peak contract performance.
Torgler's team at the University of Iowa Hospitals and Clinics uses the Contract Manager to stay on top of the hectic process of claims verification. "With the claim count that we have at the university and the volume that we have, Contract Manager has made the transition from the Excel documents to check expected amounts seamless," Torgler said. "The success of Contract Manager has allowed us to really grow at the university."
Whether they're in for an annual checkup or open-heart surgery, patients like to know how much they're going to pay. But poor estimates are frustrating for everyone involved, and estimates based on a few rows of spreadsheet data are bound to be inaccurate. Only when patients are armed with the right estimates can they make informed decisions about what services they can afford.
To provide accurate estimates, Experian Health's Patient Estimates tool relies on robust and continuously updated data. A spreadsheet might be able to hold information about a patient's claims history, contract terms, and insurance benefits, but why bother? Experian Health's tool gathers all that data automatically to issue top-notch estimates without unnecessary hassle.
4. Payer Alerts
Once you close Excel, the information on a spreadsheet can't help you; it just sits there. Wouldn't it be nice to receive notifications whenever an insurance provider's payment policies or procedures change?
That's why Experian Health's Payer Alerts keeps you current with an enormous range of payers. Information from more than 50,000 webpages run by more than 725 payers continuously feeds into the system, which then issues updates and distributes them via email and an online portal. With Payer Alerts, your organization will never be left out of the loop.
The healthcare landscape is complicated and constantly changing. Spreadsheets just can't keep up any longer. Experian Health's data-driven solutions can ensure your organization doesn't get left behind. Schedule a demo with Experian Health today.