Spending Diet: Stopping Those Money Habits That Keep Us Broke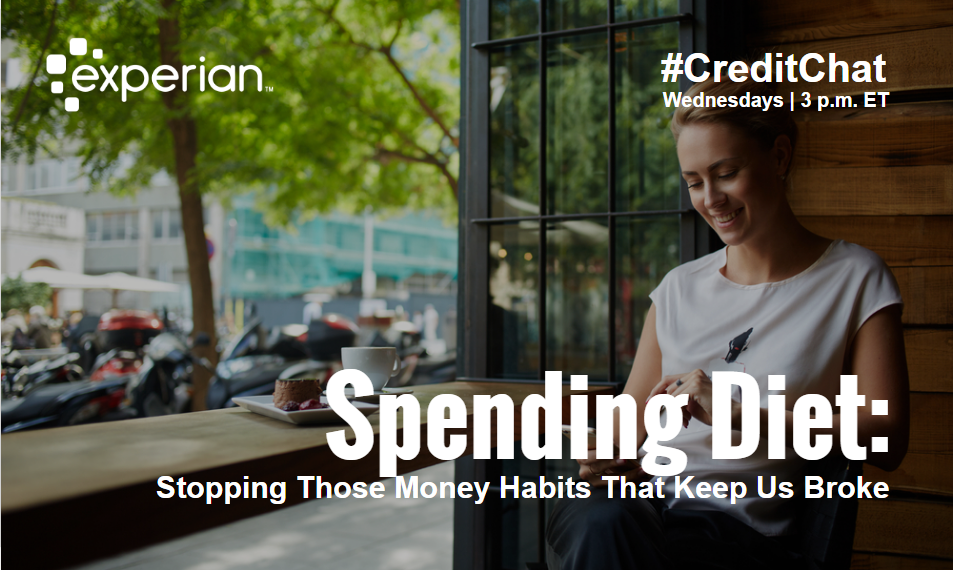 Join our weekly #CreditChat on Periscope, YouTube Live, Twitter, and Snapchat every Wednesday at 3 p.m. ET.  This week, we talked about ways to stop those money habits that drain our budgets and keep us broke. The panel included:  Rod Griffin: Director of Public Education at Experian and Mike Delgado: Director of Social Media at Experian.
We're also featuring financial tips all week on Snapchat.
Questions We Discussed:
Q1: Have you ever gone on a spending diet?
Q2: How long do spending diets typically last?
Q3: How do you go about deciding what items you trim out of your spending?
Q4: How do you differentiate needs from wants?
Q5: How do you prepare for a spending diet? (Groceries, bills, etc.)
Q6: What are some free things you can do to entertain yourself and your immediate family on a spending diet?
Q7: How do you spend time with extended family and friends while on a spending diet?
Q8: What should you do if you feel yourself falling off the wagon when doing a spending diet?
Q9: How do you avoid binge spending the money you saved on your spending diet?
Q10: Any final tips for someone considering a spending diet?
View the complete chat on Storify:
If you've never heard about #CreditChat, here is a brief overview:
Resources:
How to Break Bad Habits via @Wisebread
Relevant chats on YouTube: