Retirement and Estate Planning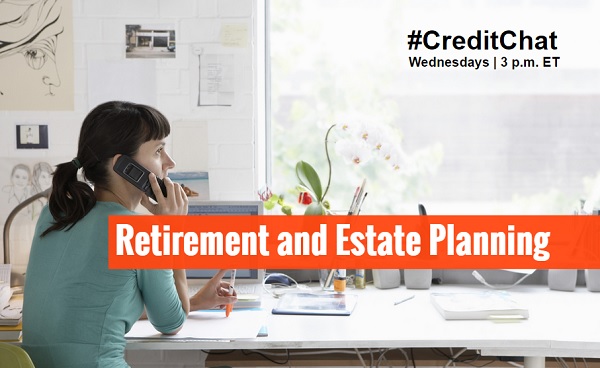 Join our #CreditChat on Twitter and YouTube every Wednesday at 3 p.m. ET.
This week, we were excited to learn about how and when to start saving for retirement and estate planning.
Topic: Retirement and Estate Planning

When: Wednesday, September 16 at 3 p.m. ET.
Easy ways to chat with us on Twitter: Twubs or Tchat
The panel included: Cary Carbonaro– Nationally Known Personal Finance Expert, CFP®, MBA, MD United Capital CFP Board Ambassador and Author of The Money Queen, Renee L. Chin– Attorney, Author and Financial Literacy Advocate who regularly blogs about personal finances and estate planning at  ReneeLinaresChin.com,  Chad Smith– Certified Financial Planner at Financial Symmetry, Rod Griffin– Director of Public Education at Experian, and Mike Delgado– Social Media Community Manager at Experian. 
Join us on Twitter by using the #CreditChat hashtag – and tune in to the discussion on Blab.
If you have ideas for future topics and guests, please tweet @MikeDelgado.
Questions We Discussed:
Q1: When should someone start saving for retirement?
Q2: What are the options available for someone considering saving for retirement?
Q3: How can you create a realistic goal of how much you will need for retirement?
Q4: What obstacles might prevent someone from aggressively saving for retirement?
Q5: What should people know about borrowing against their retirement accounts or retiring early?
Q6: What is estate planning and what does it encompass?
Q7: How important is having an estate plan in place when planning for your future?
Q8: What are some common misconceptions about estate planning?
Q9: What can someone go to put an estate plan together?
Q10: What final tips do you have for someone interested in retirement and estate planning?
This week's #CreditChat Recap on Storify:
If you've never heard about #CreditChat, here is a brief overview:
Recent Chats on YouTube & Twitter