Financial Strategies to Help You Weather Emergencies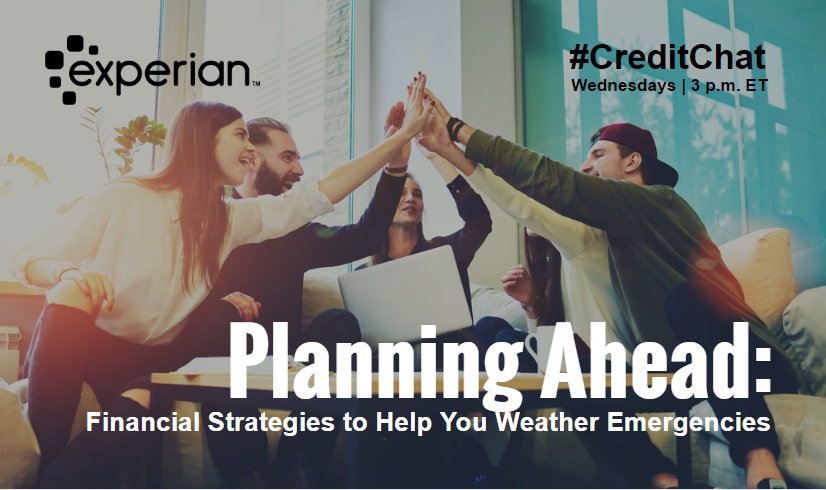 Join our weekly #CreditChat on Periscope, YouTube Live, Twitter, and Snapchat every Wednesday at 3 p.m. ET.  This week, we discussed financial habits that can help you get through some tough times. The panel included: Rod Griffin: Director of Public Education at Experian and Mike Delgado: Director of Social Media at Experian.
We're also featuring financial tips all week on Snapchat.
Questions We Discussed:
Q1: Why is it important to plan ahead for emergencies?
Q2: What are common emergencies that can severely impact a person's financial situation?
Q3: What's an emergency fund and how does it differ from everyday savings?
Q4: How much should you ideally have saved in an emergency fund?
Q5: How can focusing on financial preparedness motivate people to eliminate debt?
Q6: What financial or personal documents should we have prepared in the event of an emergency and how can we protect them year-round?
Q7: How can insurance help you weather a financial emergency?
Q8: What role does credit play in a financial emergency?
Q9: Ok, maybe you're not as prepared for a financial emergency as you would like. What can you do to help yourself?
Q10: Any final tips help someone plan ahead for an emergency?
View the Complete #CreditChat on Storify:
If you've never heard about #CreditChat, here is a brief overview:
Relevant chats on YouTube: