Essential Tips for Buying a New Car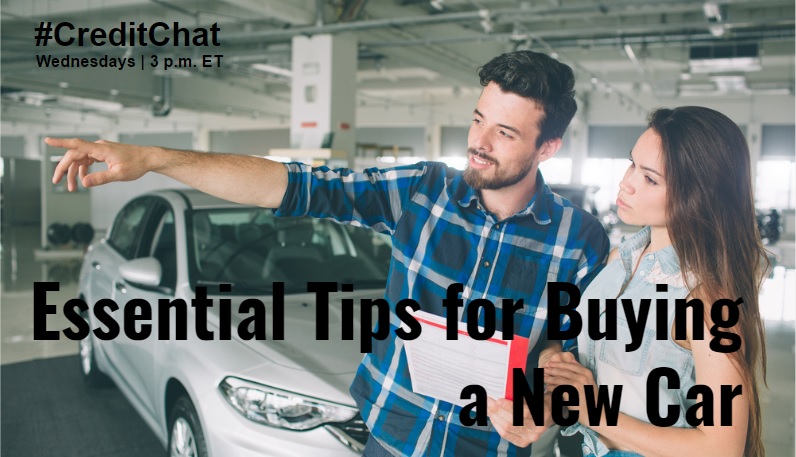 Join our #CreditChat on Periscope, YouTube Live, Twitter, and Snapchat on Wednesday, July 12 at 3 p.m ET. In this chat, we discussed how you can plan for financial independence.
The panel included: Tracie Miller Nobles– CPA, Associate Professor at Austin Community College and member of the AICPA's National CPA Financial Literacy Commission; Matt DeLorenzo– Managing Editor for Kelley Blue Book; Shannon McNay: Writer for Student Loan Hero; Rod Griffin: Director of Public Education at Experian; and Christina Roman: Social Media Specialist at Experian.
Questions We Discussed:
Q1: What are some important things to consider when shopping for a new car?
Q2: What items should you factor into a new car budget?
Q3: What is the difference between leasing a new car or buying a new car? Is one option better than the other?
Q4: What should you research before setting foot in a dealership?
Q5: Are there certain times of the year that are cheaper to purchase a new car?
Q6: What should you look for when test driving a car?
Q7: What tips do you have for negotiating the best deal on a new car?
Q8: What about the warranties and add-ons? Is there a general rule of thumb when navigating these options?
Q9: What are some common mistakes people make when shopping for a new car?
Q10: Any final tips for someone looking into purchasing a new car?
View the Complete Tweetchat via Storify:
Resources:
Should You Buy a Car With a Credit Card? via Wisebread
The Joy of Buying a New Car: 9 Buying Tips via Wisebread
If you've never heard about #CreditChat, here is a brief overview:
Relevant chats on YouTube: