We believe every individual deserves the opportunity to reach their fullest financial potential through fair and affordable access to credit. While leveraging data, analytics and technology are key components of this, we must also ensure consumers understand how credit works and the ways it can be used as a financial tool throughout their lifetimes. This notion is the impetus behind our annual State of Credit report.
Now in its twelfth year, this report takes a close look at how consumers are managing their credit histories to educate them about the factors influencing their financial health. This year's report shows the average credit score has climbed to 695 – the highest point in more than 13 years. Many consumers were managing credit well before the pandemic's arrival and the accommodations afforded by the Coronavirus Aid, Relief and Economic Security (CARES) Act may have helped consumers protect their financial health. At the same time, stay-at-home orders and record savings levels may have contributed to fewer missed payments, lower credit utilization rates and lower debt.
While these findings are positive, we recognize they do not tell the full story. There are tens of millions of consumers who lack fair access to credit because of a limited credit history. Low-income consumers and communities of color are disproportionately credit invisible, preventing them from obtaining low-cost, traditional financial services. There is significantly more work to do to ensure all consumers have fair access to credit. We are committed to working with lenders, regulators, businesses, consumers and partners to eliminate credit invisibility and improve financial equity and access.
Our meaningful partnership with Operation HOPE, the largest financial literacy nonprofit in the U.S., is one example of this commitment brought to life. Operation HOPE has goals that align with ours: to uplift disenfranchised youth and adults from poverty to thriving in a credit ecosystem. Together with Operation Hope, we are making a tangible difference in financial inclusion by helping consumers raise their credit scores through financial coaching, education and tools like Experian Boost.
As part of this year's State of Credit report, we also helped introduce Operation HOPE's new HOPE Financial Wellness Index. This new tool will be a valuable resource for the Hope Research Institute who plans to leverage it to identify the communities most in need of financial literacy programs.
"While consumers on average are managing their credit histories well, we know there are many communities in critical need of more financial education and resources," said John Hope Bryant, Operation HOPE founder and CEO. "By helping people raise their credit scores, we are empowering them to take advantage of one of our nation's most democratic tools. From housing and employment to healthcare and education, credit worthiness can be leveraged to improve our overall quality of life. We're committed to using the HOPE Financial Wellness Index as a force for good in the communities we serve."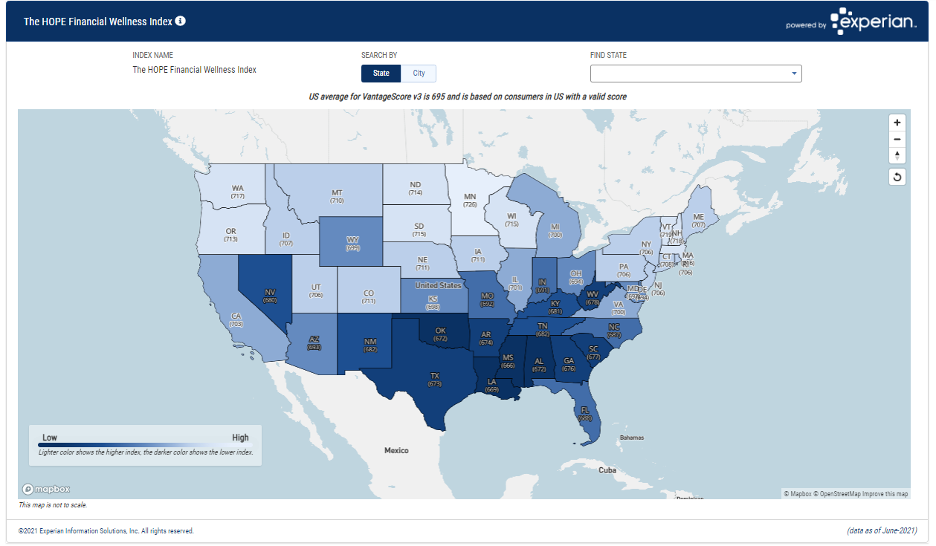 Through our investments in expanded data, technology, advanced analytics and new innovations, we will continue to help lenders identify consumers who are excluded from the credit ecosystem, but who can fulfill their financial obligations and pay responsibly. At the same time, we will continue to take strides that empower consumers to take control of their financial lives.
For additional free educational resources and more information about this year's State of Credit report, I encourage you to visit the links below.