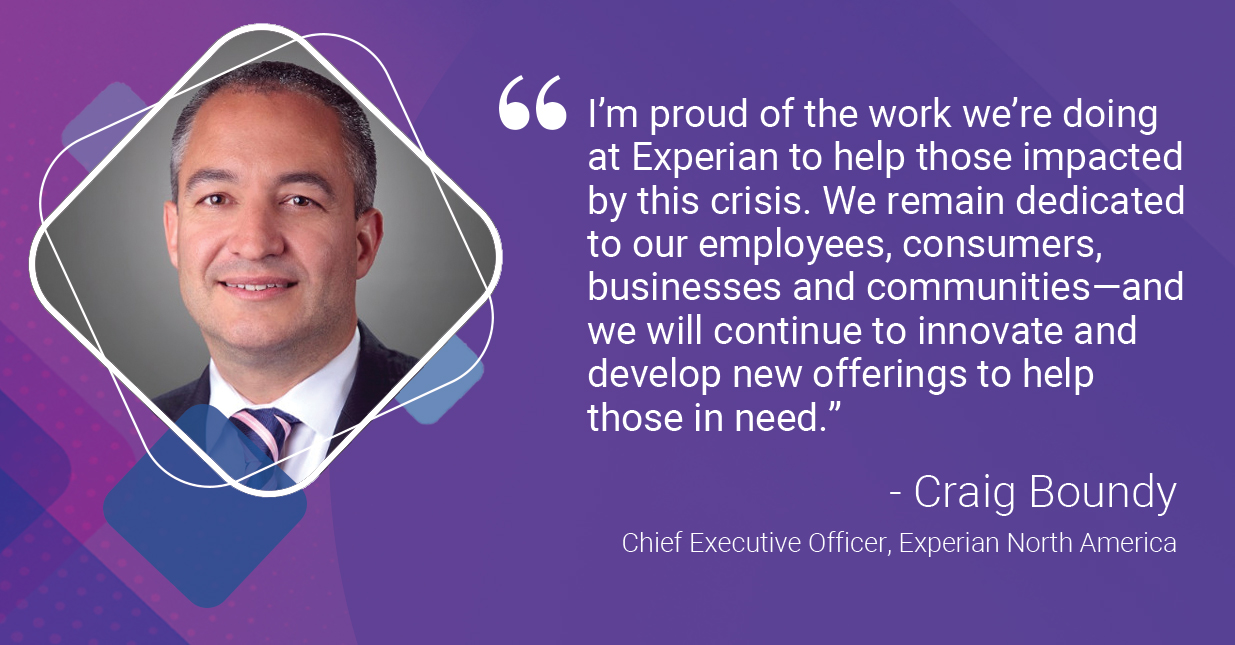 The pandemic's full economic impact is still unfolding, and I can assure you we have not stopped evaluating and evolving our COVID-19 response nor our thinking about economic recovery for consumers and businesses alike.
In the last month, we've been driven by two major priorities.  The first is the health and safety of our employees.  On top of that, we have placed a laser focus on putting our resources to work to help people and businesses during these uncertain times.
While we have all been adjusting to our 'new normal' working environment, our employees in North America have not slowed down.  In fact, they have worked hard to create solutions and tools designed specifically to help people successfully navigate the evolving financial landscape.  From free credit reports to complementary 'payer alerts' for healthcare organizations to consumer credit education, we've launched a wide-range of initiatives.
Here are a few highlights I'd like to share with you:
FOR CONSUMERS:
Experian Credit Report and Score: Consumers can sign up and access their FICO® Score, Experian credit report, and ongoing credit monitoring through Experian's free CreditWorks product. Consumers can also sign up to Experian Boost, a free financial tool that has helped more than 2 million consumers increase their credit score.
Consumer Resources Website: As the consumer's credit bureau, Experian's commitment is to inform, guide and protect its consumers and customers during uncertain times. One way the company is doing this is through this dedicated website, with links to multiple resources and materials to help the community learn about credit and other important personal finance topics.
COVID-19 and Your Credit Report: Being fully committed to helping consumers and lenders during this unprecedented period, Experian has created this dedicated blog page with ongoing and updated information pertaining to how COVID-19 may impact consumers' creditworthiness and – ultimately – what people should do to preserve it. The blog will be updated with relevant news as Experian announces new solutions and tactics.
#CreditChat: In response to the urgent and rapid changes associated with COVID-19, Experian is accelerating and enhancing its financial education programming to help consumers protect their financial health. With expected delays in bill payments, unprecedented layoffs, hiring freezes and related hardships, Experian seeks to aid consumers in understanding how the credit reporting system and personal finance overall will move forward in this landscape. Experian has launched an eight-week series of #CreditChat conversations surrounding COVID-19 on Wednesdays at 3 pm ET on Twitter and live video credit chats every Friday at 12:30 pm ET on Facebook Live.
FOR BUSINESSES:
FOR COMMUNITIES IN NEED:
First Responders First: Experian North America is supporting first responder workers by donating funds for personal protective equipment (PPE) to COVID-19 for hotspots in New York City and New Orleans through the nonprofit organization, First Responders First. These funds will provide essential supplies, equipment and resources such as masks, gowns, gloves and more to those on the frontline.
Heart of Experian Giving Opportunity: Experian is leading this effort in which employees can assist by making a donation to First Responders First through Experian's Heart of Experian giving opportunity. Experian will match employee donations up to the annual limit of $500 per employee, while funds last. This donation is the latest support the company has provided to help minimize exposure for those most at risk. For example, in California, the company also donated 12,000 masks to the Hoag Medical Group.
I'm proud of the work we're doing at Experian to help those impacted by this crisis. We remain dedicated to our employees, consumers, businesses and communities – and we will continue to innovate and develop new offerings to help those in need.
Craig Boundy
CEO, Experian North America