COVID-19 and Your Credit Report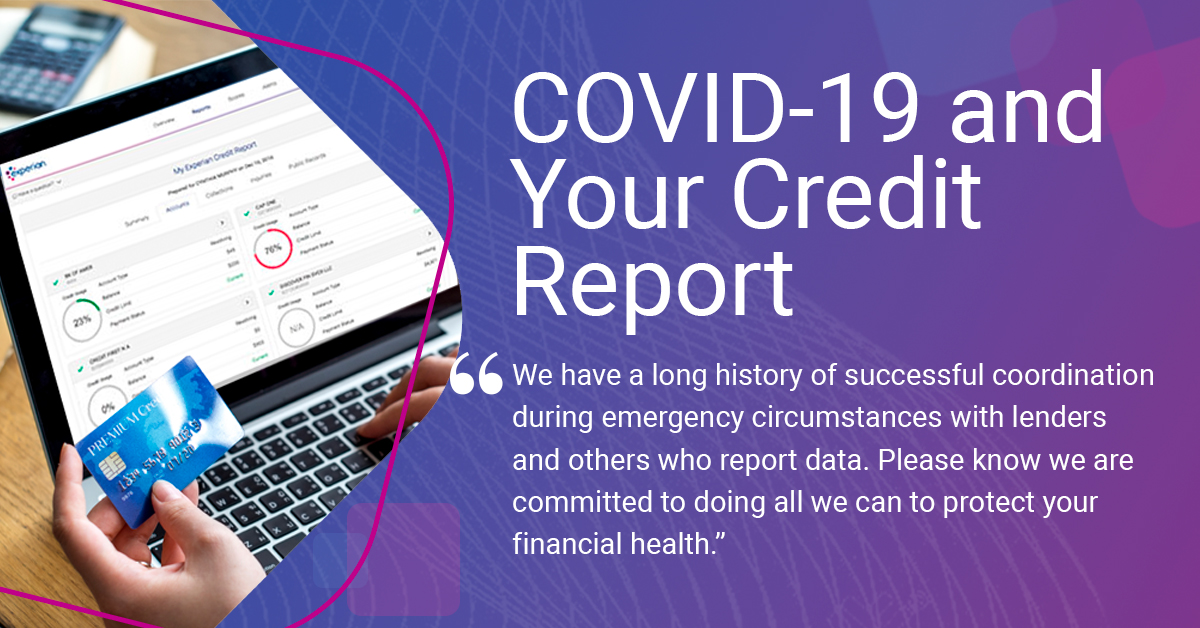 By Alex Lintner
At Experian, our top three priorities are the health, well-being and safety of our employees, the financial health of consumers we serve, and the accuracy and integrity of the data we provide to our clients. And of course, we are motivated by the fact that we are, and will always be, an integral part of the communities where we live and work.
We provide an essential service and we are committed to being great at it. Even now, when so much around us is uncertain.
Like you, we are working to navigate this new normal. And we are doing that while being fully committed to helping consumers and lenders during this unprecedented period.
While you are, understandably, thinking about your family, friends and neighbors as I am, I thought it might also be helpful to provide you with information pertaining to how COVID-19 may impact your creditworthiness and – ultimately – what you should do to preserve it.
As the consumer's bureau, we are committed to working with consumers, lenders and the financial community now more than ever. I'd like to share some of your options to mitigate the potential impact on credit scores due to financial hardships you may encounter.
First, it's always important to be vigilant about monitoring your credit accounts and credit history. This is especially true now. You can get free credit monitoring from Experian, which includes alerts and an updated monthly credit report. You may also request free copies of your credit reports from each of the three national credit reporting agencies once every 12 months at AnnualCreditReport.com. Regularly monitoring your credit report can help you identify potentially fraudulent activity and respond to it before it causes significant damage to your credit history and scores.
Second, to whatever extent possible, it's important that you aim to continue to make all your payments on time. Making at least your minimum monthly payments will ensure your scores stay strong. If you are unable to make a timely payment, the first and best step you can take to protect your financial health is to contact your lender. At a time of national emergency, they do have the option to suppress a delinquency (that's a fancy word for a late payment), which – in turn – can help maintain your credit scores.
Lenders and the national credit reporting companies have additional tools and resources in place to assist consumers in times of crisis such as the one we are all now facing. Lenders may have several options for helping you cope with a variety of COVID-19-related financial hardships. Here are a few options that may be available to you:
As I mentioned above, lenders may place your accounts in forbearance or deferment for a period of time, effectively suspending your payments until the crisis has passed
The national credit reporting companies, including Experian, have special reporting processes for lenders to report accounts in forbearance or deferment during a crisis. Being reported as in forbearance or deferment will help minimize the impact to the credit score if the account is in good standing and hasn't had previous delinquencies reported.
Lenders may add a special statement to accounts that indicates the customer or borrower has been "affected by a natural or declared disaster." Some scoring systems will consider accounts with the statement as "neutral," meaning they will have no negative effect on that score
Early communication with your lenders is key so that they can assess your circumstances and identify alternative, workable payment solutions appropriately.
Keep in mind, working with your lenders and finding ways to accommodate some of the financial challenges you may be facing in the coming days, weeks and months, is in the best interest of lenders, borrowers and our economy as a whole.
We have a long history of successful coordination during emergency circumstances with lenders and others who report data – think of hurricanes Katrina or Harvey, for example. During events such as these, processes were put in place to support people affected by disasters and these same processes will be the foundation for what is necessary now. Please know we are committed to doing all we can to protect your financial health.
We are here for you should you have any questions, comments or concerns about your financial obligations during this time. As the situation around us is very fluid, we will update this content regularly. I hope you find it useful.