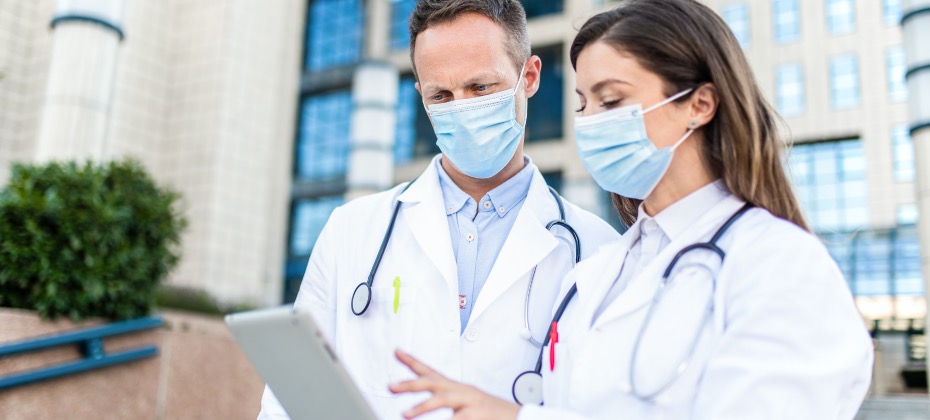 Rising medical debt, now a staggering $140 billion, is the largest source of debt for American families. A large portion of this is a direct result of surprise billing, with a third of insured adults saying they've received an unexpected bill in the previous two years. What's no surprise, then, is that two-thirds of US adults worry about being able to afford these unanticipated medical bills. It's a problem that concerns so many patients that it now has the attention and action of both state and federal governments. To help solve this problem, Congress signed the No Surprises Act into law.
Experian Health can help your healthcare organization navigate the regulatory landscape  and implement solutions ranging from transparent, patient-friendly estimates to our all-new 

FREE No Surprises Act (NSA) Payer Alerts Portal

. 
The No Surprises Act, effective January 1st, 2022, aims to protect consumers from at least one contributor to the problem: unexpected bills for out-of-network care in emergency and non-emergency settings. Around a fifth of emergency claims and a sixth of in-network hospital stays include an out-of-network bill, often due to emergency or ancillary care. Since patients lack meaningful choices when it comes to choosing these unexpected services, they have no option but to pay up or face negative marks on their credit reports. Typically, while health plans cover some of the bills, patients will still be responsible for the remaining balances.
Webinar Series: Unpacking The No Surprises Act and Q&A with an expert

Industry expert Stanley Nachimson, Health IT Implementation Expert, recently hosted a series of webinars to help providers get up to speed on what they need to do to comply with the No Surprises Act. Learn about the Good Faith Estimate, how NSA will apply in different care settings, and more.
By enforcing better price transparency and consumer protection, the new regulations will help to create better patient experiences and ensure that fewer bills are written off to bad debt. However, according to a recent survey conducted by Experian Health, only 72% of providers are familiar with the No Surprises Act. That's not all – only 40% of respondents are moderately confident their organization will be able to solve for the No Surprises Act. Payers and providers must act now to ensure their processes are ready to comply with the changes.
Experian Health is now offering a FREE comprehensive, updated list of No Surprises Act (NSA) payer policy alerts for United States hospitals, medical groups, and specialty healthcare service organizations.

Learn more
Tackling the price transparency problem with the No Surprises Act
Healthcare pricing has been under the spotlight for a while, with several new regulatory measures introduced over the last few years. The new Act, which was signed into law under the Consolidated Appropriations Act of 2021, builds on previous federal actions to empower patients by giving them greater access to healthcare cost information.
Come January 2022, balance billing will no longer be permitted for out-of-network emergency services, out-of-network air ambulance services, and out-of-network non-emergency services provided at in-network facilities. Insurers must cover emergency services without any prior authorization, regardless of whether the provider is within the health plan's network, and patients should expect to pay the same as in-network services. The Act requires both providers and health plans to help patients access healthcare pricing information, and providers must provide consumers with tools to get better price estimates, including a "Good Faith Estimate" covering all relevant codes and charges.
The Act sets out a process for health plans to reimburse providers and an arbitration path in the event of disagreement.
Summary of provisions in the No Surprises Act:
Protects patients from receiving surprise medical bills resulting from gaps in coverage for emergency services and certain services provided by out-of-network facilities
Holds patients liable only for their in-network cost-sharing amounts, and requires that the patient's share cannot exceed in-network rates without patient consent
Provides guidance for how providers and insurers can negotiate fair reimbursement for out-of-network services
Includes the requirements that providers submit Good Faith Estimates to payers and that payers utilize those estimates to create and provide Advance Explanation of Benefits to members.

However, enforcement of this requirement has been delayed until more guidance can be provided related to standards for the transmission of these files (as of October 2021)
What do providers need to do now to prepare?
Creating a "no surprises" billing experience will require payers and providers to make major process changes. Roger Johnson, VP of Payer Solutions at Experian Health, says, "The new regulations require the industry to innovate significantly in a very short timeframe. Determining network status is a huge challenge for providers, as is engaging patients electronically pre-service. There will also be challenges in tracking and submitting consent forms, producing Good Faith Estimates, applying appropriate cost-sharing, billing, payment reconciliation, and the new dispute resolution process."
See what Roger had to say in our Interview with the Expert:

CMS has provided a list of documents and requirements for patient notices. These include:
A statement that the provider or facility is OON (if that is the case)
An itemized, good faith estimate of the cost of care
Information on prior authorization and utilization management limitations
The notice must be in a format the patient can understand and is accessible (i.e., preferred language and apart from other documents).
A variety of model forms and notices are available on the CMS "Overview of Rules and Fact Sheets" page:
Additionally, The Department of Labor published a Model Notice link on its No Surprises Act overview page.
Experian Health is engaging with industry partners to clarify the regulations and collaborate with clients to adapt workflows for a smooth transition. Find out more in our on-demand webinar.
What price transparency tools are available for healthcare organizations? 
In the meantime, various price transparency tools exist to help providers meet ongoing regulatory requirements and create a better patient experience with easy-to-understand cost breakdowns. For example:
While regulatory change can seem daunting, price transparency is already trending in the right direction. Our second State of Patient Access survey indicated that both patients and providers want more price transparency. Nine out of ten providers told us they agree that price transparency improves the customer experience and increases the likelihood that patient bills are paid. The regulations may be a catalyst for change, but making it easier for patients to understand and pay their bills continues to pick up momentum. That's good news for patients' wallets and for providers' bottom lines.
Download our on-demand webinar, "Unpacking the No Surprises Act," to learn more about how the new regulation will impact patient and provider workflows.
Download now Learn about Experian Health's price transparency tools