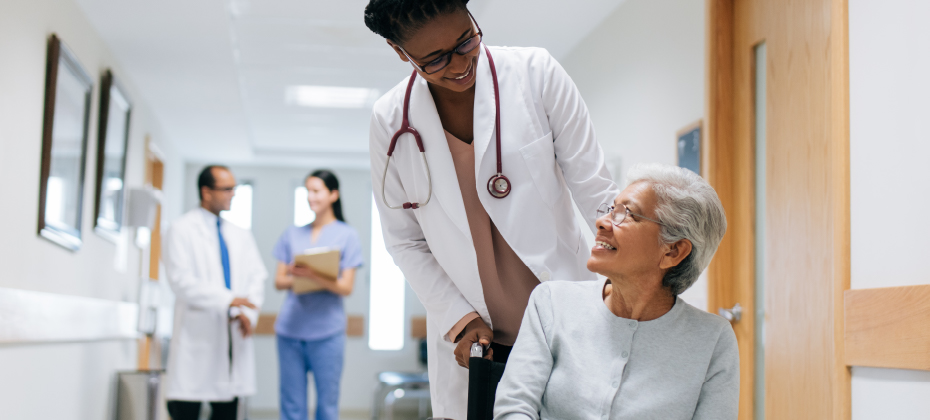 As 2020 draws to a close and headlines hint that the end might finally be in sight for the pandemic, the healthcare industry is considering COVID-19's legacy. The sudden shift to contactless care, financial consequences of widespread social distancing measures and changing expectations of the patient experience have upended the world of healthcare and health IT – but which changes are here to stay? And what do these changes mean for the patient experience in 2021?
We asked several leaders across Experian Health for their predictions in the areas of patient access, collections, and identity management, and here is a preview of what they had to say:
"Patients will choose providers that give them control over their healthcare experience"
Patients have more opportunity today than ever before to manage their healthcare experience from the comfort of their own home, whether that be through patient portals, online self-scheduling and registration or online payment tools.
As lockdowns and social distancing prevented patients from presenting in person, providers were forced to offer patients with more options for self-service. Unsurprisingly, this was a move a lot of patients have been waiting for and many welcomed this new technology with open arms.
Jason Kressel, senior vice president of consumer products and analytics at Experian Health, expects that, as patients become more accustomed to this level of self-service, more than half of consumers will change providers in favor of one that offers premium digital healthcare services:
"Providers who can meet patients where they are—through web-based services and via their mobile devices—will have the most success with retaining and attracting patients."
Online self-scheduling can put patients in the driver seat while also avoiding unnecessary contact while many remain cautious about on-site visits. With access issues removed, the patient experience will improve, in turn improving health outcomes (and providers' bottom lines!).
"With hospital finances on shaky ground, collections will be a top priority for survival"
As COVID-related unemployment leads to an unstable insurance landscape, many providers are worried about maintaining effective collections processes, and they cannot afford to spend time chasing payments. Guarding against uncompensated care and tightening up the collections process will be essential.
Automated collections software can help collections teams focus their efforts on patients who are most likely to pay, while also helping patients manage their financial obligations with as little stress as possible. Providers can also quickly determine which patients qualify for financial assistance, helping them get them on the right payment pathway for their circumstance without delay. Not only will this provide a much better patient financial experience, it'll prevent "lost coverage" and allow providers to collect a larger portion of dollars owed.
"The surge in portal usage means providers need to watch out for fraudsters"
What does the rapid growth in portal uptake mean for data security? The speedy rollout of telehealth and other digital services has exposed security concerns for many providers, who fear a rise in fraudulent activity in 2021 as cybercriminals sniff out opportunities to steal patient data.
To protect patient information and avoid costly reputational damage, providers must adopt more sophisticated identity management solutions. By combining cutting edge identity proofing, risk-based authentication and knowledge-based questions, providers can more easily verify a patient's identity when they log on to their portal, greatly eliminating the risk of fraud.
Interested in learning more about other trends that could affect the patient experience moving forward?
View the Experian Health 2021 Patient Experience Forecast.