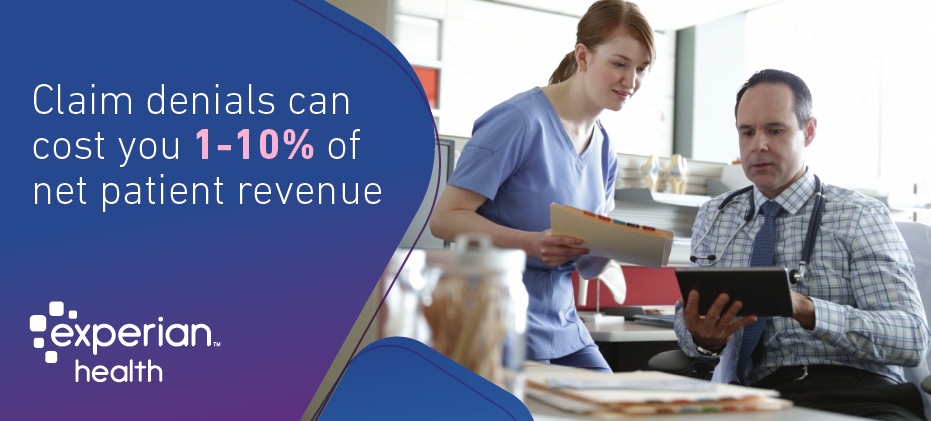 Managing the revenue cycle draws in considerable resources for healthcare organizations, even when it's working as planned. The American Medical Association puts direct transaction costs and inefficiencies associated with the "claims management revenue cycle" at around 25-30% of overall healthcare spending. But when errors are made and claims end up being denied, providers could end up missing out on as much as   The total revenue leakage is probably higher, when you consider the opportunity cost of staff time spent sorting out denials.
Among the most common reasons for denials are missing or incorrect billing information, non-covered charges for care, and absent authorizations. Thankfully, these are all issues that can be minimized with the right strategies and tools.
By optimizing your revenue cycle from the outset so that claims are right first time, you can save hassle and expense later on.
Here are 7 ways to proactively reduce claim denials in your health system.
Figure out why claims are denied
First things first. You need to understand where denials are occurring in your revenue cycle and why. You can determine the root cause of denials by analyzing data that's already available to you alongside information on industry trends. A business intelligence tool can help you use advanced data analytics to find opportunities for improvement, and generate actionable insights that are focused on your specific KPIs. Once you know where the weak points are, you can get the ball rolling with solutions.
Prioritize the big-impact fixes
In all likelihood, most providers will have the opportunity to improve their claims process at several points in the revenue cycle. You can't do everything at once, so identify the areas with the greatest potential impact on your hospital's bottom line. Can denials be traced to a particular department, service line or physician? Has a certain payer changed their approach? Compare the cost of implementing processes to tighten up the weak points in the cycle with the amount of revenue likely to be recovered to ensure you get the biggest ROI for your efforts.
Automate patient access for more accurate claims
Up to half of denied claims occur early in the revenue cycle, during patient access and registration. Automating the patient access workflow with real-time data can create a more efficient and accurate process, linking front and back office staff with shared systems that minimize errors and staff time.
Martin Luther King Community Hospital experienced these efficiencies first-hand, when they integrated eCare NEXT® within their existing Cerner® system. As a result, their registration process became more streamlined, enabling them to cut two to three minutes from more than half of their registrations.
Ensure patient matching is as accurate as possible
Incorrect patient matching is a major source of revenue leakage for many providers, with around a third of claims denied on the basis of inaccurate patient identification. When it costs $25 to rework a claim and around $1000 for each mismatched pair of records, that's a lot of lost revenue. Resolve your patient identities with the most robust data sources, and not only will you reduce claim denials, you'll also have a more complete picture of each patient, which in turn will give them a better patient experience.
Streamline prior authorization checks
A survey by the American Medical Association found that prior authorization checks created a substantial burden for providers, with physicians spending an average of nearly 15 hours per week dealing with related tasks. For patients, this process can lead to delayed or even abandoned treatment. Using automated software, you can check claims against payer rules for medical necessity, frequency, duplication and modifiers, so you can quickly spot any claims that may be denied and correct them before submission.
Process claims effectively
Once you've streamlined the front-end of the claims process, you should of course look for ways to improve efficiencies throughout the rest of the cycle and immediately before the claim is sent to the payer. In fact, providers are expected to invest up to  , as the need to crack down on denials grows.
Submitting claims in the correct format is a common and frustrating challenge. Since each payer has different requirements and formatting preferences for claim forms, edits should be customized. A revenue cycle service provider can help you build these custom edits and check each claim line by line, so you can submit with confidence and avoid having to redo them later.
Monitor and analyze your revenue cycle
Regular analysis is essential to consistently improve denial rates. By monitoring your internal processes across a range of metrics, you can gain a holistic view of the entire revenue cycle to see where there are further opportunities to optimize performance and prevent denials. When you have confidence in the freshness and accuracy of your data – including patient access data, payer performance information and patient matching – you can make confident decisions about exactly what needs to happen to improve your claims denials.
Learn more about how leveraging data-driven insights to tighten up your claims management systems and take proactive steps to find lost revenue.