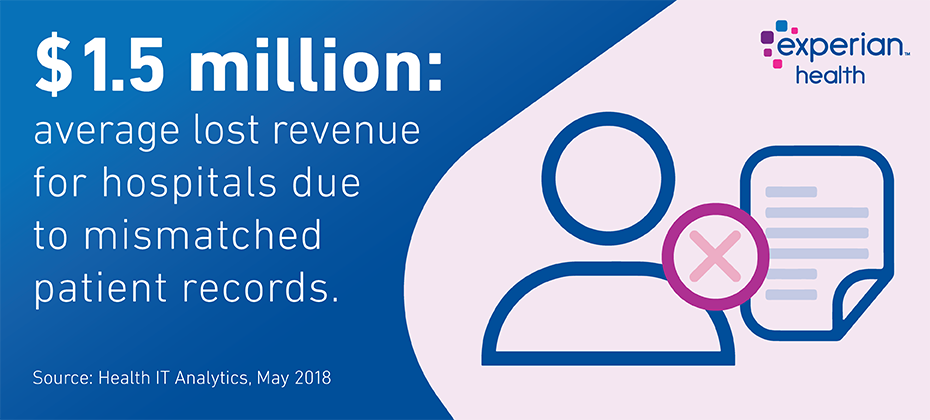 Since the Health Insurance Portability and Accountability Act (HIPAA) heralded the mainstreaming of electronic medical records over two decades ago, healthcare organizations have been slowly making the shift from paper-based patient information to online records. Digital records are more efficient, no doubt, but the transition hasn't been smooth. There are challenges and risks in managing and protecting patient data online.
With patient information flowing through multiple systems, devices and facilities, it can be extremely difficult to guarantee the accuracy and freshness of the data. Patients move to a new house, change their name or switch doctors. They may go for years without any interaction with the healthcare system. How can hospitals and other providers be sure that the records they hold are correct for each patient who walks through the door?
Incorrect patient matching is a major source of revenue leakage for many providers, with around a third of claims denied on the basis of inaccurate patient identification. When it costs $25 to rework a claim and around $1,000 for each mismatched pair of records, that's a lot of lost revenue. In 2017, the total lost revenue for the average hospital was around $1.5 million.
Clearly this a financial headache for providers, but it's also a major patient safety issue. How can patients get the right treatment at the right time, if their physician is looking at an out-of-date record, or worse, the record of a completely different patient? Good health outcomes rely on good data.
Matching patient records: the old way
Traditionally, healthcare providers might use a patient matching engine (an enterprise master patient index or EMPI) to identify patients and match up their records from different parts of the health system. These work by checking demographic data to compare the details on each record and combine the ones that are likely to refer to the same person. This can usually handle a simple change of name or address, but for anything more complex, it'll likely hit a roadblock.
EMPIs are limited by their reliance on a single data source – the data that's visible to them in patient rosters. So what happens if that demographic data is wrong? What if there are typos or spelling mistakes? How do you differentiate between a misspelled name and a completely different person?
Any errors in the data are inherited by the matched record, and as a result, EMPIs are often plagued by gaps, mistakes or outdated patient information.
A new solution for patient matching: Universal Patient Identifiers
A better solution is to combine the information in patient rosters with comprehensive reference and demographic data held by data companies such as Experian, to create a more complete picture of each patient. A universal patient identifier (UPI) can be assigned to each patient and stored in a master identity index, so that whenever and wherever they pop up in the health system, the referential matching technology knows exactly which data is theirs.
When health systems implement UPIs, you can connect disparate data sets and have confidence in the fact that every new data point will be instantly checked and updated. You'll know that the Maria currently seeking diabetes treatment in Austin is the same Maria who was treated for asthma in Houston last year. You'll know that Thomas sometimes goes by Tom. You're far less likely to have a patient turn up at the pharmacist and be given a prescription that belongs to another patient with the same name. It's more efficient for clinical and admin staff, and copes more efficiently with patient mobility.
Highlighting the importance of reliable patient matching technology, Karly Rowe, Vice President of Identity Management and Fraud Solutions at Experian Health says:
"When you send us your patient demographic information, we will provide you with the insights and identifiers that you need to better manage your patient identities. The benefits are improved patient safety, better care coordination, better patient engagement, and overall driving better efficiencies and financial benefits."
Not all reference data is created equal
Of course, referential matching is only as good as the data it's trying to match. Some vendors repurpose data matched for credit checks, using patients' Social Security Numbers. But this data can be equally vulnerable to inaccuracies.
Experian offers access to the industry's broadest and most trustworthy datasets and provides ongoing monitoring to constantly check the accuracy of that data. Our healthcare-specific algorithm is finely tuned to meet the data needs of the healthcare industry, without any risky repurposing.
With this in mind, ValleyCare Health System in California used Experian Health's Identity Verification solution to give patient access staff the freshest demographic information, including more accurate names and addresses, leading to a 90% reduction in undelivered mail.
Janine Edwards, Patient Access Services Quality Assurance and Training Coordinator at ValleyCare told us:
"Since implementing Identity Verification, we've improved the accuracy of patient demographic information throughout ValleyCare Health System. More valid data up-front means better revenue cycle results on the backend."
The entire health ecosystem relies on knowing who patients truly are. With the highest quality reference data and powerful unique patient identifiers, Experian goes beyond the limits of conventional methods to give providers the highest confidence in matching and managing patient identities.
To start resolving your patient identities today, contact us to see how many duplicate records we can fix.