Global Decision Analytics
New industry report
Experian publishes five global business trends that will help senior executives protect their growth ambitions against rising fraud threats
Experian has published its first annual global fraud report covering the convergence of growth strategies and fraud prevention.
The report, Global Business Trends: Protecting Growth Ambitions Against Rising Fraud Threats, is designed as a guide for senior executives and fraud prevention professionals, offering new insights on how the alignment of strategies for business growth and fraud prevention can help a business grow revenues while managing risks in an increasingly virtual world.
The report identifies five trends that businesses should assess and take action on to mitigate fraud and improve the customer experience in today's fast-paced, consumer-centric environment.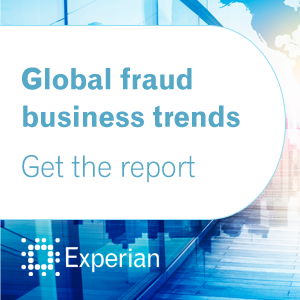 Fraud prevention benchmark tool
How does your company compare?
Most companies have to cast a fairly large net to catch fraudsters.
This is simply because most fraudsters are hard to find in the crowd, so essentially the whole crowd has to be viewed with suspicion.
This is why steps taken to block fraudsters often end up inconveniencing a disproportionate number of true customers.
The more targeted the fraud measures, the more likely you are to catch the fraudster without disrupting legitimate customers. We call this right sizing the fraud solution.
Use our tool to understand how your performance in key areas measures up against industry standards.
Product spotlight
Looking for a faster, easier way to get more out of existing fraud and identity systems and to more effectively deploy new products? CrossCore puts more control in the hands of your fraud team to adapt and deploy strategies to improve the customer experience whilst minimising risk.
CrossCore™ is the first smart plug-and-play platform for fraud and identity services
PowerCurve™ is a breakthrough in decision management, enhancing decision-making capabilities across your business
Adopt the most effective decision management strategies across the customer life cycle