Important Financial Tips and Benefits for Veterans
Join our #CreditChat on Periscope, YouTube Live, Twitter, and Snapchat every Wednesday at 3 p.m ET. In this chat, we discussed important financial tips and benefits for veterans.
The panel included: Brian Posten: Business Development Officer at Air Force Federal Credit Union; Lani Poblete: Project Manager for Military Saves; Bethany Bayless: Communications Director for Heroes at Home; Shannon McNay: Writer for Student Loan Hero; Rod Griffin: Director of Public Education at Experian; and Christina Roman: Social Media Specialist at Experian.
We also featured financial tips all week on Snapchat.
Questions We Discussed:
Q1: What are some common financial challenges facing veterans and their families?
Q2: How can we gear financial literacy to servicemembers' to help prepare them for the transition into civilian life?
Q3: What does a solid financial plan for a veteran include?
Q4: What can veterans do to equip themselves for the civilian job market?
Q5: What should veterans know about credit and debt?
Q6: What should veterans know about taxes and deductions?
Q7: Where can veterans go to learn about all of the benefits available to them?
Q8: What resources are available to veterans facing financial hardship?
Q9: What are some financial scams servicemembers and veterans should be aware of?
Q10: Any final tips for veterans?
Resources:
Big List of Military Discounts  via WiseBread
60 Minute Money Workout by Heroes at Home
AFFCU Financial Education Center via Air Force Federal Credit Union
3 Must-know Facts About Credit and VA Loans via Ask Experian
Audio: 4 Financial Readiness Tips for Veterans & Military Families via Ask Experian
Infographic: The Military- Credit and Your Future via Ask Experian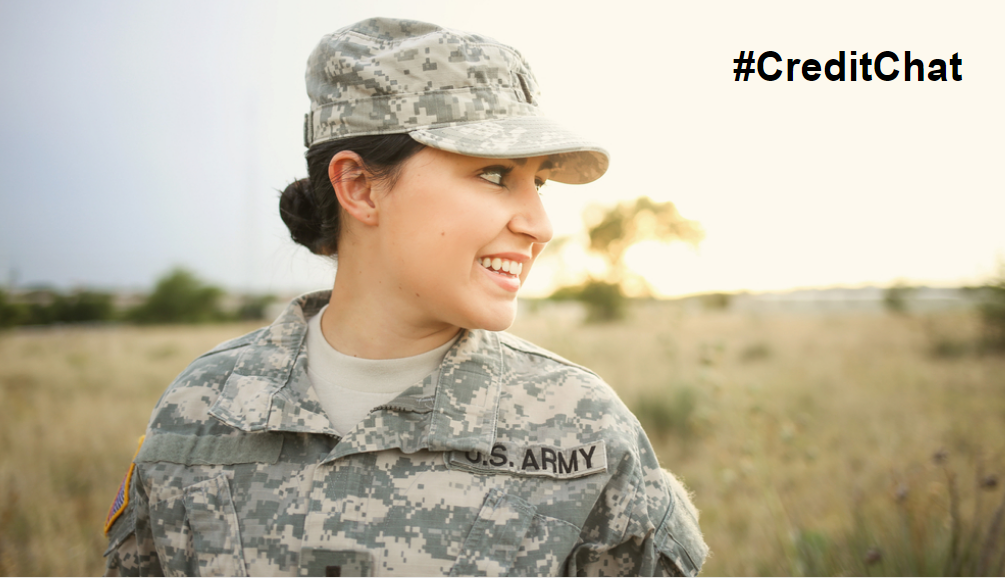 If you've never heard about #CreditChat, here is a brief overview:
Relevant chats on YouTube: