Dating and The Money Talk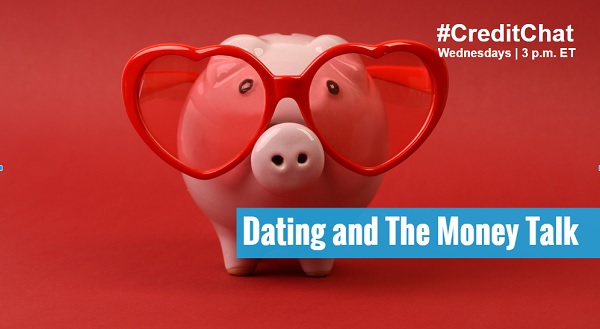 Join our #CreditChat on Twitter and YouTube every Wednesday at 3 p.m. ET.
This week, we discussed when and how to approach "the money talk" in a relationship. The panel included: Andrea Woroch– Consumer & money-saving expert, sharing simple solutions for spending less & saving more without sacrificing, Mina Ennin Black– Personal Finance Expert and Founder of In the Black Financial Wellness, Rod Griffin– Director of Public Education at Experian, and Mike Delgado– Social Media Community Manager at Experian.
Click here to view the discussion on Blab.
If you have ideas for future topics and guests, please tweet @MikeDelgado.
Questions We Discussed:
Q1: How important is a discussion about money to the success of a relationship?
Q2: How soon into a relationship should you have the money talk?
Q3: What financial information should you share with a significant other?
Q4: What topics should be covered in the money talk?
Q5: What should you do if your significant other does not want to have the talk?
Q6: What should you do if you feel uncomfortable talking about money?
Q7: How can a money talk improve your relationship?
Q8: How can you ensure that you create a positive environment for the money talk?
Q9: How often should you revisit the money talk?
Q10: Any final tips for anyone about to have the money talk with a significant other?
The Complete #CreditChat on Storify
If you've never heard about #CreditChat, here is a brief overview:
Recent Chats on YouTube & Twitter