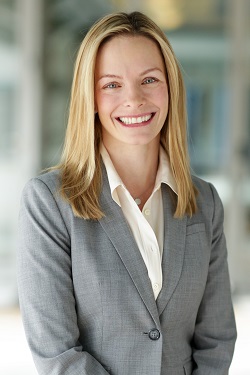 Before you read this blog post, I thought providing you with an introduction to who I am might be helpful. My name is Jennifer Schulz and I am a 46-year-old white American woman whose DNA indicates my ancestors originated mostly from Europe with a very small trace from East Asia.
I am married to Bob Roback, my partner in life. I am the mother of two incredibly active boys, ages 8 and 5. I am the bonus mom to our daughter (20) and son (soon to be 18). I am a sister, daughter and friend. I am also the very proud leader of Experian's Health, Auto and Targeting businesses in North America.
As #metoo swept social and mainstream media and drove hundreds of thoughtful articles on a whole host of gender related topics, I found myself reflecting and feeling genuinely grateful to be at Experian.
During my interview and onboarding process four years ago, I came to realize that Experian had a great culture full of smart and genuinely caring people. It was – and still is – a culture characterized by a strong client orientation and financial performance, and genuinely wanting to do the right thing.
It continues to be an organization with a determined focus on improving its diversity at the top.
Our leadership knows that to stay innovative and attract and retain talent we have to make diversity a priority.
As the global sponsor of Women in Experian and a member of the North American leadership team, I have had the honor of witnessing the progress the company has made as an organization over the last couple of years.
We've invested time and resources to build out programs, change policies and make our organization even more inclusive.
We've made progress around the globe:
In the last year, we've added two incredibly strong women to our Board of Directors – Caroline Donahue and Ruba Borno. They join Deirdre Mahlan who has been on the Board since 2012. With these additions, women will comprise 27% of our Board.
We continue to develop a strong proportion of women through our leadership programs globally. This is feeding our future talent pipeline.
We launched Women in Experian in 2016 and now have active programs in every region supporting a range of initiatives including enhancing our parental leave and flexible work policies, creating mentorship and sponsorship programs, examining and addressing pay disparity and requiring our recruiters to present diverse candidate pools.
Experian was one of 28 companies globally recognized on the Anita Borg Leadership Index of organizations that show strong representation and development of women technologists.
We have continued to develop and adjust family friendly policies in a number of countries, aimed at giving given greater flexibility and choice for working parents and families.
Although we celebrate progress, we know that we have more work to do. We need to increase the diversity in our senior leadership ranks. We need to increase the number of women in technology. And, most importantly, we need to continue to keep diversity and inclusion a priority.
The other night while I was driving my son to his soccer practice, I received a work call. He sat quietly while I talked for a few minutes, well accustomed to my attempts to balance work and life. When I hung up the call, my son asked me, "What is International Women's Day?"
I answered by telling him (reminder he's 8) that historically women haven't always been treated fairly and that this day is about honoring and recognizing all the men and women who are working to make things fairer. He then asked if it was my full-time job. Suppressing a laugh, I said no, it's not my full-time job but it's an important part of it.
He asked, "Why?"
Why? I looked in the rear-view mirror and said, "Because I want to try to make the world better for you, your brothers and your sister."
I believe at Experian we are doing just that … making progress.
Our momentum is building and tomorrow will be better.
#PressforProgress