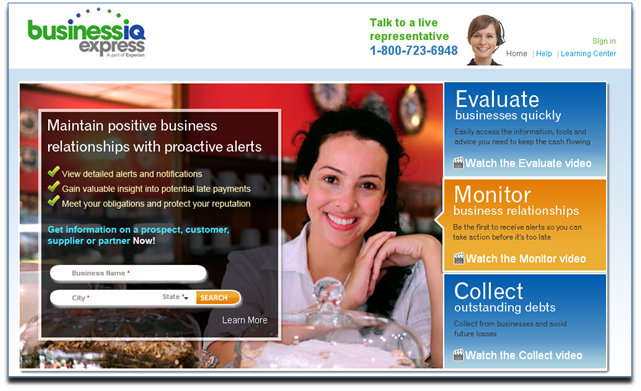 Experian®, the leading global information services company, today announced that during National Small Business Week, May 20–26, it will offer BusinessIQ Express at half off its annual subscription price for the first year of service.
BusinessIQ Express is a new online tool that enables small businesses to improve their cash flow by providing them with resources to better evaluate and monitor business relationships and collect on outstanding debt.
"Maintaining cash flow and ensuring prompt payments are challenges that all businesses face," said Adam Fingersh, senior vice president of Experian's Business Information Services.
"Large businesses usually have enough built-up capital to weather the ebbs and flows of untimely payments, but for a small business, delinquent payments can mean the difference between being open tomorrow and having to shut their doors forever."
BusinessIQ Express offers three key ways to help members manage their business relationships quickly and easily:
Evaluate — BusinessIQ Express members can evaluate prospects, customers, suppliers and partners on their likelihood to pay or deliver on time
Monitor — Members can easily monitor their business relationships with alerts and notifications of key changes, allowing them to take appropriate account actions and maintain beneficial relationships
Collect — The tool offers small-business members unique options that may have never before been easily accessible to them to help collect on outstanding debts and avoid future losses
Small businesses can sign up for membership to BusinessIQ Express at the discounted annual rate of $375 (a 50% savings in the first year of membership) throughout National Small Business Week (May 20–26). To learn more, check out BusinessIQ Express.