Experian®, the leading global information services company, today announced that it has joined forces with Moody's Analytics to create a business index and detailed report that provides insight into the health of U.S. businesses.
The new Experian/Moody's Analytics Small Business Credit Index will be reported quarterly to show fluctuations in the market and discuss factors that are impacting the business economy.
"Experian's data, analytics and tools provide organizations with the services they need to be successful and enable them to make more profitable financial decisions," said Allen Anderson, president of Experian's Business Information Services. "Over the past two years, we have published a Business Benchmark Report that provided insight into the credit health of U.S. businesses.
Now, working with Moody's Analytics we are able to take the next step in researching and reporting the impact of current economic trends on the business community, to provide another layer of valuable insight into what is affecting the business marketplace."
The Experian/Moody's Analytics Small Business Credit Index tracks how businesses are faring over a period of time compared with a base point, with the first quarter of 2011 being equal to 100. The key factors that comprise the index are commercial credit data (including growth of credit balances and delinquency rates measured on a dollar basis) combined with a variety of macroeconomic data (including growth rates for employment, income, retail sales, investment, output and industrial production).
The Q1 2012 report shows that although access to credit remains tight, U.S. commercial credit conditions are improving, with fewer small businesses falling behind on bill payments.
The Experian/Moody's Analytics Small Business Credit Index improved in Q1 2012 to 103.2, up from 101.9 in Q4 2011. This is the index's second consecutive quarterly improvement after it fell during much of last year. The index is riding on a wave of increased consumer spending, which is boosting small businesses' balance sheets.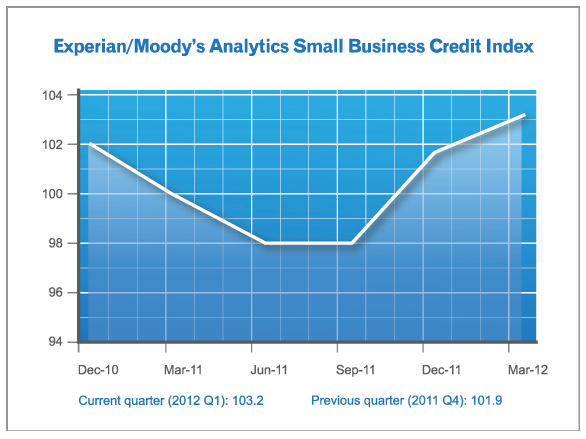 "The Q1 analysis has shown that small businesses are finally getting some relief from the credit crunch that has plagued many of them since the Great Recession," said Mark Zandi, chief economist at Moody's Analytics. "The recent improvement in small-business credit growth and quality bodes well for the broader economy and job market."
Other trends seen in the Q1 Experian/Moody's Analytics Small Business Credit Index report include:
The overall health of U.S. small businesses has improved, thanks to rising consumer confidence and spending, but balance sheets are strengthening unevenly.
Most metrics of small-business credit quality were essentially unchanged from last quarter, but the average commercial risk score improved on a year-ago basis due to a drop in the percentage of dollars delinquent.
Not surprisingly, states where the labor market is healing more vigorously typically are home to small businesses with stronger credit standings. Similarly, small firms in states with high unemployment and lackluster housing markets are struggling.
Get the full Experian/Moody's Analytics Small Business Credit Index report.