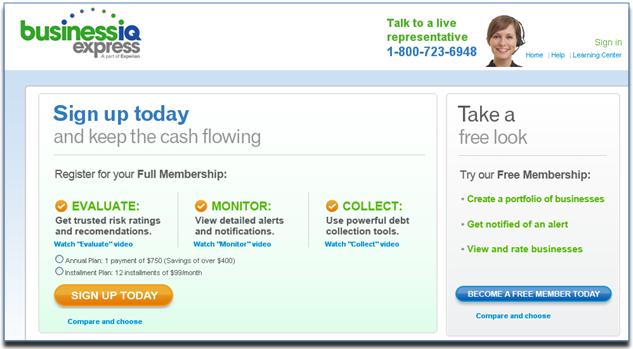 Maintaining cash flow and ensuring prompt payments are challenges that all businesses face.
Large businesses, however, usually have enough built up capital to weather the ebbs and flows of timely payments, but for a small business, delinquent payments can mean the difference between being open tomorrow or having to shut their doors forever.
Earlier this week, Experian launched BusinessIQ Express, a new online tool designed to help small businesses improve cash flow by helping them make more informed decisions about their business relationships. The new online tool does this in three ways:
Evaluate – BusinessIQ Express members can evaluate prospects, customers, suppliers and partners on their likelihood to pay or deliver on time.
Monitor – members can easily monitor their business relationships with alerts and notifications of key changes, allowing them to take appropriate account actions and maintain beneficial relationships.
Collect – The tool offers small-business members unique options that may have never before been easily accessible to them to help collect on outstanding debts and avoid future losses.