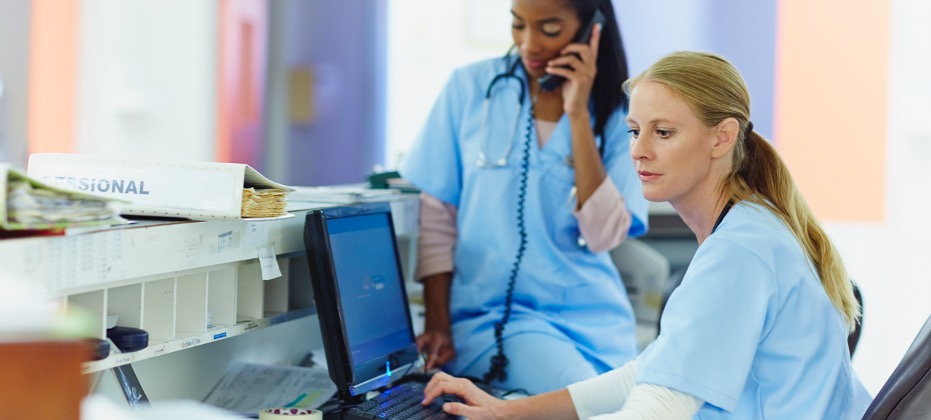 Millions of patients and their healthcare providers face challenges as State Medicaid agencies unwind coverage rules enacted as part of the COVID-19 public health emergency (PHE) that ended in April, 2023. The Kaiser Family Foundation estimates that 5.3 to 14.2 million people will lose Medicaid coverage as the continuous enrollment provision of the PHE ends. Meanwhile, providers may find themselves in an extended state of flux over the next year as Medicaid members have their eligibility re-evaluated and, in many cases, dropped. Kate Ankumah, Principal Product Manager, oversees  Insurance Eligibility Verification solutions at Experian Health. She shares some of the ways providers are managing new demands as they work to keep themselves—and their patients—up to date on coverage changes while navigating Medicaid redetermination and helping patients explore new financial options.
Q1: When does the Medicaid redetermination process begin?
"Some states have already started the Medicaid redetermination process," Ankumah says. "Five started in April [of 2023], another 14 states started in May, and we expect many more to start in June. It's going to be a rolling process. Most states are saying this will be a 12- to 14-month effort."
Q2: What can providers expect from their state Medicaid agencies while the renewal process is happening?
"State agencies will be going back through their rosters on a monthly cadence to determine who still qualifies for Medicaid," Ankumah explains. "State Medicaids will start by using internal information to determine eligibility, whether that's eligibility for SNAP benefits or other government data they have access to. If they can't qualify members automatically, they'll reach out to members for more information. If they determine a person is no longer eligible—or they don't get information back by the deadline they've set—that member will be dropped from Medicaid coverage, possibly without ever knowing that they were supposed to respond to an email or other communication to keep their coverage."
Q3: What impact does Medicaid redetermination have on provider workflows?
Ankumah sees three major areas of concern: changes to coverage, communication challenges, and downstream impacts on revenue and collections.
"Providers should expect to see the hit rate for finding active Medicaid coverage to dip over the next 12 to 14 months. Normally, when reporting shows a decline in Medicaid eligibility, you might think that the payer was down or that the clearinghouse wasn't making the connection. Right now, we know that these are more likely people who don't have coverage," Ankumah says.
"I think providers can also expect to see a lot of very confused patients," she continues. "Providers are going to need to make phone calls and have difficult conversations with patients who had no idea that this was happening and are frustrated and flustered by this change.
"And then ultimately, there are going to be more self-pay patients. Many of these patients will be people who didn't know that they were at risk of losing their Medicaid coverage and aren't sure how to proceed."
Q4: Are there ways to optimize eligibility to mitigate some of the issues being created as redetermination rolls out?
"One thing we're seeing is providers utilizing the batches they run through state Medicaid(s) to get a bit of a heads-up about coverage changes. If the provider's state Medicaid is dropping people from its rosters on the first and the 15th of the month, the provider might send everyone they're seeing for the first half of the month through on the first. If they find out a patient has been dropped, they have time to reach out and talk about coverage before the patient comes in for their appointment."
Dealing with the potential fallout is better with advance notice—for providers and patients. "It's a terrible patient experience to walk in thinking you have coverage and finding out you don't," says Ankumah. "It's not the provider's fault, but patients can feel blindsided learning they'll have to pay out of pocket for care."
"Some clients are also running more frequent batches to try to get a better idea of when [during the month] their state is dropping members. Are they always dropping on the first of the month? Are they dropping on Mondays? It's a bit of an iterative process trying to understand the timing of it, but clients want to learn as soon as possible when a patient is dropped from the roster so they can reach out and have a plan before they walk in to be seen by a doctor."
Q5: Are states including redetermination dates when they send back eligibility transactions?

"Some state Medicaids are indicating redetermination dates, but so far there's no standard for doing this. There's no specific field for redetermination dates in the 271," says Ankumah. "Some states are picking a field and using it: Often they'll use the certification date, or they'll add a message segment to an open field at the end of the 271."
"As states begin to communicate if and where they are sending the redetermination dates in the 271s—and as we can verify that in our system—we can let our clients know that they can start to leverage this information to let patients know when their coverage is ending."
"It may seem strange that we can't point to one field that state agencies are using to communicate redetermination dates," Ankumah says, "but we're dealing with 50 different agencies, each doing it their own way. We're continuing to look for patterns and to work with clients to puzzle this out."
Q6: What can providers do to support patients that are being dropped from Medicaid?
If providers learn that a patient has been dropped from Medicaid, Ankumah suggests directing the patient to their state Medicaid website to try re-enrollment. If their organization has a Medicaid enrollment team, they can be an excellent resource for patients. Additionally, providers may want to leverage tools that help patients navigate their financial responsibility.
Finding alternative coverage: "For patients who have lost Medicare, Coverage Discovery can help find coverage that they don't know or aren't sure about," says Ankumah. "They may have signed up for new coverage but aren't sure of their plan information and details. Or they may be covered under an employer's policy without realizing it. Coverage Discovery lets providers search for coverage with the click of a button."
Exploring coverage and payment options: "Patient Financial Clearance helps sort out which patients may qualify for Medicaid re-enrollment, presumptive charity, or—if needed—payment plans that can help manage self-pay balances."
Optimizing collections: "Finally, our Collections suite of products can scan patient balances and score accounts to help providers prioritize accounts that are most likely to pay."
Q7: How is Experian Health helping individual clients deal with Medicaid redetermination?
"When we talk about these issues generally, we tend to give a lot of 'it depends' answers," says Ankumah. "That's because a lot of what's happening is state dependent. We really want to make sure that we offer guidance that gives our clients the most value and fits their individual circumstances.
"With that in mind, one of the best things a client can do is to work with their relationship manager. They can offer real insights into how their state Medicaid is addressing redetermination, including dates and timing."
Relationship managers can also help providers navigate workflow changes efficiently. "For example, a provider might think sending through daily batches to see who qualifies for Medicaid is a good idea, but they'll be charged for those transactions and can very quickly go over their budget. Our team is here to help providers develop protocols that keep them up to date without overdoing it.
"We also have a team dedicated to monitoring payer updates," Ankumah notes. "We're following what our clients are hearing from their state Medicaid agencies, but we're also looking closely at updates and querying our databases to leverage information and return it back for the benefit of all our clients."
Find out how Experian Health's Insurance Eligibility Verification solution can help connect providers with more than 890 payers, including state Medicaid agencies nationwide.