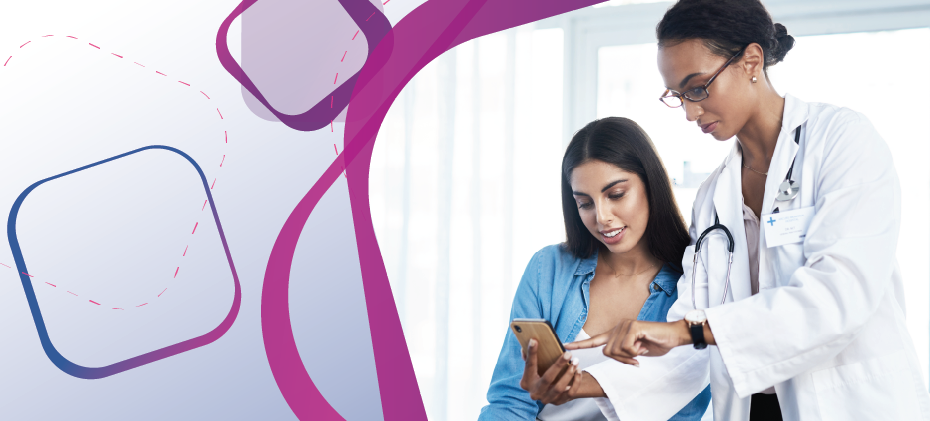 COVID-19 changed every aspect of the patient journey – placing unprecedented demands on the healthcare system and accelerating the need for digital transformation industry-wide. Telehealth, touchless engagement, and self-service scheduling became the new normal; however, this created new stress on operations, administration, and finance. While this new normal comes with many challenges, data and digital tools have created greater accessibility, engagement, transparency, and control for patients and providers.
In this blog, we examine COVID-19's impact on the patient journey and explore the digital tools and data that are helping the healthcare industry recover and thrive. To get more insights, read the full whitepaper here.
COVID-19 strained the healthcare system more than ever before.

To say that COVID-19 challenged the healthcare system is a massive understatement. Seven in 10 patients deferred or canceled treatments during the pandemic, causing disruptions to both revenue and patient engagement. Even behind the scenes, novel diagnostic codes and new sources of information—together with rising inpatient volume and government intervention—affected costs, billing and reimbursements at scale.
Patient-provider relationships became much more complex.

Many people moved, changed jobs and changed insurance during the pandemic. In fact, an estimated 40 million Americans lost work during the pandemic and just over half of all workers in North America plan to look for new work in 2021.  As a result, relationships between physicians and patients became disrupted. While re-engagement is critical for providing care, simply finding patients remains a challenge.
The digital experience raised patient expectations.

As consumers turned to technology to cope with changes, digital engagement increased in healthcare services and elevated consumer expectations. This trend began before the pandemic: A pre-COVID-19 AARP survey of older adults (50+) found that a majority would prefer to have their healthcare needs managed by a mix of medical professionals and technology. During the pandemic, patients used telehealth to access care from home, mobile registrations to avoid filling out paperwork in the waiting room and digital payment options that made paying bills simple and seamless. Now that patients have experienced telemedicine, self-service scheduling and easy digital payments, there is no going back. Expectations have changed permanently, and providers that don't offer an updated patient experience may suffer by comparison.
Opportunities for better outcomes: transforming the patient journey with digital transformation
We looked at key parts of the patient journey where technology is helping healthcare providers engage and care for their patients successfully across the marketing, scheduling, registration, authorization, treatment, claims and payment. Here are a few strategic opportunities for providers to consider post-COVID:
Use smart data for better outcomes
Third-party data is helping providers find and re-engage patients, deliver more holistic care and facilitate better financial outcomes. For example, integrating data on social determinants of health (SDOH), can provide physicians with a more holistic picture of non-medical factors that may influence medical outcomes, such as a patient's socioeconomic status. SDOH data can also shine a light on a patient's ability to pay, which in turn may inspire a wider range of payment options so that more patients can afford care, and more providers can avoid write-offs.
Continue using technology and automation for the recovery to come
Using digital self-service applications for registration does more than just provide the patient-friendly option of completing paperwork at home (instead of the waiting room). It also eliminates the need for staff hours spent inputting information, reduces the potential for error, and improves efficiency. Advances in automation make it possible for providers to reduce the effort of manual tasks – like sorting through patient records from disparate sources to create a single, comprehensive patient file, or gathering the information necessary to revisit claims authorization for deferred care. Across the board, digitalization provides greater transparency, flexibility, and seamless experiences for patients and providers alike.
Clear the path for payments
Going digital can help patients and providers better navigate the patient journey, especially when it comes to payments. As many as half of nonretired adults expect long-term financial effects as a result of the pandemic. This makes it more imperative than ever to improve and accelerate authorization, claims, and payment processes so that both patients and providers have a clearer understanding of how care will be paid for. Accurate patient estimates, coverage discovery, automated authorizations, and payments all play a role in creating a better financial experience going forward.
Digital transformation gains traction as we look to the future
Although the digital transformation was already underway before COVID-19, the pandemic has accelerated the need for data, automation, and self-service tools. Find out how Experian Health can help your organization meet the data challenges of the post-COVID-19 patient journey by downloading our white paper.
Download the white paper