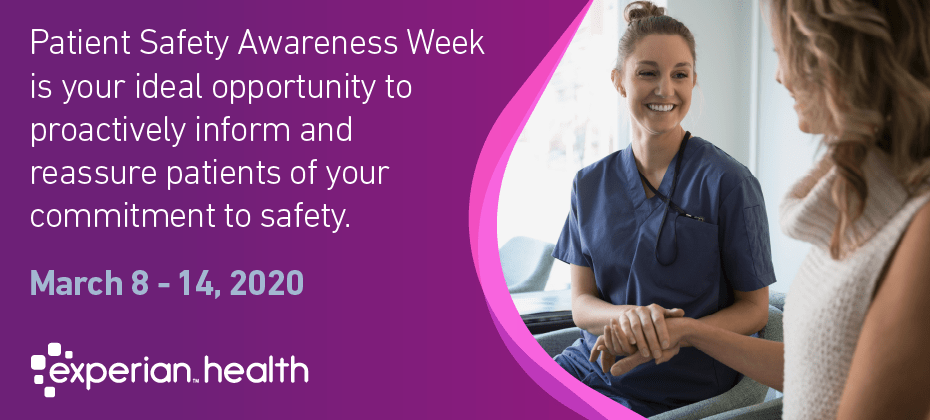 Any kind of identity mix-up is disturbing, but when it occurs within the healthcare system, the fallout can be severe. At best, misidentifying patients leads to lowered consumer confidence, but at worst it can compromise a person's essential medical treatment.
As a healthcare professional, you want to be absolutely certain that comprehensive and correct data is associated with each person who comes in for care, and that you're utilizing the most advanced measures to make it happen. Universal patient identifiers are an integral part of that goal. Patient Safety Awareness Week is the perfect time to convey that message clearly and positively.
What is Patient Safety Awareness Week
Patient Safety Awareness Week, organized by the Institute for Healthcare Improvement, is an annual recognition event dedicated to boosting the public's knowledge about health care safety. In 2020, it runs from March 8th to the 14th.
Patient Safety Awareness Week is your ideal opportunity to proactively inform and reassure patients of your commitment to safety. New systems, such as universal patient identifiers (UPI) developed by Experian Health, were created to ensure that patient demographics are as complete and error-free as possible through patient matching.
Impact of patient identity problems
Many patients may already have concerns about their records, having heard about problems from the news, friends or relatives, or have personally experienced identity misidentification. According to an ECRI Institute report, approximately 30% of the patient data that's held in electronic health records is either incomplete or inaccurate.
So how bad can the damage of patient misidentification be? The Ponemon Institute reported that roughly 86% of all clinicians witnessed a medical error that was caused by patient misidentification. And most disturbing: a study by the National Institutes of Health discovered more than half of all the deaths attributed to medical errors are a result of identity errors.

Identification mistakes don't just lead to unnecessary patient suffering either. These unforced errors undermine the very foundation of healthcare organization: trust. The organization that makes them suffers a serious blow to their brand.
How patient identity mistakes are made
Human error has been most often to blame for patient identity mistakes. Every day, healthcare providers handle an astonishing influx of information, as hundreds of thousands of electronic patient records flow in from a vast number of different systems and departments. All the while patients' names and addresses change, which in turn requires updates.
Inputting all that data manually is a major challenge, and inconsistencies typically occur in the data entry process. In fact, the National Center for Biotechnology Information found that the greatest proportion of mismatches are centered around a patient's middle name and their Social Security numbers. Misspellings and entering first, last, and middle names into the wrong fields are also common.
Once identity mistakes are entered, a patient can have duplicate records and disparate facts, matching past diagnoses and prescribed medications. Billing problems, too, can result. A patient's statements might not be sent to the correct mailing address, resulting in them experiencing unnecessary credit troubles.
Solutions to identity problems
In order to consistently and correctly match patients with their medical records, innovative technology has been developed. UPIs use Experian's consumer demographic information and methodologies to identify record matches and duplicates in a patient's file. Once a unique UPI is created for the patient, the potential for identification mix-ups is vastly reduced.
More, UPIs lead to efficiencies that drive costs down for all concerned. It's expensive and laborious for healthcare provider employees to record and update such a high volume of patient data by hand. Rectifying mistakes is not only time-consuming, it can cause insurance issues to arise.
Certainly, obtaining the best treatment is paramount to patients, but keeping healthcare costs to a minimum is also important. 79 million Americans are struggling with overwhelming medical liabilities, found The Commonwealth Fund. However, a survey conducted by Black Book found that patient matching discrepancies can lead to nearly $2,000 in extra inpatient costs per person. No one should pay more than they have to for their healthcare, and UPIs can make sure bills are appropriately assessed.
For this year's Patient Safety Awareness Week, spread the word to your patients that measures have been put into place to protect their identity. As of the end of 2019, every person in the U.S. has been assigned a UPI, and correct and complete information will be associated with each patient. Everyone should be aware that you are taking steps to ensure the accuracy of their medical records — which keeps them safe and their financial obligations down.