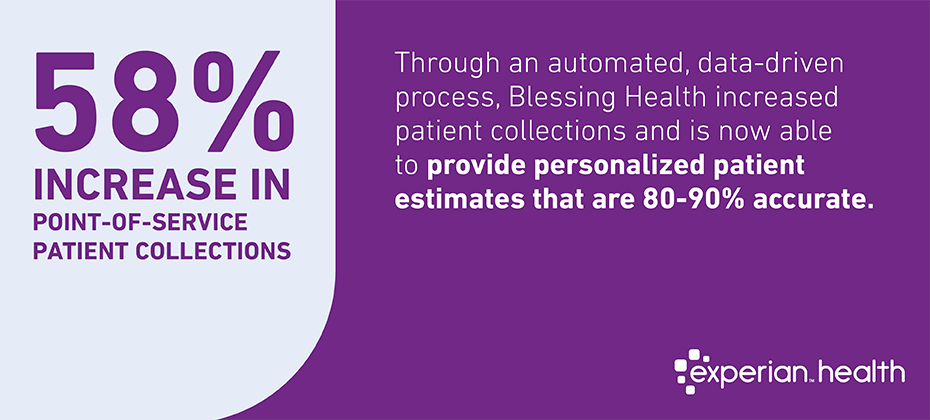 Whether it's due to pressure from governing bodies or price-shopping health consumers, many healthcare organizations are being challenged with price transparency efforts.
With so many moving parts to determine a patient's financial liability, how can accurate patient estimates be provided in a timely manner?
Giving patients the right pricing information at the right time
Like many healthcare systems, Blessing Health relied on various printouts and spreadsheets of price lists from different departments of the hospital to provide patient estimates. Lists needed to be manually updated, and the staff often relied on outdated information. The process wasn't standardized, and estimates were inconsistent across the enterprise.
While Blessing wanted to make sure that patients were getting accurate information, the estimates didn't consider a patient's insurance information. Since patients weren't understanding their true financial obligation, it caused frustration among patients and employees.
In today's competitive environment, it's important to reduce instances in the patient journey that might cause irritation. A recent report from Trends in Healthcare Payments, notes that patients who are satisfied with billing are five times more likely to recommend the hospital.
At a time when hospitals are being asked to do more with less and reduce the cost of care, manual processes and work must be reduced and automated with data to provide accurate information.
Patient liability estimation is a complex process of calculating multiple components, not easily available to users, including insurance benefits, charges, contractual adjustments and provider discounts. If hospital staff are manually estimating the processes, they could be using outdated pricing lists which may not include application of insurance benefits, contract rates, and discounts.
As consumers gain access to pricing information, health leaders should invest in data-driven technology that can provide consumers with accurate personalized estimates. Most healthcare organizations already have the basic data they need to use automated technology to construct estimates for basic services, including claims data, real-time eligibility and benefits information, payer contracts and charge description master (CDM) information.
Blessing Health knew they needed to find a way to advise patients of their financial liability, as well as give staff a tool they could confidently use to request patient payments upfront to increase collections. They wanted real-time estimates that were personalized based on a patient's insurance and contract information. To do this, Blessing Health reached out to Experian Health to integrate Patient Estimates into their Allscripts® workflow.
What to look for in price estimator tools
Healthcare organizations should implement price transparency and collection practices that are standardized across the enterprise. A pricing transparency tool eliminates the need for manually updating price lists, and removes the guesswork and tedious manual processes, which often result in outdated, inaccurate estimates.
Price transparency software should also include reporting features that give greater control over the process and can be agile in managing transparency initiatives as well as track potential versus actual collections.
A price transparency tool should highlight a patient's financial situation, as well as their propensity to pay, allowing you to optimize your collection strategies from the start and get patients on the right programs. To help reduce traffic to call centers, a price transparency tool should be integrated into consumer-facing estimates that are personalized and available through a web portal or mobile app.
Price estimation can help with patient collections
Through an automated, data-driven process, Blessing Health is now able to provide personalized patient estimates that are 80 percent to 90 percent accurate. (Inaccuracies result from unexpected tests or procedures.)
As a result, Blessing Health benefited from a 58 percent increase in point-of-service patient collections. Based on the cost to implement these services, Blessing Health experienced a 1,200% return on investment. After realizing success on the hospital side, Blessing Health implemented Patient Estimates for their physician group as well.
—
Learn more about how you can empower the patient financial experience.