The popularity of flash sale websites with limited time & inventory offerings have grown exponentially over the two years. Online shoppers' love for the thrill of snagging designer clothing, home décor, travel and even wine have caused visits to the category to increase 368% in July 2011 as compared to the same month two years ago and 109% one year ago. So far in 2011, Nordstrom acquired HauteLook, Amazon entered the fray with MyHabit and recently Saks Fifth Avenue announced the launch of a dedicated flash sale website after offering sale events per week on Saks' main website.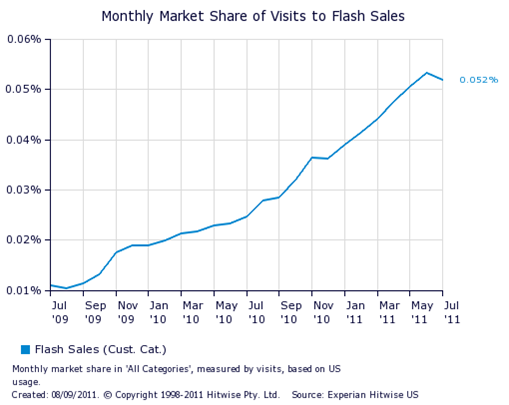 In July 2011, Zulily.com, a website offering sales targeted for women and babies/kids, captured the highest market share of visits at 16%, followed by Ideeli and LivingSocial Escapes. Amazon's MyHabit ranked 11th, out of the 87 websites in the custom category after only 2 months in operation.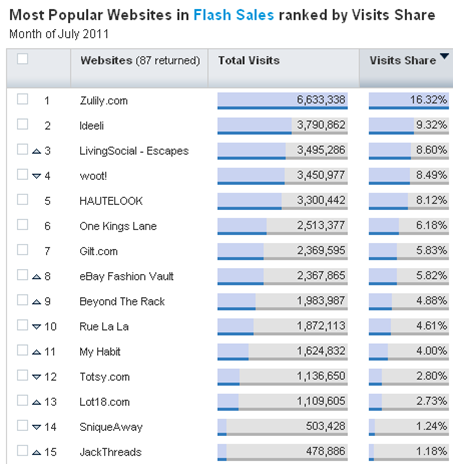 Several of the major players over the past six months, the total visits to Ideeli increased 42%, Gilt.com up 14% and Nordstrom's Hautelook up 8% for July 2011 as compared to February 2011. Total visits for MyHabit jumped 128% for July 2011 as compared to May 2011 when the website launched.

The audience for Flash Sales continues to be attractive, and willing to shop – over-indexing against the online population for household incomes over $100k and creditworthy VantageScores of A and B.